The ALP are low in the polls, but as former Victorian Premier Jeff Kennett reminds, they were in 1999 too, but came back to win and hold Victoria for a long, dark time. In that time they held Victoria, they ruined Victoria's competitiveness, damaged the police, ruined fire protection, damaged education and spent big. The only way to protect Australia's future is to vote for the Liberal National Parties. Christian Democrats are directing their preferences to the ALP in some states. Other ridiculous parties do the same. On the issue of costings, the ALP have failed to show the electorate all of theirs. The Liberals will show the rest of the LNP costings on Thursday, having unveiled all their promises on Wednesday, today. There is much criticism of the LNP costings, but they have shown the bulk a long time ago, unlike the ALP who only released some today. On 7:30 pm Friday night, ABC will air an election special asking "Where did we go wrong?"
Ariel Castro has committed suicide in jail. We have lost the opportunity to ask important questions (like, "Does this hurt?"). Sadly Cuba is still enslaved. Syria is still in pain. Obama is firmly dithering. Egypt smoulders.
To all the relatives who are too many to mention both close and distant wishing you all a Happy spiritual Rosh Hashannah and well over the Fast.


Good Health, Prosperity and a very sweet 5774

To my numerous facebook friends thank you for sharing your time and thoughts over the last year. Let me also take this opportunity to wish you all luck and blessings whether you are a Jew or not.

The world's birthday is a very special time for all of us symbolising the end of all human sacrifices to false gods.

Let's hope the bad guys get their butts kicked into oblivion with our prayers and hopes bringing goodness and kindness back into our lives despite the new confrontations that face many of those who are not as fortunate.

Remember those who are no longer with us. So far those reading this are the lucky ones.

A good inscription and sealing in the Book of Life.

Shanah tovah
שנה טובה

Ketivah v'chatima tovah
כתיבה וחתימה טובה
===
Happy birthday and many happy returns
Tony Bonanno
,
Martin Waterhouse
and
Elisa Vienna
. Born on the same day, across the years, along with Alexander III of Scotland (1241), François-René de Chateaubriand (1768), Dawn Fraser (1937), Merald "
Bubba" Knight (1942), Beyoncé Knowles (1981) and Kali Majors (1999). On your day, Rosh Hashanah (Jewish New Year) begins at sunset (2013, 5774 AM)
1479 – The Catholic Monarchs of Castile and Aragon signed the Treaty of Alcáçovas with Afonso V of Portugal and his son, John to end the War of the Castilian Succession.
1843 – Teresa Cristina of the Two Sicilies married Pedro II of Brazil at a state ceremony.
1886 – After over 25 years of fighting against the United States Army and the armed forces of Mexico, Geronimo of the Chiricahua Apache surrendered at Skeleton Canyon in Arizona.
1949 – Anti-communist riots erupted after a concert by Paul Robeson near Peekskill, New York, US.
2010 – A 7.1 Mw earthquake struck South Island, New Zealand, causing up to NZ$3.5 billion in damages.
Father and son have that peace treaty. Cristina is safely married. Geronimo has surrendered (Now, isn't peace better?). Paul's song is sung. And the earth moves for NZ. Enjoy your day.
===
Tim Blair

–

Wednesday

,

September

04

,

2013

(

4:07am

)
===
Tim Blair

–

Wednesday

,

September

04

,

2013

(

4:00am

)
===
Tim Blair

–

Wednesday

,

September

04

,

2013

(

3:56am

)
===
Tim Blair

–

Wednesday

,

September

04

,

2013

(

2:37am

)
===
Andrew Bolt

September

04

2013

(5:29pm)
===
Andrew Bolt

September

04

2013

(12:19pm)
===
Andrew Bolt

September

04

2013

(7:41am)
===
Andrew Bolt

September

04

2013

(7:16am)
===
Andrew Bolt

September

04

2013

(7:06am)
===
Andrew Bolt

September

04

2013

(6:37am)
===
Andrew Bolt

September

04

2013

(6:18am)
===
Andrew Bolt

September

04

2013

(6:01am)
===
Andrew Bolt

September

04

2013

(5:15am)
===
Andrew Bolt

September

04

2013

(4:50am)
===
Andrew Bolt

September

04

2013

(4:32am)
===
Andrew Bolt

September

03

2013

(7:30pm)
===
Sign up to J John at
http://t.co/kvymE7gwWe
===
===
===
===
===
===
===
===
Economic management and growing national wealth must be the primary tasks of the next government. Let's start with simplifying tax. #2BIG2IGNORE #makeanoiseincanberra
http://www.youtube.com/watch?v=ZeGZdpH1k-Y
===
''שמע ישראל ה' אלוהינו ה' אחד''
"Listen Israel, the Lord is our G-d... and He is the only One." Deuteronomy 6:4
https://www.yadezra.net/landing/2013/ny/ny_e.php
In honor of Rosh Hashana ( The Jewish New Year) ,tomorrow, we at Yad Ezra V'Shulamit are giving out 12,000 food baskets to needy families, here in Israel.
Hundreds of volunteers have already been amazing at helping to support, package and
deliver baskets of food and we are always looking for partners to help in this tremendous act of kindness for others.
A small donation goes a long way, of time or money.
If you are in Israel and would like to volunteer, or not in Israel and would like to help, we are accepting donations to assist in the cost and effectiveness of feeding these families. $80 makes a big difference.
https://www.yadezra.net/landing/2013/ny/ny_e.php
===
For four years he helped his parents take care of her and saw firsthand the effects of Alzheimer's disease on her. But Wallack also noticed that when she and other Alzheimer's patients would do simple jigsaw puzzles, their mood would lighten.
===
A quick, rough translation of Petrarch's Sonnet 104, because I'm me and that's just what I do at 11 pm.
I find no peace, yet I've no will to make war,
And I fear, and hope, and burn, and become ice:
I soar above heaven, then lay upon earth;
Nothing do I hold though I everything embrace.
So I'm kept in a cell he neither opens nor shuts,
He won't claim me as his or release the reins,
Though Love
doesn't kill me, he won't break the chains;
He doesn't want me living, but he won't set me free.

I see without eyes; have no tongue, yet I scream;
I yearn to die though I cry out for aid;
And I hate myself so I can love someone else:

I feed on my pain; crying, I laugh;
Life and death bring me equal grief.
What a state you've put me in, my dear.
===
===
In tonight's Talking Points Memo,
Bill O'Reilly
made the case for the United States taking military action against the Assad regime in
#Syria
. Do you agree with Bill?
http://tinyurl.com/mdfyudq
===
Say NO to War with Syria!
Sign our petition:
http://bit.ly/1dMr6UK
===
Haunted, Old, Beautiful Mansions, Castles and Spooky Deserted Asylums
Elias Lowenstein was a leader in the Memphis Jewish community.
He served as president of Temple Isreal for 15 years. He contributed liberally to rebuilding the city after the disastrous 1870's yellow fever epidemics. In 1891 Elias Lowenstein built a mansion which was Memphis' most important Victorian Romanesque residence and one of the finest of its styles in the South.
After his death in 1919,
his family donated it to the Nineteenth Century Club for use as a residence for young working women who did not have family in the city and, therefore, under social customs of the day were expected to live in a protected environment. A porch with cupola was removed in 1929 for construction of an annex.

Elias Lowenstein House - 1891: Elias Lowenstein, born in Germany, emigrated to Memphis in 1854. In Memphis he headed, B. Lowenstein and Bros. a Department Store, which was prominent in the city for 125 years. Lowenstein was a leader in the Jewish community and served as president of Temple Isreal for 15 years. He also contributed liberally to rebuilding the city after the disastrous 1870's yellow fever epidemics. In 1891 he built this mansion which is the cities most important Victorian Romanesque residence and one of the finest of its styles in the South. After his death in 1919, his family donated it to the Nineteenth Century Club for use as a residence for young working women who didn't have family in the city and, under social customs of the day, were expected to live in a protected environment.

• Follow me Amanda on my other great page ASAP http://www.facebook.com/australianparanormalsociety
===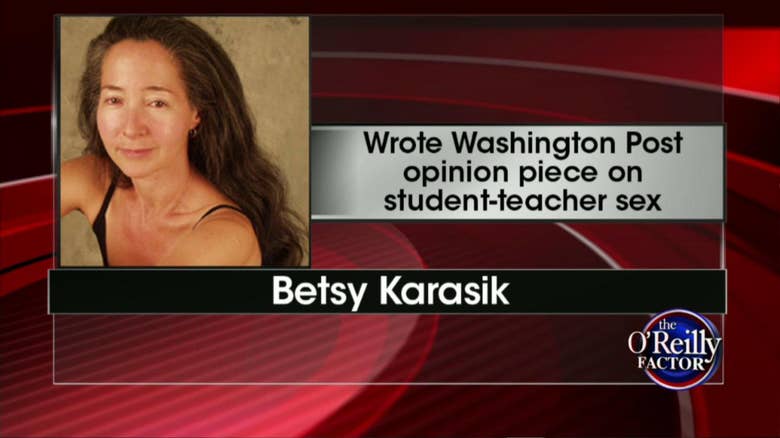 The column, "Sex Between Students and Teachers Should Not Be a Crime," has stirred up controversy since appearing in The Washington Post over the weekend. Former attorney Betsy Karasik wrote the opinion piece in reaction to Montana Judge Todd Baugh sentencing a teacher to 30 days in jail for raping 14-year-old who subsequently committed suicide. That sentence has been overturned.


Read more: http://foxnewsinsider.com/2013/09/03/washington-post-opinion-piece-argues-student-teacher-sex-should-be-decriminalized-0#ixzz2dv3Qngkh
Bill O'Reilly is correct, it is outrageous .. ed
===
===
===
#BREAKING
Cleveland kidnapper Ariel Castro found dead in his prison cell
http://bit.ly/176XStm
===
4 her
===
===
===
===
Cory Bernardi
The fact is that the Greens are putting our nation at risk.
SHARE this message with your friends and make sure they know all the facts before polling day
http://ow.ly/ov8cn
===
Consultant orthopaedic surgeon Andy Goldberg says all the body weight gets forced on to the front of the feet, eventually causing unsightly clawed toes that can become arthritic.
Wearing stilettos pushes and twists bones out of line, resulting in knobbly bunions and other painful conditions.
The picture above was taken with a new $340,000 scanner at the Royal National Orthopaedic Hospital in North London. The PedCAT machine, the first of its kind in the UK, does a 360-degree scan of the patient's feet in just 60 seconds.
Doctors can then view the resultant 3D image from every angle, spinning it around to view the foot from above, below and the side. It also takes 600 2D views of the foot.
Mr Goldberg, a foot and ankle specialist, said the technology was a major advance over traditional 2D X-rays, which could lead to misdiagnoses.
"The scanner gives us much more information"' he said.
'It shows the deformity caused by wearing high heels is much more complicated than we previously thought.
"With high heels, the toes are squashed inside the shoe. The more stiletto-shaped they are, the worse it is. The toes not only get squashed, but they become clawed too." The base of the big toe becomes 'deviated outwards', forming a bunion, while the scanner also shows how these bones can become 'rotated and dropped'.
Pea-shaped bones under the base of the big toe - called sesamoids - get dislodged by the immense pressures put on them.
"There's nothing wrong with being in this high heel position temporarily - it forms a part of your normal stride. And if you wear heels for an hour or two at an evening party, it's not a problem" Mr Goldberg said.
"But if you wear them for eight hours a day for years on end, you will develop problems."
It wasn't just middle-aged women who suffered, he said. "It's not uncommon for me to see teenage girls in my clinic. They are usually accompanied by their mothers, who tell them, 'Look, the doctor says you should be wearing sensible shoes!' But I try not to get involved with family politics too much.
"If you have got a family history of high heel wearers and you wear them a lot, you are pretty much guaranteed to develop bunions," he said.
"If you are not genetically predisposed, wearing high heels may accelerate bunions.
"Foot and ankle problems affect your walking and take over your life. There's a saying that if you want to take someone's mind off a problem, put them in tight shoes."
A survey of patients at the hospital's foot and ankle clinic found that 57 per cent had experienced severe pain as a result of wearing uncomfortable shoes such as high heels.
And 86 per cent claimed they found it difficult finding comfortable shoes. In truth, the internet is now awash with firms which offer sensible footwear in fashionable shades.
"People don't like doctors like me saying, 'Your shoes are a problem.' If I suggest they buy themselves some comfy shoes, I'm liable to get punched in the face." Mr Goldberg added. He also claimed some patients exaggerated the pain their bunions caused to get them surgically removed - so they could then continue to squeeze their feet into fashionable shoes.
Mr Goldberg said the damage caused by high heels was nothing new: "We have always been slaves to fashions that have led to deformity.
"But what we should be doing is fitting people's shoes around their feet, rather than the other way around.
"If a fashion icon such as Victoria Beckham designed a range of shoes that really fitted our feet, then that would be a real game-changer."
===
===
John Boehner and Eric Cantor announce support for Obama on Syria ==>
http://twitchy.com/2013/09/03/surprise-surprise-john-boehner-announces-support-for-obama-on-syria/
===
Making new "rights" pretty much always means siezing private property. Moralise all you like, you are just justifying theft.
===
In the latest attempt at property porn, a real estate agent has produced a controversial video in a bid to sell a house in Thornlands, south-east of Brisbane.
Along with the women utilising the property's bath tub, pool, and bedrooms, Mason produces place cards advertising the benefits and features of the house, cleverly intertwining them with what's happening in the background.
Mr Mason defended the clip, telling news.com.au he flagged the idea with the current owners - a family - who were initially "a bit scared" but approved the footage once they saw the final cut.
"I couldn't sleep for two days. It was a risk, I thought it would be a problem, but everyone has loved it, from all ages," he said.
"I didn't want to come across as sexist. If Coca-Cola, Calvin Klein and all the other big brands can do it, why can't a real estate do it? Times are changing, real estate can be boring, but when I do something fun and funny, I have people coming through my homes laughing and relaxed.
"They believe we are human and we are doing something different."
Mr Mason, from Mason Properties, said he was 100 per cent positive the property will sell.
"That was the risk, because my reputation is very important. I'm a very well trusted real estate agent."
The property will go under the hammer on September 28, with Mr Mason confirming the girls will also be in attendance to spur on sales.
.. the girls will be in attendance for the auction .. quite right too .. and they were paid for it, so the PM approves ... ed
===
Legacy Machine No.2 with platinum case. Two flying balance wheels and one raised planetary differential celebrating 250 years of history. For more please visit
www.mbandf.com/machines/legacy-machines/lm2/
===
PINK PEAR SHAPE HALO RING
===
Local treasure hunters are counting their latest discovery after they found hundreds of thousands of dollars worth of gold off the Florida coast.


Read more: http://www.wesh.com/news/central-florida/sanford-family-finds-350k-worth-of-gold-off-fla-coast/-/11788162/21754672/-/jybutoz/-/index.html#ixzz2dv6Qrp2U
===
Asma al-Assad, a health fanatic obsessed with her weight and her public image, has reportedly embarked upon what some might term as "retail therapy" since the eruption of the vicious Syrian civil war in 2011, which has killed more than 100,000 people and still poses a serious challenge to the rule - and perhaps the life - of her husband and his inner circle.
She is reportedly banned from watching western media outlets in case their reporting of the civil war "depresses" her.
In response to the recent revelations, Ayman Abdel Nour, a former Assad adviser, derided Syria's first lady as heartless.
"She is obsessed by how chic and beautiful she looks. She continues to lead a life of utter luxury," he said "That's all that matters to her."
===
"What will happen if, G-d forbid, the negotiations lead to an agreement, and the prime minister will bring the agreement to the government? They are talking about an interim agreement," he said. "If an accord like that is presented, the Likud movement must tell whoever is advancing such an arrangement: 'you do not belong in Likud.'"
"Such an arrangement contrary to the DNA of the Likud and the national camp and anyone who supports it - his place will not be in the Likud," he said.
Last week, Danon said that he is "very disturbed" by the diplomatic efforts:
"There is no doubt that if negotiations ripen to an agreement by Minister Tzipi Livni and the Israeli government to surrender, the Likud movement will be put to the test, and Likud ministers will have to take a stand and decide if they are loyal to the Likud's path or if they choose to be led by Tzipi Livni, and – in this case – the prime minister. It is my understanding that we are not there and my hope that we will not be there."
===
At the start of the 20th century there were more than 60,000 Jews in Yemen. One of the most ancient Diaspora communities, according to Jewish traditions the first Jews moved to Yemen during the reign of the Biblical King Solomon, around 900 BCE.
But by 2009, following centuries of persecution - which reached fever pitch after 1948, as Jews throughout the Muslim world were targeted in "revenge" for Arab military defeats and the establishment of the State of Israel - the community had shrunk to just 400 or so. Most Yemeni Jews emigrated to Israel during the famous "Operation Magic Carpet" operation to evacuate them between 1949-1950.
By 2012, a resurgent campaign of anti-Semitic violence caused most of the few Jews who remained to either flee the country (mainly to Israel, but also to the US and Europe), or seek sanctuary in a government compound in the capital Sana'a, under the protection of the country's then-President Ali Abdullah Saleh.
That violence included the murder of Jewish schoolteacher Moshe Nahari in 2008, and of community leader Aaron Zindani in 2010. Both of their families subsequently fled to Israel.
Threats by Al Qaeda-linked groups on the one hand, and Shia Islamist "Houthi" rebels on the other, have forced many of the remaining Jews to flee their homes, seeking refuge in the Sana'a government compound.
And since the ouster of President Ali Abdullah Saleh in 2012, things have taken a turn for the worse.
Today, there are only around 90 Jews remaining in Yemen, most of whom live in the Sana'a government compound. 45 Yemeni Jews have emigrated to Israel since the beginning of this year alone.
In an indication of just how closely the community is monitored by the Yemeni authorities, the interviewer notes that she was forced to seek special clearance from the Interior Ministry just to speak to Rabbi Salem, and accused the government of discriminating against its Jewish minority.
Rabbi Salem also explains how he was forced to cut off his peyot (sidecurls), traditionally grown long by Yemenite Jews, as a result of regular harassment by local Muslims.
Decrying attempts to evict them from their last remaining refuge by the country's Finance Minister - who claims his ministry can no longer fund the leasing of the building they are living in - the Rabbi recounts how the Jews of Sa'ada province, in the north of the country, were forced from their homes by Houthi rebels:
"They took our homes, our land, our cars - they even took my historical library!" he lamented to the openly sympathetic interviewer.
Human rights group Amnesty International has in the past called on the Yemeni government to protect its Jewish citizens, declaring that it is "deeply concerned for the safety of members of the Jewish community in northwestern Yemen following the killing of one member of the community and anonymous serious threats to others to leave Yemen or face death."
But statements and sympathies aside, little hope remains for the Jewish community of Yemen.
Those Jews who remain are either elderly or, like Rabbi Salem, community leaders who do not wish to leave their flock behind. But despite his valiant efforts Yemen appears destined to join the long list of Arab countries whose Jewish communities have been driven to extinction.
===
There are no simple solutions to the horrors unfolding in Syria. Had the West responded sooner, there might have been a remote chance for moderates within the rebel camp to form a functional political authority. Today, that possibility is inconceivable.
Now the forces of darkness and evil dominate the behavior of the government and rebels alike. The depths of unimaginable barbarism to which both parties have descended exceed the worst horror films.
Merely a few kilometers from Israel's border in Damascus, President Bashar al-Assad has been butchering and massacring his own people for two years. He has now added chemical weapons to his arsenal. US Secretary of State John Kerry, who, until recently considered Assad a "reformer," has condemned Assad's chemical weapons attack as defying "any code of morality" and representing a "moral obscenity."
The Iranian terrorist regime and its Lebanese terrorist extension, Hezbollah, fully support Assad. Together, they have concocted the ultimate evil witch's brew. It is shocking that for reasons of realpolitik Russia supports these terrorists in order to bolster its regional influence. It represents Moscow's most shameful foreign policy initiative since the overthrow of the Evil Empire. The Syrian rebels are guilty of perpetrating similar if not even more grotesque atrocities. Dominated by fanatical jihadists, including Al Qaeda elements committed to global sharia and martyrdom, they have murdered innocent Sunni women and children. They revel in committing vile atrocities, some even descending to the depths of public displays of barbaric acts of cannibalism.
Victory by either side will have disastrous effects on the region. If Assad retains even partial power, Iranian's state terrorists will consider it a victory. If the rebels succeed, Syria will be controlled by jihadist packs. Unspeakable brutality will inevitably follow. Former British Prime Minister, Tony Blair, succinctly summed up the situation: "Syria is…mired in carnage between the brutality of Assad and various affiliates of Al Qaeda".
Within this context, why should the West get involved? Why not let a plague descend on both houses?
Because it is unacceptable for the civilized world to abrogate morality and stand aside as innocent civilians are massacred. If we remain spectators to the mass murder and gassings of innocent civilians, we will be providing a green light to other cruel regimes to act similarly. We will lose our humanity. It will revive memories of the world which stood by as Jews were being exterminated in the Nazi Holocaust.
Intervention is a risky business. Time and again efforts to apply external pressure – especially on authoritarian Arab regimes – have proven to be counterproductive. In Iraq, Afghanistan, Libya and even Egypt, crude attempts at imposing democracy have resulted in the ascendency of fundamentalist Islamic regimes with human rights records far worse than their predecessors.
Nonetheless, the West, led by the US, must act decisively. Despite division within Congress and American opposition to another military intervention, President Obama must deliver on his repeated threats of military action should Assad cross the red line of chemical weapons usage.
Initially Obama tried to fudge the issue, claiming that the US requires approval from the United Nations before embarking on a military initiative, but he faces pressures to act from Britain, France, Turkey and Arab countries. If Obama fails to respond now, Iran, North Korea and other rogue states will have little to fear as they continue in their defiant marches toward nuclear capability.
The risks associated with targeted strikes at chemical weapons arsenals are high. Massive casualties amongst innocent civilians and fallouts are possible. Additionally, there is doubt as to whether US intelligence can accurately identify and ensure the destruction of underground arsenals.
Overall, the current US response has been appalling. It has formally assured Assad that it will restrict its punitive military response to "limited strikes" over a number of days, and stressed that it is not seeking to bring about regime change.
This mere rap over the knuckles is hardly likely to act as a deterrent and the killing business will proceed as in the past. In fact, Assad is likely to boast that he defeated the US and the Western alliance. It will not reassure those concerned about the failure of the US to stand by its commitments and allies. It will certainly not allay Israel's concerns about the US standing by its undertakings concerning the Iranian nuclear threat.
Bret Stephens of The Wall Street Journal has urged that the US concentrate on military strikes designed to kill Assad and his principal henchmen. Stephens correctly notes that if President Obama could boast about how he finished Osama bin Laden "with a bullet to the head and another to the heart," he should have no inhibitions about doing likewise to a mass murderer like Bashar Assad.
Targeted assassinations would avoid becoming enmeshed in a ground war like the US faced in Iraq and Afghanistan. They would serve as a deterrent to other tyrants who would fear for their own lives if they behaved similarly and they would send a signal to the Iranians that the US is not the toothless tiger it often appears to be.
This would neither empower Al Qaeda and the Jihadists nor necessarily lead to an immediate regime change, but it might accelerate division of the country which, from a humanitarian viewpoint, represents the best possible outcome and would limit the civilian massacre which would inevitably result if either party achieves total supremacy.
- See more at: http://wordfromjerusalem.com/?p=4784#sthash.YHCcwcH4.ucjt1VxB.dpuf
===
===
Middle East scholar Mordechai Kedar explains how Arab states can't make lasting peace with Israel as a result of their internal squabbles…specifically Syria, Lebanon, and the Palestinians.
===
Some people say that Arabs are "native Palestinians", while Jews are
"invaders" and "settlers". But I read the biographies of Israeli and
Palestinian political leaders, and I was confused. Who of Israeli or
Palestinian leaders were born in Palestine?
ISRAELI LEADERS:
BENJAMIN NETANYAHU, Born 21 October 1949 in Tel Aviv.
EHUD BARAK, Born 12 February 1942 in Mishmar HaSharon, British Mandate of

Palestine

ARIEL SHARON, Born 26 February 1928 in Kfar Malal, British Mandate of
Palestine

EHUD OLMERT, Born 30 September 1945 in Binyamina-Giv'at Ada, British Mandate
of Palestine.

ITZHAK RABIN, Born 1 March 1922 in Jerusalem, British Mandate of Palestine.

ITZHAK NAVON, Israeli President in 1977-1982. Born 9 April 1921 in
Jerusalem, British Mandate of Palestine.

EZER WEIZMAN, Israeli President in 1993-2000. Born 15 June 1924 in Tel Aviv,
British Mandate of Palestine.

ARAB PALESTINIAN LEADERS:
YASSER ARAFAT, Born 24 August 1929 in Cairo, Egypt

SAEB ERAKAT, Born April 28, 1955, in Jordan. He has the Jordanian
citizenship.

FAISAL ABDEL QADER AL-HUSSEINI, Born in1948 in Bagdad, Iraq.

SARI NUSSEIBEH, Born in 1949 in Damascus, Syria.

MAHMOUD AL-ZAHAR, Born in 1945, in Cairo, Egypt.

So, Israeli leaders, born in Palestine, are "settlers or invaders," while
Palestinian Arab leaders who were born in Egypt, Syria, Iraq, Tunisia are
"native Palestinians" ?
===
===
Jere VanLoan
===
Read to the end where the author will be disclosed. Very interesting.
" Who is Tony Abbott?
Overheard last week: "It's such a shame there isn't someone other than Tony Abbott as alternative Prime Minister. We think the Gillard government is bad for the country, but it would be better if we had another Opposition leader to vote for."
It caused me to ask why that view might exist given Abbott's b
ackground, and I wondered if it might be that people do not know his history. So, I have put together some information which might help get a better understanding of the man.

Abbott graduated from the University of Sydney with degrees in Bachelor of Laws (LLB) and Bachelor of Economics (BEc). Then he became a Rhodes Scholar at Queens College Oxford UK in Politics and Philosophy. He also won a boxing blue at Oxford. He married Margaret in 1987 and has three daughters. He is a member of the congregation of the Catholic Church.

He was involved in student politics, but beyond that, biographer Michael Duffy, wrote that during his student days he saved a child who was swept out to sea. Another time, he helped save children from a burning house next to a pub where he was drinking. On each occasion he disappeared before he could be properly thanked

He is a member of Manly's Queenscliffe SLSC, and a member of the New South Wales Rural Fire Service, both of which he joined before it was politically expedient to do so. He spent several weeks teaching in remote Aboriginal settlements in Cape York in an effort 'to familiarise himself with indigenous issues'
If you are wondering where some of the negativity attributed to Tony Abbott comes from, go on to the Net and have a look at the comments which followed, 2 years ago, when he was asked by the Women's Weekly

"What advice would you give your three daughters on sex before marriage?" He told the magazine: ''I would say to my daughters, if they were to ask me this question "it is the greatest gift you can give someone, the ultimate gift of giving and don't give it up to someone lightly."

Yet, if you were to read many of the comments on the Internet and the print media at the time, you could be forgiven for thinking he was attempting to impose his will on all females in Australia, had ranted against women, had argued for Muslim like chastity, and so on.................. See for yourself - Google it! Gillard's response was to accuse Abbott of "lecturing women"???

I have also included a video of Abbott where he commented on, in what seems to me to be quite a balanced fashion, "climate change" yet the title of the video suggests he has been extreme in "denying climate change and advocating carbon tax". See what you think. Then have a look at the longer interview from which this original excerpt was taken.

Abbott has had a history of being told by 'ABC types' that he lacks compassion, does not understand homosexuality or homosexuals, avoids situations where he might need to face up to gay relationships, and so on. Again, because he was not prepared to reveal personal issues of others (ethics, principles), he did not speak about his own sister's lesbian relationship and the part he played in supporting her. It would have been an easy defence for him, but in line with his principles and values, he chose not to use it.

Granted, he is not a super smooth, off the cuff, speaker, and does not fit the orator mould. But when he is compared to the glib tongues and untrustworthiness of Gillard, Rudd, Swan, etc., it is not difficult to determine which attributes are more important for the leadership of Australia.
After Abbott completed his studies, he became a journalist for The Bulletin and also the Australian. For a time he was plant manager for Pioneer Concrete, then became press secretary for the then Opposition Leader, Dr John Hewson. He was elected to Parliament in 1994 at a bi-election. He has held various Ministerial posts and his actions in those roles are a matter of public record. His work ethic is unquestioned.

He was dismayed at the policies of former leader Malcolm Turnbull relating to ETS, and following widespread disaffection with Turnbull's stance among Liberal Party members, threw his hat into the ring, as did Joe Hockey, for leadership of the Liberal Party. Abbott was successful. At the time, the polls were running strongly against the Liberal Party (in the 40% approval range), while Kevin Rudd enjoyed figures around 60%

Within a short space of time, with Abbott as leader, those figures changed to such a degree that Rudd was replaced in the now infamous "faceless men" coup which installed Gillard. Since that time, Abbott has maintained constant focus on the ever widening circle of disasters associated with the Gillard government to the stage where support for that government now hovers around the 30% mark.

Abbott strikes me as a person of integrity, he has values in which I too believe, and ethics based on his Christian beliefs. I would much rather place my trust in someone who, in his actions, has shown he is what he says, rather than someone who will say anything to gain a prospective advantage for themselves.

BY Mark LATHAM, Former Leader of A.L.P."
===
===
===
If this isn't real .. well some gangsta should go to jail .. ed
===
From my cousin, Gym - ed
===
Zaya Toma
The line at pre poll is just getting longer and longer
===
Where do you think are the best vantage points to view Hong Kong's amazing skyline?
Here is the view looking west towards Wan Chai and Central from an overpass on Victoria Park Road.
===
Rest in Peace Steve Irwin. Today makes 7 years (yes 7 years) since he passed.
===
===
4 her
===
===
At
Utopia Park
Orchid park link
===
===
===
Here's an idle thought. If you were voting in Griffith knowing that Rudd will spit the dummy after the election and you would be forced to vote again in a By-election, would you still vote for Rudd?
===
Don't count the days, make the days count.
Hope everyone had an amazing day today!
===
===
This email is part of an effort to support 12Tribe Films continued growth in helping people connect with the Jewish people and the Land of Israel. Anyone interested in staying connected with 12Tribe Films, yet not interested in receiving emails like this can just unsubscribe below.
===
===
Hi everyone! Here's the MichelleMalkin.com newsletter for September 3rd. Enjoy!
Democrats received Big Labor support for Obamacare because of promises that unions would have priority access to lifeboats when the whole thing started to sink...
Arizona Sen. John McCain's been somewhat critical of President Obama's response, or lack thereof, to the situation in Syria...
More From the Right Side of the Web
And ... Our Hate Tweet of the Day
"If it were up to here." When asserting that someone else is dumb, at least have the good sense to check your tweet for typos.
===
===
===