The change in Australian politics has not yet been settled. The change of government has happened. The public service are addressing better policy. But exactly what everything means hasn't been discussed or thought through. Naturally the ABC are defending their core values .. environmental extremism and far left politics. But not everything is about that narrow view. So some bizarre things have been said which simply jar. An ABC columnist gives a sermon on the evils of work. Other ABC journalists defend the practice of fleecing refugees with pirates and drowning many of them, calling it compassionate. One of those advocates they summon is former Liberal Leader Malcolm Fraser. Current conservatives don't hold that view. Bolt raises the issue of a schism in the conservative ranks evidenced by Abbott insisting on discipline. Alternatively, I think Abbott is merely insisting on good praxis. But then Bolt likes to be balanced whereas I insist I'm a conservative. We agree that the more seats Palmer's party has the worse it is for Australia. Latham talks about ALP leadership, but I struggle to find any such animal or example. Suzuki looks uninformed when answering basic scientific questions. It becomes apparent one of the faceless grey men backing the previous ALP government and making back door decisions was an anti semitic bigot. Green party is imploding, while Julia is writing a book.
A siege in Kenya is over, now is time to mourn the victims of terror. A senior Kenyan Islamic cleric has denounced the terrorists as not being Islamic .. but they had dressed in women's clothes and killed innocent, helpless people, so it is understandable that it is hard for innocent bystanders to know. All that and more can be found with the following links.
===
Hatches
Happy birthday and many happy returns
Catherine Nguyen
,
Caitlin Chao
and
Andrew Davis
. Born on the same day, across the years, along with
1329 – Anne of Bavaria (d. 1353)
1767 – Wenzel Müller, Austrian composer and conductor (d. 18
35)
1774 – Johnny Appleseed, American environmentalist (d. 1845)
1843 – Joseph Furphy, Australian novelist (d. 1912)
1849 – Ivan Pavlov, Russian physiologist, Nobel Prize laureate (d. 1936)
1887 – Barnes Wallis, English scientist and engineer, invented the Bouncing bomb (d. 1979)
1888 – T. S. Eliot, American-English publisher, playwright, and critic, Nobel Prize laureate (d. 1965)
1898 – George Gershwin, American composer (d. 1937)
1907 – Anthony Blunt, English historian and spy (d. 1983)
1917 – Tran Duc Thao, Vietnamese philosopher (d. 1993)
1922 – Nicholas Romanov, Prince of Russia
1943 – Ian Chappell, Australian cricketer
1945 – Bryan Ferry, English singer-songwriter (Roxy Music)
1948 – Olivia Newton-John, English-Australian singer-songwriter and actress
1968 – James Caviezel, American actor
1981 – Serena Williams, American tennis player
1991 – Dan Preston, English footballer
Matches
46 BC – Julius Caesar dedicates a temple to his mythical ancestor Venus Genetrix in accordance with a vow he made at the battle of Pharsalus.
1087 – William II is crowned King of England, and reigns until 1100.
1580 – Sir Francis Drake finishes his circumnavigation of the Earth.
1687 – The Parthenon in Athens is partially destroyed by an explosion caused by the bombing from Venetian forces led by Morosiniwho are besieging the Ottoman Turks stationed in Athens.
1687 – The city council of Amsterdam votes to support William of Orange's invasion of England, which became the Glorious Revolution.
1777 – British troops Philadelphia campaign occupy Philadelphia, Pennsylvania during the American Revolution.
1789 – Thomas Jefferson is appointed the first United States Secretary of State, John Jay is appointed the first Chief Justice of the United States, Samuel Osgood is appointed the first United States Postmaster General, and Edmund Randolph is appointed the first United States Attorney General.
1907 – New Zealand and Newfoundland each become dominions within the British Empire.
1908 – Ed Reulbach becomes the first and only pitcher to throw two shutouts in one day against the Brooklyn Dodgers.
1933 – As gangster Machine Gun Kelly surrenders to the FBI, he shouts out, "Don't shoot, G-Men!", which becomes a nickname for FBI agents.
1942 – The Holocaust: August Frank, a higher official of the SS concentration camp administration department, issues a memorandum containing a great deal of operational detail in how Jews should be "evacuated".
1959 – Typhoon Vera, the strongest typhoon to hit Japan in recorded history, makes landfall, killing 4,580 people and leaving nearly 1.6 million others homeless.
1960 – In Chicago, the first televised debate takes place between presidential candidates Richard M. Nixon and John F. Kennedy.
1960 – Fidel Castro announces Cuba's support for the U.S.S.R.
1983 – Soviet military officer Stanislav Petrov averts a likely worldwide nuclear war by correctly identifying a report of an incoming nuclear missile as a computer error and not an American first strike.
Despatches
1417 – Francesco Zabarella, Italian cardinal (b. 1360)
1468 – Juan de Torquemada, Spanish cardinal (b. 1388)
1763 – John Byron, English poet (b. 1692)
1820 – Daniel Boone, American explorer (b. 1734)
1868 – August Ferdinand Möbius, German mathematician and astronomer (b. 1790)
1902 – Levi Strauss, German-American businessman, founded Levi Strauss & Co. (b. 1829)
2008 – Paul Newman, American actor, director, and businessman, co-founded Newman's Own (b. 1925)
===
Andrew Bolt

September

26

2013

(8:33am)
===
Andrew Bolt

September

26

2013

(7:51am)
===
Andrew Bolt

September

26

2013

(7:47am)
===
Andrew Bolt

September

26

2013

(7:27am)
===
Andrew Bolt

September

26

2013

(7:23am)
===
Andrew Bolt

September

26

2013

(7:15am)
===
Andrew Bolt

September

26

2013

(6:39am)
===
Andrew Bolt

September

26

2013

(6:30am)
===
Andrew Bolt

September

26

2013

(6:05am)
===
===
===
Jere VanLoan
One done with Arend Nijssen a while back. Just for your smile
===
Joyce Meyer Ministries
===
HERO POOCH: A dog in Turkey is being hailed as a hero this week after the quick-acting pup rushed to stop a baby from crawling into the sea near Kabak Bay in Turkey.
The dog was playing fetch at the time the infant wandered a bit to close the waves.
Watch footage in
9 News
at 6pm.
#dogs
#Turkey
#9News
===
Senator Cruz fought for us for more than 21 hours on the Senate floor. Now you can act. Make sure you call the Senate today and tell them to Defund Obamacare.
http://www.teapartypatriots.org/2013/09/6-days-stop-obamacare/
===
===
NSA spy scandal may scuttle EU-US anti-terrorist agreement – EU commissioner - RT News
"The European Union is threatening to suspend a data-sharing deal with the United States. It is supposed to track terrorist bank funding, but there are
suspicions the National Security Agency was stealing financial data from law-abiding Europeans.

Cecilia Malmstrom, the EU commissioner responsible for investigating the implications of the NSA and GCHQ spy scandal, said the Terror Finance Tracking Program (TFTP) of 2010, which supplies bank and credit card transaction information to the US treasury in an effort to trace funding to terrorist groups, may be in jeopardy if it is determined the Americans were abusing the agreement."
===
===
Unbelievable facts
Black Wolf Hybrid
===
===
The words of a man who drowned many before Ruddock got him to change his tune. - ed
===
If you're using a non-furry alarm clock to get out of bed in the morning, you're stuck in the dark ages.
Sure, cats don't always pick
exactly
the right time to wake you up, but you can't say they're inconsistent.
===
Mr. Obama: you like to call ObamaCare the law of the land. But, it's not really a law; it is a set of edicts that one man --you!-- enforce or choose not to enforce at your pleasure.
http://bit.ly/14BicDl
Under our Constitution --to which We The People happily cling-- you have no authority to waive parts of laws passed by Congress. Yet, you grant waivers when you feel like it. You delay parts of it
when doing so strikes your royal fancy. Now, you have waived a perfumed hand and let Congress off the hook of your monstrosity, just as you did for big business. Mr. Obama: you are not special, you are not a ruler and we are not supplicants. While you will never admit that, we know it to be true and are never going to stop fighting to right-size government power.
===
===
Lol .. Drama resembles Obama .. ed
===
Australia does a sensational job drowning a large number of desperate, poor people, after subjecting them to piracy. The Pacific Solution had stopped that .. but compassionate ALP preferred the piracy and murder (applauds) - ed
===
Pastor Rick Warren
PLEASE pray for the Middle East!
I was in Amman, Jordan where King Abdullah II, a Muslim had asked me to convene and open a conference on the violence and persecution against Arab CHRISTIANS that's happening daily.
Over 60 churches have been burned in Egypt, and others in Syria, etc. About 80 Arab Christian leaders from 22 Arab nations - many Orthodox Patriarchs - met for 2 days. I was deeply honored to be given that nation's highest award by the King for the humanitarian efforts of the P.E.A.C.E. plan. But I'm glad to be back home!
===
<Even more good news from the ACT. Even more joyous because it's a Liberal who deprived a Green of a Senate seat. Thank you animal lovers!>
===
===
http://www.dailymail.co.uk/news/article-2429940/Has-Julia-Gillard-split-hairdresser-boyfriend-Magazine-Australian-PMs-lover-living-caravan-bush.html
===
Good. >
http://www.theage.com.au/federal-politics/political-news/anthony-albanese-is-an-intellectual-lightweight-mark-latham-20130926-2uf9s.html
===
A government spokesman denied the claim and said Kenyan forces were clearing all rooms, firing as they moved and encountering no one.


Read more: http://www.news.com.au/world-news/africa/alshabab-claim-kenya-troops-buried-137-hostages-in-nairobi-mall/story-fnh81gzi-1226727205060#ixzz2fzEmYG00
The female clothing wearing freedom fighters claim they were meticulous and scrupulous. In fact, they killed randomly, like terrorists. - ed
===
===
===
===
Jon Stewart challenges famed atheist Richard Dawkins: "Isn't the job of a scientist, in some ways, to have faith that there's something out there that we don't understand yet?"
===
Escalating conflict in northern Kachin State is forcing more civilians into IDP camps. Camp supplies are running low, with children in camps on the China-Burma border eating their rice with salt due to the dwindling food supply. Health cond
itions and malnutrition are becoming major concerns, as is human trafficking, as youth attempting to escape the conditions at IDP camps fall prey to traffickers. Meanwhile, the US government through USAID continues to refuse to fund community-based organizations providing aid to IDPs in Kachin areas.

Demand USAID take action here: http://bit.ly/16POFJ0
===
===
===
If, God forbid, you are forced into an ObamaCare exchange, you will get ZERO employer contribution and will pay the high rates for an awful insurance plan. BUT, not Congress. His Majesty, Barack Obama, has given congress a gift ... of YOUR money so YOU will pay for their insurance. This isn't Republican vs. Democrat, this is the American people versus the elites.
http://bit.ly/19EjE6q
===
===
===
Warning: You may shed a tear after watching this Mariano Rivera tribute by MLB -
http://atmlb.com/1b6fGXn
#ExitSandman
===
4 her
===
===
<
I got to go to work today. I got to eat breakfast, lunch and dinner. I got to go to the gym and have a great workout and talk to my cousin. I got to spend time with my grandmother while she cut up fruit for me. I get to go fishing all day on a Thursday. The only thing stopping me from being happy is myself. Not notions of being happy when I finally get my unit or new car etc. I am happy now! I am rich now!>
===
That is exemplified by Suzuki, Flannery .. - ed
===
===
Share this with your friends if you think it is utterly disgraceful that Harry Reid is slamming ObamaCare down upon the heads of working Americans while getting himself and his staff waivers that are, in all likelihood, illegal.
http://bit.ly/14BicDl
===
Crony Tay Za receives praise from Americans for funding a mountain expedition in
#Kachin
state while hundreds of ethnic Kachin people are being attacked and displaced nearby. Not coincidently, the fighting that recently erupted in the resou
rce-rich Putao district is an area that Tay Za is currently in the process of acquiring for a gold mining project. Putao district is not far south of where the mountain expedition took place.

"The American climbers involved in the expedition do not appear to be concerned by the fact their trip was financed by Tay Za, described by the U.S. Treasury department as 'a notorious regime henchman and arms dealer'"

Earlier this month, the entire population of Nhka Ga village in Putao district fled attacks by the #Burma army, leaving two individuals killed and several tortured by the Burmese #military. At a time when ethnic Kachin victims need our help the most, we pull the wool over our eyes to #abuses, #conflictand #aid while praising a hiking expedition funded by a notorious #crony. [http://bit.ly/16C5lOI]
===
ALLONS-Y! Our LIMITED EDITION TARDIS iPhone 4 & 4s covers are back in stock! Shop here:-
http://bit.ly/16YqTIF
===
The Doctor has had many faces and many lives – and it's not just the TARDIS and Clara who have been there to witness all of them…
Discover more about the Doctor's past for yourself with this companion-in-writing, 'The Doctor: His Lives and Times'. Read an exclusive intro on doctorwho.tv:
http://bit.ly/1h0yqZa
===
I've asked the staff to look into this.
===
Have you ever considered the irony of the term "department of defence" for the Military. I wonder if the term "department of offence" might be more appropriate sometimes? Reminds me of Geoge Orwell's 1984.
Orwell wrote '84 in '48 .. the UN came into being in '49 as a functioning concern, although it had been around since '45. The UN outlawed armies .. it was no longer allowed for a nation to be belligerent. They could only defend themselves against belligerence. Overnight, every army in the world became a 'defence force' .. Orwell was writing about that .. ed
===
Stunning Sunset at Shark Fin Cove
===
Do you know someone who claims to suffer from depression but you believe it's an excuse?
http://bit.ly/DepressionOrFaker
Are you the victim of domestic violence and don't know where to turn?
http://bit.ly/VictimofAbuse
Are you the parent of a teenage girl who proudly boasts about her girl fights?
http://bit.ly/DisrespectfulTeen
===
Pastor Rick Warren
Kay having a good time with Josh.
Three of my favorite people. Great to be home.
"Never retaliate when people say unkind things about you. Instead, pay them back with a blessing. That is what God wants you to do." 1 Peter 3:9
=
"Those who refuse to admit mistakes will never be successful. But those who confess and forsake them get another chance." Proverbs 28:13 Success comes, not to those who are perfect, but to those who admit their imperfection.
===
===
It's all about the compromise.
===
What happens when Uni gets boring...
===
Thirty years ago the last checker flag was at Freeport Speedway.. 1931-1983 Today its coming alive in my basement.. lol
===
The system does not work. It doesn't work in Australia either .. at the age of 40, never having been unemployed, I was unable to insure myself against income loss because of my weight .. now, not because of my weight, I am jobless and on pu
blic health care .. Affordable Care has gaping holes, although it fills a few cracks it won't be around for long, not because of political opposition which should kill it, but because it isn't sustainable in its present form. - ed
===
Play for any audience available
===
===
Senator Ted Cruz (R-TX) has passed the eight-hour mark in his marathon speech to defund
#ObamaCare
. Check out all of the highlights so far, including Sen. Cruz reading "Green Eggs and Ham" to his daughters (and relating it to ObamaCare):
http://tinyurl.com/qcd9qbn
===
his bark is worse than his bite
===
Dr. Phil
You can't break a bad habit until you replace it with a positive one. #DrPhil http://bit.ly/BreakingYourAddiction
===
Sarah Palin
Piper's getting ready for school & Ted's still going! Encourage kids to learn US history through this & endure to do what's right.
#MakeDCListen
===
Turns out Forest Boy loved civilized society only when it was handing him his welfare cheque.
http://www.smh.com.au/world/fake-forest-boy-sentenced-in-germany-20130926-2uh08.html
===
As a people who suffered at the hands of the Nazis as the world looked on, the Jewish community cannot look on as the world suffers. Having risen from the depths of a dark past, Jews have a unique obligation to respond to the suffering of the world. This obligation is a guiding principle at the core of Israeli society. The Jewish State cannot be a bystander.
In their undertakings as "upstanders," Israelis have provided humanitarian aid to people all over the globe, from Boston to Oklahoma, to Haiti, to Japan, to Gaza, to Syria, and many more, dealing with a wide array of dire situations, from natural disasters to medical emergencies, to refugee crises, to wars, to genocide.
While some may attribute this lack of financial charity to greed and self-absorption, in actuality, it simply points to a difference in methods and values. The definition of charity isn't limited to giving money; it is defined as showing generosity toward those in need. Israel partakes in forms of giving that operate on a much deeper level than financial donations, affecting people's lives in significantly more personal and impactful ways.
As a 65-year-old country that is still developing its economy and facing unpredictable threats of violence and terror, giving financially is not Israel's strong suit. But that doesn't mean Israelis are not generous to people in need. Israelis work to create organizations such as Save a Child's Heart (SACH), IsraAID, and the Negev Institute for Strategies of Peace and Development (NISPED) that operate to save the lives of those in crisis, regardless of race, religion, or nationality. Additionally, Israelis utilize various innovations in the areas of medicine, agriculture, and military technology that have been developed in Israel to benefit individuals on a global scale.
Many people are aware of Israeli's global aid; they have been exposed to information regarding the number of tons of supplies that Israel has provided and the approximate number of people they have saved. However, those facts are too wide in scope and too abstract to invoke an emotional response or effectively stimulate positive feelings towards Israel. People are unable to relate on a personal level to facts and figures. This explains why many dismiss the statistics and overlook the meaning behind them, some even going so far as to write off Israel's social action endeavors as publicity stunts, solely intended to improve Israel's reputation. So how do we make the connection?
On a trip to Poland in my senior year of high school, I stood in Auschwitz facing a glass enclosure containing thousands upon thousands of shoes. The number of victims who had perished in the camp was too big to grasp, the mass scale of the murder of the Jewish people too overwhelming to process. I was then advised to focus on a single shoe, think of the person who it had belonged to and reflect on what his or her life might have been like. This exercise was powerful and helped me put things in perspective.
Similarly, to truly understand the purpose and meaning behind Israel's humanitarian aid, we need to dial back and narrow the focus. The personal experiences of those who have been touched by Israel's helping hands are much more revealing as to the depth and impact of Israel's giving than statistics. Just as each shoe in Auschwitz represents a real person who it once belonged to, each number in reference to the recipients of Israel's humanitarian aid represents a real life, a real person.
Though those who make misguided statements about Israel's lack of charity and selfish ways may have a louder voice, it is those who have benefited from Israel's assistance that matter most – the American man injured in a hunting accident, rising from his wheelchair to walk across a stage to meet the Israeli inventor of the system that changed his life; the Palestinian family who thanks two grieving Israeli parents for saving the life of their son in the face of their own tragic loss; the Haitian mother who names her child after the country whose doctors delivered him into the world; the Syrian mother who holds her 4-year-old daughter in her arms after she is saved by open-heart surgery in a medical center in Israel. They are Dan Webb, Yakoub Ibhisad, Gubilande Jean Michel, and Nadrah. They are the ones who know Israel's true nature, and it is their stories of survival and immeasurable gratitude that display the profound impact of Israel's giving. In the words of the Talmud: "Whoever saves a life, it is as if he saves the entire world."
===
===
===
Lebanon calls for 'safe zones' to accommodate Syria refugees - Jpost
"At the meeting, Obama announced a new $8.7 million aid package to Lebanon that would support its military, suffering from splintering with the growing influence of Hezb
ollah.

Obama said the US "strongly supports the role of the Lebanese armed forces in maintaining Lebanon's stability, and today we're announcing an additional $8.7 million that would provide needed equipment in support of the Lebanese armed forces in internal stability and border security missions." - Michael Wilner

http://paper.li/allysonchristy/1338794440
===
Number of Gaza terror groups possess Strela 2 MANPADS
By DAVID BARNETTSeptember 25, 2013
In March 2005, then Israeli Defense Minister Shaul Mofaz told senior US officials that some Strela antiaircraft missiles had made their way into the G
aza Strip. Six months later, senior Israeli official Amos Gilad told US officials that "thousands of rifles, rockets, rocket propelled grenades, and maybe even Strela missiles" had been smuggled into the Gaza Strip.
Read more:http://www.longwarjournal.org/archives/2013/09/number_of_gaza_terro.php#ixzz2fwJVYe00
===
===
(

JNS.org

)
A Jewish couple and its four-year-old son barely escaped being killed by an Arab lynch mob that had attacked the family's vehicle near Jerusalem's A-Tur neighborhood.
The UN supports this terror - ed
===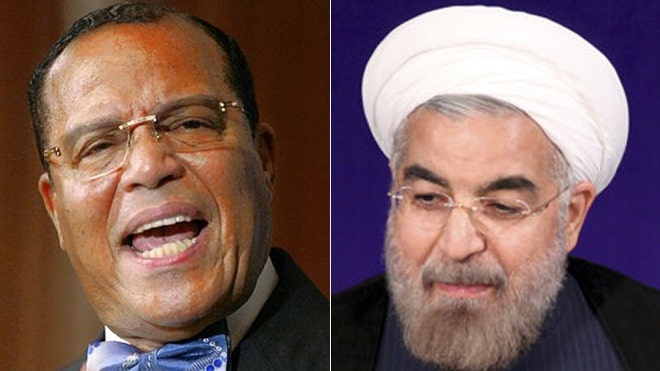 Farrakhan and his entourage attended a dinner party hosted by Iranian President Hassan Rouhani on Tuesday night. Rouhani's dinner party was held on the second floor of the One UN Hotel, where the Iranian delegation is staying, and at the same time as President Obama's party at the Waldorf Astoria just blocks away.
The private dinner party was held just hours after Rouhani's speech to the general assembly.
Farrakhan and his massive entourage and private security detail were seen departing the hotel around 10 p.m. Tuesday. Pedestrian traffic was stopped while the minister and his group piled into various cars with lights and sirens and New Jersey license plates.
===
Islamist Lobbies' Washington War on Arab and Muslim Liberals
" The most dramatic oppression of the region's civil societies and the Arab Spring is not by means of weapons, or in the Middle East. It is not led by Gaddafi, Mubarak, Bin Ali, Saleh, or Assad. It is led by the powerful Islamist lobbies in Washington DC. "

The most dramatic oppression of the region's civil societies and the Arab Spring is not by means of weapons, or in the Middle East. It is not led by Gaddafi, Mubarak, Bin Ali, Saleh, or Assad. It is led by the powerful Islamist lobbies in Washington DC. People may find my words curious if not provocative. But my arguments are sharp and well understood by many Arab and middle eastern liberals and freedom fighters. Indeed, we in the region, who are struggling for real democracy, not for the one time election type of democracy have been asking ourselves since January 2011 as the winds of Arab spring started blowing, why isn't the West in general and the United States Administration in particular clearly and forcefully supporting our civil societies and particularly the secular democrats of the region? Why were the bureaucracies in Washington and in Brussels partnering with Islamists in the region and not with their natural allies the democracy promoting political forces?

Months into the Arab Spring, we realized that the Western powers, and the Obama Administration have put their support behind the new authoritarians, those who are claiming they will be brought to power via the votes of the people. Well, it is not quite so.
The Muslim Brotherhood, the Islamic Nahda of Tunisia, the Justice Party of Morocco and the Islamist militias in Libya's Transitional National Council have been systematically supported by Washington at the expense of real liberal and secular forces. We saw day by day how the White House guided carefully the statements and the actions of the US and the State Department followed through to give all the chances to the Islamists and almost no chances to the secular and revolutionary youth. We will come back to detail these diplomatic and financial maneuvers which are giving victory to the fundamentalists while the seculars and progressives are going to be smashed by the forthcoming regimes.

In the US, there are interests that determine foreign policy. And there are lobbies that put pressure to get their objectives met in foreign policy. One of the most powerful lobbies in America under the Obama Administration is the Muslim Brotherhood greater lobby, which has been in action for many years. This lobby has secured many operatives inside the Administration and has been successful in directing US policy towards the Arab world. Among leading advisors sympathetic to the Ikhwan is Daliah Mogahed (Mujahid) and her associate, Georgetown Professor John Esposito. Just as shocking, there is also a pro-Iranian lobby that has been influencing US policy towards Iran and Hezbollah in the region.

One of the most important activities of the Islamist lobby in the US is the waging of political and media wars on the liberal Arabs and Middle Eastern figures and groups in America. This battlefield is among the most important in influencing Washington's policies in the Arab world. If you strike at the liberal and democratic Middle Eastern groups in Washington who are trying to gain support for civil societies in the region, you actually win a major battle. You will be able to influence the resources of the US Government to support the Islamists in the Middle East and not the weak democrats. This huge war waged by the Islamist lobbies in America started at the end of the Cold war and continued all the way till the Arab spring. The two main forces of this lobby are the Muslim Brotherhood fronts and the Iranian fronts. According to research available in the US, the Ikhwan fronts such as CAIR (Council on American Islamic Relations), led by Hamas supporter Nihad Awad, as well as the Muslim Public Affairs Council, the Islamic Society of North America, and others waged their political war to block the representatives of Arab liberals and Muslim moderates from making their case to the American public. The Iranian lobby, exemplified by the National Iranian American Committee (NIAC), led by Trita Parsi, has been hitting at Iranian exiles.

Since the 1990s CAIR and its allies have attacked Copts, Southern Sudanese, Lebanese, Syrian reformers, Assyrians and Chaldeans, and Muslim dissidents in the United States. The Ikhwan of America demonized any publication, book, article, or interview in the national media or local press raising the issue of secular freedoms in the Middle East. The Islamists wanted to eliminate the liberal cause in the Arab world and replace it with the cause of the Islamists. What is also shocking is that CAIR and its allies stood by the oppressive regimes and visited them, claiming they speak on behalf of the peoples. CAIR and the Brotherhood fronts in America destroyed systematically every project that would have defended the seculars and liberals originating from the Middle East. The notorious and well-funded Islamists of the US allowed no book, documentary, or show on the liberals in Arab civil societies to see the light.

Thanks to this powerful lobbying campaign, the American public was not given a chance to learn about the deep feelings on the youth in the region. Americans were led to believe that all Muslims, all Arabs and all Middle Easterners were a strange species of humans who cannot appreciate freedom. Instead, the American Islamists, helped by apologists on the petrodollars payrolls, convinced the mainstream media that the Arab world has authoritarians and Islamists only.

Dr Shawki Karas, president of the American Coptic Association, told me in the late 1990s how he was harassed by Islamist activists for speaking up against the Mubarak regime and the Muslim Brotherhood in America. He was threatened with losing his job at the college where he taught. Reverend Keith Roderick, who has assembled a coalition of more than 50 group rights from the Muslim world, was severely attacked by the Islamists and was threatened to be removed from his church position. Muslim American leaders who are conservative and secular, such as Dr Zuhdi Jasser, were crucified by CAIR and the Brotherhood for daring to challenge the Party line of the Isl.amists in America and claiming that the Jihadists are the problem in the region. Muslim liberal dissidents such as Somali Ayan Hirsi Ali, Saudi Ali al Yammi, Syrian Farid Ghadri, Iranian Manda Ervin, and many others were trashed by the Islamist lobbies to block them from defending the causes of secular liberty in the US. Egyptian liberals as well as seculars and democracy activists from Iraq, Sudan, Syria, and other countries have been attacked by CAIR and allies. The pro-Iranian lobby targeted most Iranian-American groups and tried to discredit them, particularly with the rise of the Green Revolution in Iran. By smearing the Muslim liberal exiles, the Islamists were trying to destroy their causes in the mother countries. In the 1990s and the years that followed 9/11 the region's dictators supported the efforts by Islamist lobbies to crush the liberal exiles. The Mubarak, Bashir, Gaddafi, Assad, and Khomeinist regimes fully supported the so-called Islamophobia campaign waged by CAIR and its Iranian counterpart NIAC against dissidents for calling for secular democracy in the region. The dissidents were accused of being pro-Western by both the Islamists and the dictators.

The Islamist lobbies also severely attacked members of the US Congress such as Democrats Tom Lantos, who has since passed away, Eliot Engel, Howard Berman, Gary Ackerman, and Joe Lieberman as well as Republicans Frank Wolfe, Chris Smith, Trent Franks, John McCain, Rick Santorum, and Sam Brownback for their efforts in passing legislative acts in support for democracy and liberty in the Middle East. CAIR and NIAC heavily savaged President Bush's speeches on Freedom Forward in the Middle East, deploying all the resources they had to block US support to liberal democrats in the region. Islamist lobbies in Washington are directly responsible for killing any initiative in the US Government to support Darfur, southern Sudan, Lebanon, the Kurds, liberal women in the Muslim world, and true democrats in the Arab world and Muslim Africa.

In the think tank world, CAIR and its allies aggressively attacked scholars who raised the issue of persecution against seculars or minorities in the Arab world and Iran. Among those attacked were Nina Shea and Paul Marshal from the Hudson Institute and the founder of an anti-slavery group, Dr Charles Jacobs, who was exposing the Sudan regime for its atrocities. Last but not least is the Islamists' relentless campaign to stirke at top scholars who advise Government and appear in the media to push for democratic liberation in the region. The vast and vicious attacks leveled against Professor Walid Phares—initially by CAIR's Nihad Awad and then widened by pro-Hezbollah and Muslim Brotherhood operatives online—has revealed to Arab and Middle Eastern liberal and seculars how ferocious is the battle for the Middle East in the US. Phares's books, particularly the latest one, The Coming Revolution: Struggle for Freedom in the Middle East (2010), hit the Islamist agenda hard by predicting the civil society revolts in the Middle East and then predicting how the Islamists would try to control them. Phares was attacked by an army of Jihadist militia online like no author since Samuel Huntington in the 1990s. As a freedom activist from the Middle East, Mustafa Geha, wrote, Phares is a hero to Muslim liberals. Along with dissidents, lawmakers, experts, and human rights activists, Phares is a force driving for a strategic change in US foreign policy towards supporting secular democracies in the region. This explains why the Islamists of America are fighting the battle for the forthcoming regimes with all the means they have.

Dr. Essam Abdallah is an Egyptian liberal intellectual who teaches at Ain Shams University and writes for the leading Arab liberal publication Elaph.

http://www.thecuttingedgenews.com/index.php?article=53331&pageid=44&pagename=Slices
===
Chocopologie by Knipschildt
Cost: $2,600 per 450g
Where: Norwalk, Conn.

Web site: www.knipschildt.com

Knipschildt Chocolatier was founded in 1999 by Fritz Knipschildt, who got his culinary education as a chef in Denmark. The most-expensive chocolate he sells–a $250 dark chocolate truffle with a French black truffle inside–is available on a preorder-only basis. It's made of 70% Valrhona cacao, which is blended into a creamy ganache with truffle oil. The truffle is then hand-rolled with a dark truffle on the inside and dusted with cocoa powder.
.. a dog came by, shortly before the photo was taken, ate the treat, and left behind this .. ed
===
===
My simple dinner... can't go wrong...
===
"Right now, unless you and the Obama Administration enact an equitable fix, the ACA will shatter not only our hard-earned health benefits, but destroy the foundation of the 40 hour work week that is the backbone of the American middle class."
===
Sen. Ted Cruz is still going this morning, speaking for 16+ hours on the Senate floor in his battle to defund #ObamaCare.
Watch live:
http://tinyurl.com/n2scoeh
===
=
===
4 her
===
===
===
===
===
===
===
===
Hi everyone! Here's the MichelleMalkin.com newsletter for September 25th. Enjoy!
Like an estimated 22 million other Americans, I am a self-employed small-business owner who buys health insurance for my family directly on the individual market...
Remember the State Department scapegoats who were "fired" over Benghazi but later re-hired by John Kerry while subsequently nobody else was held accountable with the possible exception of a guy who made a YouTube video?
This latest lesson about the founding documents offered by the Dem leader who brought the world "we avow your First Amendment right to own a gun" comes to us courtesy of The Weekly Standard...
More From the Right Side of the Web
And ... Our Hate Tweet of the Day
===
"My dear children, I write this to you so that you will not sin. But if anybody does sin, we have an advocate with the Father—Jesus Christ, the Righteous One." 1 John 2:1 NIV
===