Today is the birthday of Australia's greatest love poet, CJ Dennis. Tony Abbott will soon be PM. Rudd won't be. My heart is full. I have people I must thank who give much of their time for helping me with my duties re Bolt Report Supporter's Group and related groups (Conservative Voice, Smithfield/Fairfield/Cabramatta digital cultural museum and Justice for Hamidur Rahman). Stephanie, Mandy and John, I love you all. And thank you. Bolt report would look filthy if you didn't regularly tend to it, but, thanks to your devotion, contributors are able to express themselves with their voice. We don't bludgeon people to agree with us. And I certainly could not author anything put forward by the Katz, Paddles (no longer here but .. bizarrely ..), JFo, ZEG, and so many .. I value your thoughts, and thank you for your contribution. Today is a watershed.
Tomorrow is business as normal. I started two events between Bolt and Voice in order to allow the community to bond on a common cause. That was a minor success. In the future, I hope to do more, and hope to build on what we have. I hope to hold the Abbott government to its promises, although I largely expect them to honour them. I have my own agenda and I will begin prosecuting it more. I resigned as a teacher to speak out over the issue of a bungled pedophile investigation and the death of school child Hamidur Rahman in 2007. My issue has been covered up to date by senior ALP identities, all of which have moved on. Those responsible for the death of the child still work and the case has not been examined by police, although it well may be too late .. regardless, the child will still be dead. Some who have covered up the issue for the ALP by failing to help me when I asked for it, are still in parliament .. Jason Clare and Chris Hayes, I'm going to make your time in office uncomfortable until you do your sworn duty.
In Moscow, the G20 is over. No action has been decided regarding Syria. Obama is dithering, but looking dangerous too.
===
Update (10pm) Rudd concedes. It is worrying the ALP election policy of denying anything has been successful in minimising loss like that experienced in QLD or NSW state elections.
===
Happy birthday and many happy returns
Deric Ly
,
Thavee Rose Ftk
and
Thao Le
. Born on the same day, across the years, as Louis II, Landgrave of Lower Hesse (1438), Elizabeth I of England (1533), J. P. Morgan, Jr. (1867), C. J. Dennis (1876),
Vic Richardson, (1894), John Paul Getty, Jr. (1932), Buddy Holly (1936) and Michelle Creber (1997). On your day, Independence Day in Brazil (1822)
1191 – Third Crusade: Forces under Richard I of England defeated Ayyubid troops under Saladin in Arsuf, present-day Israel.
1778 – American Revolutionary War: France invaded the island of Dominica and captured the British fort there before the latter even knew that France had entered the war as an ally of the United States.
1901 – With Peking occupied by foreign troops from the Eight-Nation Alliance, Qing China was forced to sign the Boxer Protocol, an unequal treaty ending the Boxer Rebellion.
1999 – Three weeks after an earthquake struck northwestern Turkey, a major earthquake struck Athens, causing Greece and Turkey to initiate "earthquake diplomacy".
2011 – Yak-Service Flight 9633, carrying the players and coaching staff of the Lokomotiv Yaroslavl professional ice hockey team, crashed near the Russian city of Yaroslavl, killing all aboard but one.
Another crusade (to party!). France has joined the party unannounced. There is a Boxer Protocol. The earth shakes in anticipation. Avoid bad flights .. Your day is shared with one of the greatest Australian Love Poets (CJ Dennis). You have been blessed, enjoy the gift of life.
===
A young woman has injured herself, catching on fire, in an awkward and embarrassing imitation of Miley's favourite dance move twerking.
And loungerooms, apparently.

Read more: http://www.news.com.au/entertainment/celebrity/when-twerking-goes-really-really-really-wrong-woman-catches-on-fire-making-video/story-e6frfmqi-1226714096356#ixzz2eCNgWlro
<
Stupid dance done by stupid ppl.
Reminds me of when baboons present themselves for mating.>
===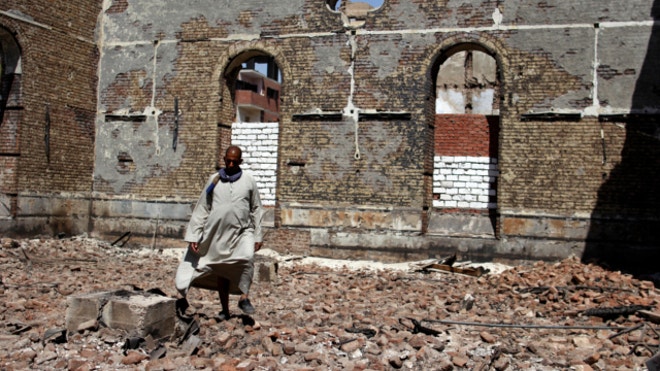 So Father Yoannis moved behind a wall in the charred skeleton of an ancient monastery to describe how it was torched by Islamists and then looted when they took over this southern Egyptian town following the ouster of the country's president.
"The fire in the monastery burned intermittently for three days. The looting continued for a week. At the end, not a wire or an electric switch is left," Yoannis told The Associated Press. The monastery's 1,600-year-old underground chapel was stripped of ancient icons and the ground was dug up on the belief that a treasure was buried there.
"Even the remains of ancient and revered saints were disturbed and thrown around," he said.
A town of some 120,000 — including 20,000 Christians — Dalga has been outside government control since hard-line supporters of the Islamist Mohammed Morsi drove out police and occupied their station on July 3, the day Egypt's military chief removed the president in a popularly supported coup. It was part of a wave of attacks in the southern Minya province that targeted Christians, their homes and businesses.
Since then, the radicals have imposed their grip on Dalga, twice driving off attempts by the army to send in armored personnel carriers by showering them with gunfire.
Their hold points to the power of hard-line Islamists in southern Egypt even after Morsi's removal — and their determination to defy the military-backed leadership that has replaced him.
With the army and police already fighting a burgeoning militant insurgency in the Sinai Peninsula, there are growing signs that a second insurgency could erupt in the south — particularly in Minya and Assiut provinces, both Islamist strongholds and both home to Egypt's two largest Christian communities.
The takeover of Dalga has been disastrous for the Christian community in the town, located 270 kilometers (160 miles) south of Cairo in Minya, on the edge of the Nile Valley near the cliffs that mark the start of the desert.
In the initial burst of violence, the town's only Catholic church was ransacked and set ablaze, like the Monastery of the Virgin Mary and St. Abraam. The Anglican church was looted.
Some 40 Christian families have fled Dalga since, Yoannis said. Nearly 40 Christian-owned homes and stores have been attacked by Islamists, according to local Minya activists. Bandits from the nearby deserts joined the looting and burning, they said. To ensure the spread of fear, the attackers torched houses in all Christian neighborhoods, not just in one or two.
Among the homes torched was that of Father Angelos, an 80-year-old Orthodox priest who lives close to the monastery. Yoannis' home was spared a similar fate by his Muslim neighbors. A 60-year-old Christian who fired from his roof to ward off a mob was dragged down and killed, the activists said.
"Even if we had firearms, we would be reluctant to use them," said Yoannis. "We cannot take a life. Firing in the air may be our limit."
Those who remain pay armed Muslim neighbors to protect them. Yoannis said his brother paid with a cow and a water buffalo. Most Christian businesses have been closed for weeks.
Armed men can be seen in the streets, and nearly every day Islamists hold rallies at a stage outside the police station, demanding Morsi's reinstatement.
Most Christians remain indoors as much as possible, particularly during the rallies. They say they are routinely insulted on the streets by Muslims, including children. Christian women stay home at all times, fearing harassment by the Islamists, according to multiple Christians who spoke to the AP. Most requested that their names not be published for fear of reprisals.
"The Copts in Dalga live in utter humiliation," said local rights activist Ezzat Ibrahim. "They live in horror and cannot lead normal lives."
None of the town's churches held Mass for a month, until Wednesday, when one was held in one of the monastery's two churches. About 25 attended, down from the usual 500 or more.
"They don't want to see any Christian with any power, no matter how modest," Yoannis said of the hard-liners now running Dalga. "They only want to see us poor without money, a trade or a business to be proud of."
Like other Christians in town, he said police and authorities were helpless to intervene.
"Everyone keeps telling me that I should alert the police and the army," he said. "As if I hadn't done that already."
At intervals, the 33-year-old father of three would stop talking, move carefully to the edge of a wall, stick his head out to check if someone was coming.
His big worry was the bearded Muslim at the gate, Saber Sarhan Askar.
Skinny with hawk-like hazelnut eyes, Askar is said by Dalga's Christians to have taken part in the torching and looting of the monastery. Outside the monastery that day, Askar was telling priests he was there to protect it. But the orders he yelled to other priests left no doubt who was in charge.
"Bring us tea!" he barked at one priest. "I need something cold to drink!" he screamed at another soon after.
School teacher and part-time entrepreneur Kromer Ishaq fled Dalga a day after the Islamists took over. The Islamists already were accusing his father in a family blood feud — a charge that could prompt the killing of Ishaq. Then on the night of the takeover, Ishaq's gold shop was broken into and looted.
The son of a wealthy family, Ishaq fled with his extended family all the way to the Nile Delta north of Cairo, where he is now looking for work.
"I used to employ people and now I'm looking for work. I once lived in a house I own and now I live in a rented apartment. You ask me what life is like? It's like black tar," Ishaq said by telephone.
Dalga is the most extreme example of Islamist power in Minya — no other towns are known to be under such extreme lockdown. But the province in general has seen a surge in Islamist violence since the coup against Morsi.
In the province, 35 churches have been attacked, including 19 completely gutted by fire. At least six Christian schools and five orphanages have been destroyed, along with five courthouses, seven police stations and six city council buildings. A museum in the city of Malawi was looted and ransacked.
On Aug. 11, policemen suspected of loyalty to Morsi stormed the provincial police headquarters in Minya city. They dragged out the province's security chief and his top aide from their offices and ordered them both to leave the province. They did.
Minya was the epicenter of an Islamic militant insurgency against the rule of autocrat Hosni Mubarak in the 1980s and 1990s. It remains a stronghold of Islamists, including the extremist Gamaa Islamiya group. It also has the largest Christian community of any of Egypt's 29 provinces — at 35 percent of Minya's 4 million people, compared to around 10 percent nationwide.
Over Egypt's past 2 ½ years of turmoil, Islamist strength has grown. Hundreds of jailed radicals who purportedly forswore violence — though not their hard-line ideology — were freed after Mubarak's 2011 fall and given the freedom to recruit. The south has seen a flood of heavy weapons smuggled across the desert from neighboring Libya.
A top Interior Ministry official in Cairo said the Minya police force suffered large-scale infiltration by pro-Morsi Islamists. The local force is now under investigation by the ministry. The official spoke on condition of anonymity because the probe was still undergoing.
The Minya security chief who fled the province, as well as two top aides, were replaced on Wednesday for what the Interior Ministry called the failure to maintain law and order.
In the security vacuum, it has been Christians largely paying the price.
Christian businessman Talaat Bassili recounted how on Aug. 15, dozens of men, some armed, stormed his home in the city of Malawi, not far from Dalga. For three hours, with no police or army in sight, the attackers made off with TV sets, washing machines, mobile phones, jewelry and cash.
The attackers descended on the house from the scaffoldings of a mosque next door. In footage from Bassili's security camera, shown to AP, men in robes and boys in sandals try to force their way into the house, then finally blast away the lock with Kalashnikov assault rifles. Some loaded their loot into a donkey cart.
Later, the footage shows Bassili, his wife Nahed Samaan — in a nightgown and a house robe — and son Fady leaving to take refuge with a neighbor.
A week later, Bassili said a man called him on his mobile phone to ask whether he wanted to buy some of his stuff back.
"I said no."
===
===
1. It's Rupert Murdoch's fault
2. It's Rupert Murdoch's fault
3. It's Rupert Murdoch's fault
4. All of the above.>
===
===
Australian PM Tony Abbott and family
===
===
===
===
Labor's campaign was marred by an embarrassing bungle over Coalition costings and won't be remembered well, former prime minister Bob Hawke has said.
Speaking on Sky News on the eve of the election, Mr Hawke said objective observers would agree Labor is poised to lose the election, but Prime Minister Kevin Rudd "might have had a different story" if he'd better planned his campaign.
"I don't think it'll go down as a great campaign," Mr Hawke – who led Australia from 1983-1991 – said.

Read more: http://www.smh.com.au/federal-politics/federal-election-2013/bob-hawke-regrets-labor-didnt-go-to-polls-sooner-20130906-2tacm.html#ixzz2eCQtybCy
.. I begged them to go .. they didn't listen to me, either ed
===
===
ADU, Nigeria

,

September 6, 2013

– Gabriel Anthony, 25, was steeped in quiet, prayerful devotion at

5 a.m. on Sunday

(Sept. 1) in this northern Nigerian village when he heard gunshots.

"Within minutes, bullets were piercing into our rooms," Anthony told Morning Star News. "I escaped from my room by jumping through the window."

A half hour later, seven of his relatives in Adu village, Kaduna state, were dead, including his father, 60-year-old Anthony Nkom; his mother, 45-year-old Asabe Anthony; his brother, 35-year-old James Anthony; and another brother, 37-year-old Andrew Anthony. Also killed were three of his nephews – 5-year-old Meshack Aaron, 12-year-old Bulus James Anthony, and 15-year-old Happiness Anthony.

The bodies of Happiness and Meshack were buried in one grave, and those of the other five in another.
===
Just watched President Obama's press conference, post G-20 summit, and am even more concerned. When you study history and understand the series of uncontrollable events that began WW I, we find ourselves not too far from that position now. It's not just about taking military action against Assad (which in the press conference Obama seemed reticent about), it is about the unintended consequences. P
resident Putin has vowed to continue arms shipments and support, and Iran is issuing orders to its Islamic terrorist dogs for release. The window of opportunity for a quick' decisive response against Assad has closed. We cannot afford to destabilize another Middle Eastern country in favor of Islamists and establish terrorist sanctuaries. My recommendation? Instead of President Obama delivering a weak' politically-scripted speech on Tuesday, read "The Guns of August" and learn something about leadership and strategic policymaking.
===
The press corps appeared stunned by the uncharacteristic outburst from Mr. Obama, who then unleashed a ten-minute tirade at the stone-faced Russian President.
"Look, I'm not just talking about Snowden and Syria," Mr. Obama said. "What about Pussy Riot? What about your anti-gay laws? Total jackass moves, my friend."
That just shows how arrogant and unsuitable Obama is to be President ed
===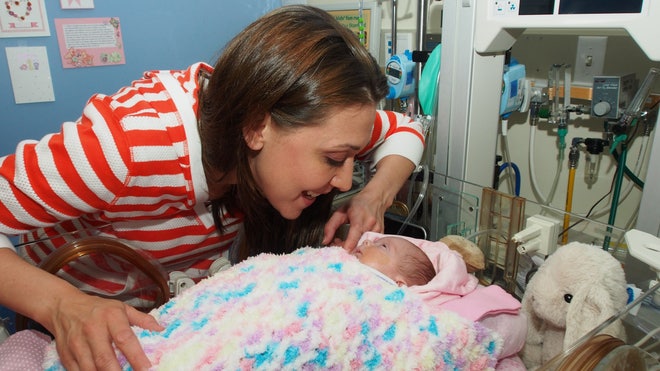 Doctors believe baby Abigail Beutler, the daughter of U.S. Rep. Jaime Herrera-Beutler and her husband, Dan, may be the first baby ever to survive Potter's Syndrome, a prenatal condition affecting the development of a baby's lungs.
The Republican congresswoman from Washington was five months pregnant when she found out that her baby had no kidneys, and therefore was producing no fetal urine. Doctors say that leads to little-or-no amniotic fluid, which ultimately prevents the lungs from developing.
Herrera-Beutler described the moment she and her husband received the grim news.
"As the doctor was giving us the diagnosis (Abigail) was kicking," she said. "We're totally broken, we're sobbing, we're asking, 'What can be done? Is there anything that can be done?' And she's moving inside of me, and the doctor is saying, 'No, there is no option. This is fatal.'"
Refusing to give up on their daughter, the Beutlers found a doctor at Johns Hopkins in Baltimore, Md. who was willing to try an experimental treatment that could potentially save Abigail's life.
The doctor injected multiple doses of a saline solution into the congresswoman's abdomen to try to create enough fluid for the lungs to develop. The couple then waited to see if the treatment would work – and miraculously, Abigail was born on July 15th.
"When she came out and everybody was quiet, I think … a lot of these medical professionals were prepared for the worst. And she looked at us, and she cried, which means her lungs were functioning," said Congresswoman Herrera-Beutler. "I think that cry kind of startled everybody in the room."
Doctors at Lucile Packard Children's Hospital in California, where Abigail is currently being treated, say her weight has doubled since she was born, and she has "excellent lung function."
According to Dr. Steven Alexander, a pediatric kidney specialist at Lucile Packard, Abigail will be on dialysis until she can get a kidney transplant in about a year or so, but he is confident about her prognosis.
"The kidney transplant success rate now is so good that we would predict a full adult life for her," Alexander said.
The Beutlers are going public with their story, because they want other families that get a diagnosis of Potter's Syndrome to have some hope.
"Our daughter had a 100 percent fatal diagnosis, and she'll be 8 weeks on Monday," Dan Beutler said. "We and many people around the country have spent a lot of time praying for her. We don't know exactly how it all worked out, but we know for sure she's a miracle."
Herrera-Beutler says she has received a lot of support from her congressional colleagues during this time, including a call from House Speaker John Boehner and a note from Minority Leader Nancy Pelosi.

Read more: http://www.foxnews.com/health/2013/09/06/congresswoman-infant-daughter-may-be-first-baby-to-survive-potter-syndrome/#ixzz2eCSJauBF
===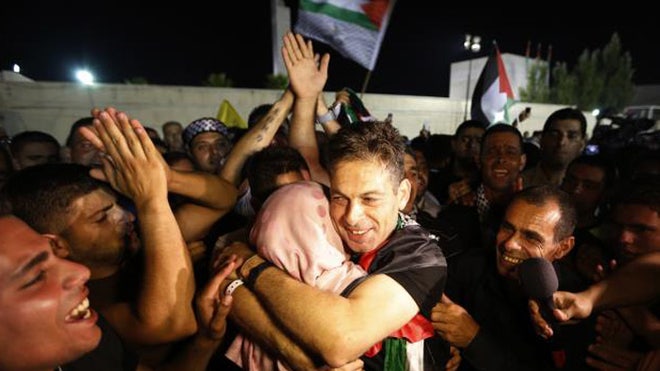 The Palestinian Authority is doling out millions of dollars in cash grants to convicted terrorists recently released from Israeli prisons in a program announced the same day as the P.A. accepted $148 million in the latest round of U.S. aid.
The authority announced Aug. 18 it would disburse $15 million in so-called "Dignified Life Grants" to more than 5,000 prisoners who had served more than five years in Israeli lockups, but had been recently released as a show of good faith by the Jewish state to bolster the Middle East peace process, according to Palestinian Media Watch.
The announcement came on the same day the State Department's Michael Ratney, consulate general of the U.S. in Jerusalem, signed off on $148 million in aid to the cash-strapped Palestinian Authority, currently in the throes of a budget crisis.
Although the U.S. funnels about $400 million per year in aid to the authority, none of the money, by law, is supposed to go to terrorists or former terrorists. Critics say there is no way to separate money from U.S. taxpayers and the funds which go to the former prisoners.
"We have a lot of funding that goes to the PA that is fungible and co-mingled and there is a lot of concern the money is going to radical causes and extremist issues," Jonathan Schanzer, vice president for research at the bipartisan think tank, Foundation for Defense of Democracy, told FoxNews.com.
"There are many problematic questions concerning the way the Palestinian Authority disperses funds and especially those coming from the U.S. This is not unique. We've seen in the past, monies allocated from the PA's budget to the al-Aqsa Martyrs' Brigade, which is a designated terrorist organization, and all of this points to a troubling trend whereby the U.S. has tried to get a handle on financing within the P.A."
In August, The Associated Press reported that Israel published the names of 26 men to be freed before the latest peace talks between the Jewish State and the P.A. In all, 104 prisoners have been slated for release in four phases over a period of nine months that the U.S. has set aside for negotiations. But their freedom is reportedly contingent on progress in the talks.
It's not clear who exactly has applied for the "Dignified Life Grants," although Palestinian Media Watch reports that prisoners released from Israeli prisons swarmed the P.A.'s Ministry of Prisoners' Affairs office in Gaza following the grants' announcement.
And among those Israel was slated to release was Mustafa al-Haj, convicted of killing an American-born settler hiking in the West Bank in 1989.
"It's not certain our specific dollars are finding their way into terrorists' or former terrorists' pockets but - at the least - it's freeing funds for the P.A. to do these types of things," Jim Phillips, Middle East analyst at the Heritage Foundation, a Washington, D.C.-based conservative think tank, told FoxNews.com.
"The Palestinians will argue this money is not fungible, but the fact that they are making these grants is a sign to me that the P.A. has plenty of money and maybe the U.S. should be scaling back its aid to the organization."
Andrea Lafferty, president of the Traditional Values Coalition, a national conservative organization, turned up the rhetorical heat a few degrees further, telling FoxNews.com, "The Israelis were wrong to release these murderers and Obama is wrong to pay them a bonus for their evil actions. No good can come with any cooperation with the Palestinian Authority.
"These are repeat, serial terrorists and murderers that we have been funding. And The more we learn about the twisted foreign policy of the Obama Administration, the better we understand why the president is so inept to handle any issue foreign or domestic."

Read more: http://www.foxnews.com/world/2013/09/06/palestinian-authority-takes-150m-from-us-doles-out-grants-to-convicted/#ixzz2eCSYLzHH
Obama gives aid to terrorists - ed
===
===
===
Don't feel ashamed for feeling paranoid. There are plenty of "placebo buttons" scattered all around New York City.
And the UK's pedestrian crossing buttons work in some places but not in others.
But what about us?
Fear not Australia, news.com.au has the answer.
According to almost all various roads and transportation authorities of all seven states, pressing the pedestrian crossing button actually does make a difference.
Brendan Joyce, senior project manager for traffic in the department of Infrastructure in the Northern Territory, told news.com.au that when a person pushes a pedestrian call button, a demand gets logged in the traffic signal controller.
"This demand calls for a vehicle or pedestrian movement (called a phase) where the demanded pedestrian can go," he said.
"The traffic signal controller is programmed to turn any vehicle movements to red that oppose the pedestrian movement (fully protected pedestrian movement) or if the vehicle signal groups runs in parallel to the pedestrian movement, it may be left in green."
And no, there are no placebo buttons in Australia. So stop being paranoid.
Also pushing the button more than once will make absolutely no difference, so stop doing it.
In Perth the buttons are automatically "pre-pressed" during peak hours in order to register for pedestrian need during high traffic times.
"However, the buttons will return to normal operations outside of the peak periods," said public affairs co-ordinator, Stephanie Dahl.
News.com.au was reassured by roads and transport authorities in NSW, The Northern Territory, Victoria, Western Australia and Queensland that the pedestrian button is very much a real, working thing that affects the flow of traffic and pedestrians across busy streets.
The only state authorities that did not reply to our queries was South Australia and Tasmanians so apologies for inadvertent paranoia we may have caused to the good people of South Australia and our brothers and sisters across the ditch.

Read more: http://www.news.com.au/technology/sci-tech/does-pushing-the-crossing-button-do-anything/story-fn5fsgyc-1226713968493#ixzz2eCTLT1rn
How about constituents approaching an ALP member or help? Placebo button? - ed
===
In a stunning decision, Senator Carr snubbed usual protocols of wrapping up the summit with a press conference discussing decisions made or not made at the annual forum this year on such critical questions as Syria.
This is despite the fact Australia currently has the presidential chair of the UN Security Council and is next year to be the host leader of the G20 summit, a position that would normally prompt a baton-passing statement.
French, Russian and American media were left surprised when most other leaders held a press conference except Australia whose showing at the forum has been marginal, despite it holding key positions on the world stage.
Even Australian diplomatic officials were left red-faced when foreign media turned up for a planned press conference and Senator Carr never showed up for.
Australia's official delegation offices – tucked between the offices of African minnows Ethiopia and Senegal as well as Turkey, Brunei and the delegates toilet block – were closed up and lights off even before the conference closed for the night.
"And apparently Australia is supposed to be hosting next year's summit of the world's leading economies?" one American journalist quipped in between attending other leader's public appearances. He said he just hoped delegates' gift bags were good enough to encourage them to travel Down Under to Brisbane next year.
The latest snub comes after World Vision Australia boss Tim Costello who was attending the summit said foreign delegates had been left disappointed by the fact Prime Minister Kevin Rudd had failed to attend the forum, leaving Australia one of only two nations not to send a leader to Russia for critical talks on conflict in the Middle East, the other being Saudi Arabia whose ailing king was unfit for travel.
The fact Senator Carr was unlikely to be about after this weekend's federal election was not lost on many who had attended the G20.
Whatever policy initiative he wanted to launch or position taken on vexed issues such as Syria were potentially to be irrelevant come next week.

Read more: http://www.news.com.au/world-news/bob-carr-snubs-stunned-g20-media-pack/story-fndir2ev-1226713884340#ixzz2eCU7PWqY
===
===
This is why aliens don't visit us. ROTFL - ed
===
===
Final Foto Friday...
Looks best viewed large, so go ahead and click on it... go ahead... I know ya wanna!
Well, the weekends here and I have a photo taking friend visiting (Darvin) so tonight will be a nice time of getting out with him and a couple other friends to shoot... something... somewhere...
Meanwhile, here's a pic for my friends here who keep up with this thing that I do... and greatly enjoy doing. It's from the Canyonlands of Southern Utah as a monsoon storm was moving in while standing in some ancient ruins. Have a great weekend everyone!
===
Zaya Toma
The no carbon protestor with the Liberetts at St Johns Park High.
===
===
Emerald Circular Box - 103 Emeralds - Mughal India -1635
===
After two decades of life in Germany, an American Jew reflects on the Berlin Jewish Museum's controversial "Jew in the Box" exhibition and her experiences in a country that still has a dearth of Jews, even decades after the war.
===
===
This is how you do it. Observe and learn.>
http://www.youtube.com/watch?v=DeF41_coSX8
===
Quick question: How come Obama and his crew have so much intelligence as to know for certain what happened in Syria but they still have no clue what happened in Benghazi?
===
"When you start putting your hands on a woman in anger … that is a drop-dead deal breaker."http://bit.ly/DRP090613 #DrPhil
===
A Swedish reporter asked Obama what it's like to be a Nobel Peace Prize winner that's trying to attack Syria.
See how he responded at the link below...
So, when a Swedish reporter asked our president how he could reconcile being a Nobel Peace Prize winner with a guy who was doing his best to order a cruise missile strike on Syria, a weary-looking Obama mostly mailed in his response – beginning by stating the obvious:
"I think I started the speech by saying that compared to previous recipients I was certainly unworthy."
[Most of the world seen feverishly nodding in approval.]
Obama went on to give a predictable answer; peaceful people living in a dangerous world, how he ended the war in Iraq and is winding down the war in Afghanistan, the need to promote diplomacy to solve the world's problems, yada yada.
The thing most striking about his response, was that Obama looks like a guy who is clearly out of gas. A guy who would rather be anywhere in the world than standing at that podium answering that question.
A guy who frankly, is looking more and more like he'd rather spend the rest of his days on the golf course and leave this all behind.
===
Covering an area as large as London and considered one of North Korean leader Kim Jong-un's most brutal prison camps, a site designated as Camp No 22 saw a drastic reduction in its population prior to its closing last year - investigators fear as many as 22,000 inmates may have been left to die from disease and/or starvation.
At Camp No. 22, in North Hamyong Province, in the far north-east of the country, the prison population shrank dramatically in the months before its closure, probably in December 2012.

Reports suggest that a severe food shortage meant that little was passed on to inmates and that numbers dwindled rapidly from 30,000 to 3,000.
Investigators believe it's possible that up to 8,000 prisoners were transferred to other camps; however, there's no evidence suggesting that any of the inmates were released. Numbers gleaned from multiple methods and sources leave approximately 22,000 individuals un-accounted for and feared dead from what's considered to be one of the world's harshest prison regimes.
===
===
Tony Abbott
"I would like to be an infrastructure Prime Minister"
===
After three years of hand-to-hand election campaigning combat, the effort of Liberals everywhere comes down to the election tomorrow. I wish our local candidates
Andrew Nguyen, Liberal for Fowler
and
Ray King - Liberal for McMahon
the very best of luck.
===
===
WARNING: This is an absolutely sickening video no child should see. We share it because it is important. THIS is what is happening in Syria! If you think congress should HAVE to watch this before they get us involved in Syria, please click LIKE and SHARE. Facebook will show it to more people if you click LIKE and SHARE. Call congress in the morning: 202-224-3121 ... we have no business in Syria and no business helping evil like this!
http://bit.ly/17cwsCq
===
Another man told McCain Congress is ignoring its duty to represent voters.
"This is what I think of Congress," he said, holding a bag of marshmallows in his hand. "They are a bunch of marshmallows. That's what they are. That's what they've become. Why are you not listening to the people and staying out of Syria? It's not our fight."
===
Under Obama, seven times as many part-time jobs have been created as full-time jobs.
Sign our petition to make this stop!
http://bit.ly/14nMbAS
===
===
Captain Jack Minion!
===
===
===
Tim Blair

–

Saturday

,

September

07

,

2013

(

8:16pm

)
===
Tim Blair

–

Saturday

,

September

07

,

2013

(

6:13pm

)
===
Tim Blair

–

Saturday

,

September

07

,

2013

(

5:43pm

)
===
Tim Blair

–

Saturday

,

September

07

,

2013

(

2:28pm

)
===
Tim Blair

–

Saturday

,

September

07

,

2013

(

4:49am

)
===
Tim Blair

–

Saturday

,

September

07

,

2013

(

4:43am

)
===
Tim Blair

–

Saturday

,

September

07

,

2013

(

4:39am

)
===
Tim Blair

–

Saturday

,

September

07

,

2013

(

3:48am

)
===
Tim Blair

–

Friday

,

September

06

,

2013

(

5:47pm

)
===
Tim Blair

–

Friday

,

September

06

,

2013

(

4:30pm

)
===
Andrew Bolt

September

07

2013

(4:47pm)
===
Andrew Bolt

September

07

2013

(1:47pm)
===
Andrew Bolt

September

07

2013

(1:28pm)
===
Andrew Bolt

September

07

2013

(1:10pm)
===
Andrew Bolt

September

07

2013

(12:57pm)
===
Andrew Bolt

September

07

2013

(10:17am)
===
Andrew Bolt

September

07

2013

(9:07am)
===
Andrew Bolt

September

07

2013

(8:25am)
===
Andrew Bolt

September

07

2013

(8:10am)
===
Andrew Bolt

September

07

2013

(7:58am)
===
Andrew Bolt

September

07

2013

(7:48am)
===
Andrew Bolt

September

07

2013

(7:02am)
===
Andrew Bolt

September

06

2013

(10:34pm)
===
Andrew Bolt

September

06

2013

(4:17pm)
===
Andrew Bolt

September

06

2013

(2:53pm)
===
With less than 24 hours to go, our 38 candidates across NSW stand ready to deliver.
Thanks to those of you who've done so much to help us get this far.
Now it's time for us to deliver real change.
Tomorrow, make sure you are a part of history. Help us deliver a better future – for all Australians.
Mark Neeham
State Director
Liberal Campaign Headquarters
Authorised by M Neeham, NSW Liberals, 100 William Street, East Sydney NSW 2011
===
Hi everyone! Here's the MichelleMalkin.com newsletter for September 6th. Enjoy!
Next week, "never forget" will resound across America as citizens mark a dozen years since the 9/11 terrorist attack and one year since the bloody disaster in Benghazi. But who will remember the American heroes who came under siege at Camp Bastion in Afghanistan on 9/14/12?
What a difference a year makes...
You know a military strike on Syria is a tough sell when Barack Obama can't even convince @BarackObama to help organize that action...
More From the Right Side of the Web
Note from Michelle:
This is for all the moms out there. Buy this book for yourselves and for your daughters. Say no to liberal disarmament of women!
From Regnery:
Emily Miller tells her personal story of how being a single, female victim of a home invasion drove her to try to obtain a legally registered gun in Washington, D.C. The narrative—sometimes shocking, other times hilarious in its absurdity—gives the reader a real life understanding of how gun-control laws only make it more difficult for honest, law-abiding people to get guns, while violent crime continues to rise.
Using facts and newly uncovered research, Miller exposes the schemes politicians
on Capitol Hill, in the White House, and around the country are using to deny people their Second Amendment rights. She exposes the myths that gun grabbers and liberal media use to get new laws passed that infringe on our right to keep and bear arms.
And ... Our Hate Tweet of the Day
===
===
===
===
===
===
===
===
===
===
===