"Teach the older men to be temperate, worthy of respect, self-controlled, and sound in faith, in love and in endurance." Titus 2:2NIV
===
Morning and Evening by Charles Spurgeon
Morning
"I will answer thee, and shew thee great and mighty things which thou knowest not."
Jeremiah 33:3
There are different translations of these words. One version renders it, "I will shew thee great and fortified things." Another, "Great and reserved things." Now, there are reserved and special things in Christian experience: all the developments of spiritual life are not alike easy of attainment. There are the common frames and feelings of repentance, and faith, and joy, and hope, which are enjoyed by the entire family; but there is an upper realm of rapture, of communion, and conscious union with Christ, which is far from being the common dwelling-place of believers. We have not all the high privilege of John, to lean upon Jesus' bosom; nor of Paul, to be caught up into the third heaven. There are heights in experimental knowledge of the things of God which the eagle's eye of acumen and philosophic thought hath never seen: God alone can bear us there; but the chariot in which he takes us up, and the fiery steeds with which that chariot is dragged, are prevailing prayers. Prevailing prayer is victorious over the God of mercy, "By his strength he had power with God: yea, he had power over the angel, and prevailed: he wept, and made supplication unto him: he found him in Beth-el, and there he spake with us." Prevailing prayer takes the Christian to Carmel, and enables him to cover heaven with clouds of blessing, and earth with floods of mercy. Prevailing prayer bears the Christian aloft to Pisgah, and shows him the inheritance reserved; it elevates us to Tabor and transfigures us, till in the likeness of his Lord, as he is, so are we also in this world. If you would reach to something higher than ordinary grovelling experience, look to the Rock that is higher than you, and gaze with the eye of faith through the window of importunate prayer. When you open the window on your side, it will not be bolted on the other.
Evening
"And round about the throne were four and twenty seats: and upon the seats I saw four and twenty elders sitting, clothed in white raiment."
Revelation 4:4
These representatives of the saints in heaven are said to be around the throne. In the passage in Canticles, where Solomon sings of the King sitting at his table, some render it "a round table." From this, some expositors, I think, without straining the text, have said, "There is an equality among the saints." That idea is conveyed by the equal nearness of the four and twenty elders. The condition of glorified spirits in heaven is that of nearness to Christ, clear vision of his glory, constant access to his court, and familiar fellowship with his person: nor is there any difference in this respect between one saint and another, but all the people of God, apostles, martyrs, ministers, or private and obscure Christians, shall all be seated near the throne, where they shall forever gaze upon their exalted Lord, and be satisfied with his love. They shall all be near to Christ, all ravished with his love, all eating and drinking at the same table with him, all equally beloved as his favourites and friends even if not all equally rewarded as servants.
Let believers on earth imitate the saints in heaven in their nearness to Christ. Let us on earth be as the elders are in heaven, sitting around the throne. May Christ be the object of our thoughts, the centre of our lives. How can we endure to live at such a distance from our Beloved? Lord Jesus, draw us nearer to thyself. Say unto us, "Abide in me, and I in you"; and permit us to sing, "His left hand is under my head, and his right hand doth embrace me."
O lift me higher, nearer thee,
And as I rise more pure and meet,
O let my soul's humility
Make me lie lower at thy feet;
Less trusting self, the more I prove
The blessed comfort of thy love.
===
View today's reading on Bible Gateway
Today's Old Testament reading: Proverbs 3-5

Warnings Against Folly
1 My son, if you have put up security for your neighbor,
if you have shaken hands in pledge for a stranger,
2 you have been trapped by what you said,
ensnared by the words of your mouth.
3 So do this, my son, to free yourself,
since you have fallen into your neighbor's hands:
Go-to the point of exhaustion-
and give your neighbor no rest!
4 Allow no sleep to your eyes,
no slumber to your eyelids.
5 Free yourself, like a gazelle from the hand of the hunter,
like a bird from the snare of the fowler.
...read the rest on Bible Gateway
Today's New Testament reading: 2 Corinthians 1

1 So I made up my mind that I would not make another painful visit to you. 2 For if I grieve you, who is left to make me glad but you whom I have grieved? 3 I wrote as I did, so that when I came I would not be distressed by those who should have made me rejoice. I had confidence in all of you, that you would all share my joy. 4 For I wrote you out of great distress and anguish of heart and with many tears, not to grieve you but to let you know the depth of my love for you.
Forgiveness for the Offender
5 If anyone has caused grief, he has not so much grieved me as he has grieved all of you to some extent-not to put it too severely. 6 The punishment inflicted on him by the majority is sufficient. 7 Now instead, you ought to forgive and comfort him, so that he will not be overwhelmed by excessive sorrow. 8 I urge you, therefore, to reaffirm your love for him. 9 Another reason I wrote you was to see if you would stand the test and be obedient in everything. 10 Anyone you forgive, I also forgive. And what I have forgiven-if there was anything to forgive-I have forgiven in the sight of Christ for your sake, 11 in order that Satan might not outwit us. For we are not unaware of his schemes....
===
Gomer

[Gō'mûr] - completion or heat. The first born of Japheth and father of Ashkenaz, Riphath, and Togarmah. Also the head of many families (Gen. 10:2, 3; 1 Chron. 1:5, 6; Ezek. 38:6 ). The eldest son of Japheth is the father of the ancient Cimmerians or as the Assyrians called them, Gimirra, who settled on the northern shores of the Baltic Sea. The modern and familiar name in English history, Crimea, and the Cimbri of old times are derived from the Cimmerians, the immediate descendants of Gomer. Their original home appears to have been north of the Euxine, but by the seventh century they had completely conquered Cappadocia and settled there.
The Man Who Became a Nation
The Gauls and Celts of ancient times, and of more modern date, the Germans, French and British are descendants of Gomer. In the Talmud , Gomer is spoken of as Germani, that is, Germany. The present divided land of Germany was first called "The Land of Gomer" or Gomerland, and many old maps bear the name of Ashkenaz, one of the sons of Gomer. Other maps carry the name Gomer.
The major portion of Germany was never connected with the old Roman Empire. Although presently divided, with communists controlling the East, and the western powers eager to keep West Germany free from communist control, prophecy declares that "Gomer and all his bands," will be found allied to the Northern Confederacy. Owing to Germany's divided condition, European stability is endangered. With West Germany under intense Soviet pressure to refuse any military alliance with western nations, one wonders how long they can resist the determination of Russia to reunite all Germany under the "Hammer and the Sickle."
Gomer is also the name of Hosea's wife, the daughter of Diblaim, and affords another instance of the same name being used by a man and a woman (Hos. 1:3).
===
September 9, 2011

Where is God?




Today's Truth

The Lord is my light and the one who saves me. So why should I fear anyone? The Lord protects my life. So why should I be afraid? Evil people may try to destroy my body. My enemies and those who hate me attack me, but they are overwhelmed and defeated. If an army surrounds me, I will not be afraid. If war breaks out, I will trust the Lord (Psalm 27:1-3, NCV).

Friend to Friend

I remember exactly where I was and what I was doing when the phone rang and my husband said, "Honey, you need to turn on the television - right now." It was the middle of the day and I was busy cleaning house, doing laundry and trying to cram in an hour of study time, but the sadness and dread in my husband's voice stopped me in my tracks. Something was very wrong. Still, I was totally unprepared for the horrific scene that played out in vivid reality on the television screen before me. I stared in shock at the surreal images of two airplanes flying into the Twin Towers of the World Trade Center in New York City. Both towers collapsed - killing thousands of innocent people - and forever changing life as we know it.

Why bad things happen to good people is a question we have been asking since time began. I have been a Christ follower for many years. I am a Christian author and speaker and the wife of a pastor. Over the years, God has brought me out of more pits than I can count and I have literally attended church since the day I was born. My faith in God should be unwavering and I should never doubt or question Him or His plan. But sometimes I do.

You may be offended at my next statement, but if I am brutally honest, my faulty human mind and sin-tainted heart can almost - almost come to grips with such horrendous circumstances happening to someone who is evil and has turned their back on God. Bad things should happen to bad people and good things should happen to good people. Sounds logical and fair - right?

You and I both know that life is not fair and that our human logic is a shallow substitute for God's sovereignty. We are broken people living in a broken world. Bad things do happen to good people while those who mock God seem to prosper, and it's been that way for a long time. Take Job for example.

Job 1:8-12 "The LORD said to Satan, 'Have you considered my servant Job? There is no one on earth like him; he is blameless and upright, a man who fears God and shuns evil.' 'Does Job fear God for nothing?' Satan replied. 'Have you not put a hedge around him and his household and everything he has? You have blessed the work of his hands, so that his flocks and herds are spread throughout the land. But stretch out your hand and strike everything he has, and he will surely curse you to your face.' The LORD said to Satan, 'Very well, then, everything he has is in your hands, but on the man himself do not lay a finger.'"

Don't miss the important fact that God not only allowed Satan to test Job, but dictated how Satan could test him. Job went from having vast wealth to great poverty, losing everything he and his wife had, including their ten children. Job's wife urged her husband to turn away from and curse God and to forsake the very faith that had blessed her and Job for so long - but Job stood firm.

Job 1:20-21 "Then he fell to the ground in worship and said: 'Naked I came from my mother's womb, and naked I will depart. The LORD gave and the LORD has taken away; may the name of the LORD be praised.'"

Job was an extraordinary man, husband, father and leader who served God faithfully. His faithfulness to God in prosperity was a powerful testimony, but His faithfulness to God in the face of death, pain and despair was even more powerful. Did Job doubt and question God? Absolutely! Did Job openly and honestly grieve his loss and weep in his pain? Yes, but he remained faithful to God, even when he did not understand why God would let him endure such suffering and even when his heart and body was broken. God was pleased with Job and rewarded him for his faithfulness.

Job 42:11 "The LORD blessed the latter part of Job's life more than the first."

Storms come in all shapes and sizes. The lab report comes back malignant. The school calls, demanding that you pick up your child who has just been expelled. Your husband informs you that he no longer wants to be married to you. Your boss calls you into his office to let you know that you are being fired. Financial disaster seems certain while dependable friends seem to vanish. Yes, storms will come and bad things will happen - even to fully devoted followers of God. Where is God when the winds pick up and the churning waters pummel your rocking boat? God is where He has always been and always will be - in the midst of every stormy circumstance. Run into His waiting arms when you are afraid. Trust Him - even though you may not understand what is happening in your life. He is with you.

Let's Pray

Father, we come to You today, celebrating the freedom that so many have given their lives to protect. I pray that we would remember and cherish their sacrifice. Lord, I am so sorry for doubting You when life is hard. Forgive me for questioning Your plan when it seems to make no sense. I want to be a woman of faith who trusts You no matter what happens. Help me cultivate the kind of faith Job had and strengthen me for every trial ahead. Take my heart and mind captive and make them Yours. Today, I choose faith over fear and trust over doubt.

In Jesus' name,

Amen.

Now It's Your Turn

Think back to a time when God allowed something to happen that you simply could not understand. His plan seemed illogical and undoable. You asked, "Why did this happen to me?"

Now look at where you are now. What good things have come out of that painful experience? What lessons did you learn from that difficult time? How have those lessons influenced your life today?

Read Isaiah 45:3. How does this powerful verse relate to the difficult times you are facing now or have faced in the past?

Read and memorize Psalm 40:1-3. God gave me that promise in the darkest days of my life and they are even more precious in the light.

More from the Girlfriends

Don't miss the Dollar Days Sale going on in Mary's online store! But hurry! It ends today!

Looking for a Bible Study that is both practical and powerful? Check out Mary's E-Book Bible Studies. Each one includes a study guide that you can download for your personal use or for a small group study. I Need a Friend is also available in Bible Study format.

Be sure to check out Mary's weekly Online Bible Study: Stress Management 101. Enroll now and have access to all 2011 lessons. Need a friend? Connect with Mary on Facebook or through email.

Seeking God?

Click here to find out more about

how to have a personal relationship with Jesus Christ.

Girlfriends in God

P.O. Box 725

Matthews, NC 28106
===
"...He said to them, 'Come with me by yourselves to a quiet place and get some rest.'" Mark 6:31b (NIV 1984)

Are you an addict? I am. Sadly, my addiction is sometimes serious. And statistics indicate that many share my awful obsession. You see, I am addicted to busyness.

My habit began in high school. To escape a less-than-perfect, broken home and to numb the emotional pain I was feeling from its fallout, I stumbled upon busyness. Yep, sign me up for sports, the school newspaper, foreign language club, youth group, volunteer work and a part-time job to boot! By the time I graduated high school, I was involved in more activities than a set of triplets should be.

Unfortunately, the 'busy buzz' carried over into adulthood.

Current culture doesn't help. Society not only encourages a hectic lifestyle, it even applauds and rewards it! And what gal in her right mind doesn't want an "'atta girl" now and then?

To be an effective woman of God, however, we need to not only slow down, regularly scraping commitments off of our too-full plates, but sometimes we need to cease the frenzy altogether.

I am just coming off of a month-long Internet break and Facebook fast. No status updates, posting cute pictures or cruising the blogging super-highways for 31 days. It was both terribly hard and yet, in the end, wonderfully worth it.

During my break, I hunkered down at a 1950's retreat center. Dorm-like with its cinder block rooms, it is very inexpensive ($10 a day), and yet, set in a lovely slice of nature: hills overlooking a grape arbor, a fragrant pear and apple orchard.

Even though it is near impossible to break away from life, I come here sometimes to get alone with God; to read; ponder; write and reflect.

I walk the white pine and perennial-laced grounds in solitude. There are no blaring television sets, internet connections or ringing phones; only unfamiliar, but blessed, quiet.

It has taken me YEARS to get used to this ceasing of activity for occasional 24-48 hour periods of time each year. I fret and fuss as I am packing. "What about the kids? Oh, maybe I should just stay home. I could get caught up with so many tasks and projects. Am I being selfish by going away alone?"

But Christ beckons me, and He beckons you. It is the theme of today's key verse: "Come with me by yourselves...."

Alone. By yourself and for yourself. It is for our own good.

And, most of all, it is necessary. When we retreat we can best hear from God who often prefers not to scream over the sounds of our busy lives, but instead gently whispers to us in the quiet alone.

We can't always afford the time and money to physically leave our home. However, occasionally we can intentionally unplug. We can focus our hearts and center our minds on the Word and His words to us for a good chunk of a day.

Perhaps you could even find a friend who wants to do the same. Maybe trade off watching each other's kids. Or even trade homes. (You'll be less distracted at your friend's and most likely won't feel the urge to fold her laundry or mop her floor!)

Yes, in the Christian life retreat is required. Even Jesus Himself had regular times of rest and withdrawal. He leads by His example. Why not consider today a time, very soon, that you too will cease, retreat and refuel. You won't regret it.

Dear Lord, forgive me for ignoring Your command to come away with You for a while. Please arrange my circumstances so that I might spend uninterrupted time with You. May I drink deep of Your lavish love and receive the calm and comfort I crave that only comes from You. In Jesus' Name, Amen.

Related Resources:
For Five Simple Mini-Retreat Tips and a chance to win a quiet time basket or a free night's stay at a quaint Michigan Bed & Breakfast, visit Karen's blog.

A Life That Says Welcome, Simple Ways to Open Your Heart & Home to Others by Karen Ehman

Rest Assured: Devotions for Souls in a Restless World by Nancy McGuirk

Application Steps:
Put pen to paper and craft a pie chart of your life. What percent of the time do you spend each month on these various activities: working-away or at home; sleeping; eating; caring for kids; homemaking; church; outside activities; hobbies; Internet or television; etc...?

Evaluate how much time you spend alone with God. Not "going to church and church activities," but rather you and God alone? Now take a look at the chart in front of you. How would you like to see it change?

Reflections:
When was the last time I slowed down, cleared my calendar for at least an afternoon and connected with Jesus all alone?

What was the result? Why don't I do it more often?

Power Verses:
Matthew 11:28-29, "Come to Me, all you who labor and are heavy-laden and overburdened, and I will cause you to rest. [I will ease and relieve and refresh your souls.] Take My yoke upon you and learn of Me, for I am gentle (meek) and humble (lowly) in heart, and you will find rest (relief and ease and refreshment and recreation and blessed quiet) for your souls." (Amplified Bible)

Psalm 131:1-2, "O LORD, my heart is not lifted up; my eyes are not raised too high; I do not occupy myself with things too great and too marvelous for me. But I have calmed and quieted my soul, like a weaned child with its mother; like a weaned child is my soul within me." (ESV)

© 2011 by Karen Ehman. All rights reserved.

Proverbs 31 Ministries
616-G Matthews-Mint Hill Road
Matthews, NC 28105
www.Proverbs31.org
===
===
John Wycliffe: English Bible Translator
Quote:"It is not necessary to go either to Rome or to Avignon in order to seek a decision from the pope, since the triune God is everywhere. Our pope is Christ." (John Wycliffe, De simonia, de apostasia, de blasphemia; On the Church, 1378-1379)
Twenty-nine years after John Wycliffe (c.1324 - 1384) died, his bones were dug up and burned, a retroactive rebuke to the "stiff-necked heretic." At the time of his death, a Catholic leader had written a scathing indictment, calling him an "instrument of the devil" and "an enemy of the church."
Who was this man who drew forth such vitriol? To later Protestants he would be hailed as "the Morningstar of the Reformation." During his lifetime, he committed himself to Scripture translation in the "vulgar" language and denied purgatory and the validity of indulgences. He also articulated a theological framework that rejected the efficacy of the Mass and the dogma of transubstantiation. He was a scholar and a trained theologian whose direct link to sixteenth-century Reformers is very clear. Born into a large landed family in Yorkshire, England, Wycliffe attended local schools, and by his early twenties was a student at Oxford, where he received a broad education in science, mathematics, philosophy, and biblical studies. A brilliant scholar, he quickly moved from student to tutor to director of Canterbury Hall, and he became a Doctor of Theology in his early forties, lecturing and later serving as a parish priest in Lutterworth.
Wycliffe's demand for religious reform was intrinsically tied to politics and commerce as well as to foreign policy. His first book (containing eighteen theses) argued that in temporal matters the king and parliament have authority over the church and its clergy, including the pope.
The new ideas created excitement among Wycliffe's students, and the movement spread like wildfire. Opposing him, however, were monks and most of the English clerics, who depended on the papacy. His most illustrious opponent was Pope Gregory XI himself, who issued a bull against Wycliffe and his eighteen theses, denouncing the professor's dangerous teachings. The pope angrily laid out his case against him, warning Oxford to be rid of him.
Summoned to appear before leading bishops in Lambeth, Wycliffe arrived, accompanied by a boisterous parade of supporters, including Joan of Kent, the king's mother. He was ordered to desist teaching heresy, but he refused to be silenced, finding the pen more powerful than the tongue. Insisting that Christ, not the pope, is head of the church, he argued that it is not "necessary to go either to Rome or to Avignon in order to seek a decision from the pope since the triune God is everywhere." He later equated the pope with the antichrist.
Wycliffe's crowning achievement was the English Bible; he argued that the only way Christians could truly follow Christ was through reading Scripture in their own tongue. Such ideas, however, threatened orthodoxy. "The jewel of the clergy," clerics railed, "has become the toy of the laity." Distributing the newly translated Scriptures were barefoot itinerant "poor priests" scorned as Lollards. They were persecuted, and Bibles were burned. But the movement continued to spread.
Both large and small landowners supported the secularization of church property, but when Wycliffe began meddling with religious rituals and dogma, many were uneasy. Church tradition was centuries old in England. Messing with the Mass was simply not tolerated. But that was exactly what he did. In 1380, just prior to the peasants' rebellion (which he strongly opposed), he issued a provocative challenge to the doctrine of transubstantiation, attacking Thomas Aquinas for what he deemed heresy - that the bread and wine are transformed into the actual body and blood of Christ. He maintained that the church is the body of Christ, made up of elect only, all others being reprobate. He also rejected merit for indulgences, penance, pilgrimages, and confession, since only Christ forgives sin.
England was not ready for such a thoroughgoing reformation, however. In 1382 Wycliffe was ordered to appear before a synod in Oxford. Poor health and lack of concern among members of parliament worked in his favor. He was permitted to return to his parish, where he died two years later. His followers, the Lollards, carried on as an underground movement.
---
If you enjoyed the above article, please take a minute to read about the book that it was adapted from:
Parade of Faith: A Biographical History of the Christian Church

by Ruth A. Tucker
Buy the book!
The story of Christianity centers on people whose lives have been transformed by the resurrected Lord. Tucker puts this front and center in a lively overview peppered with sidebars; historical "what if?" questions; sections on everyday life; drawings and illustrations; bibliographies for further reading.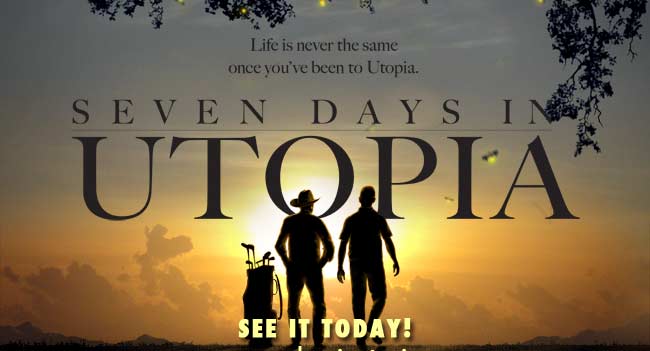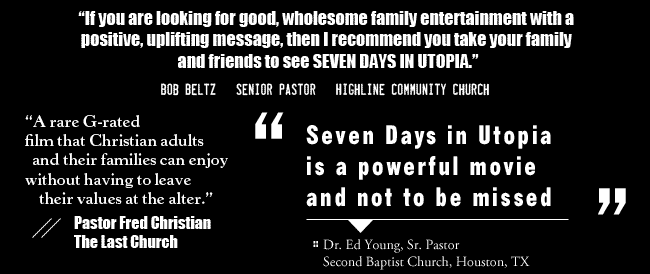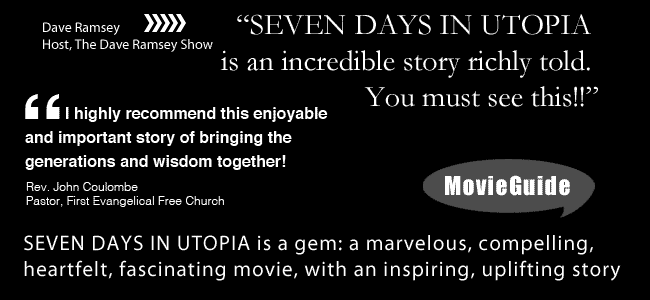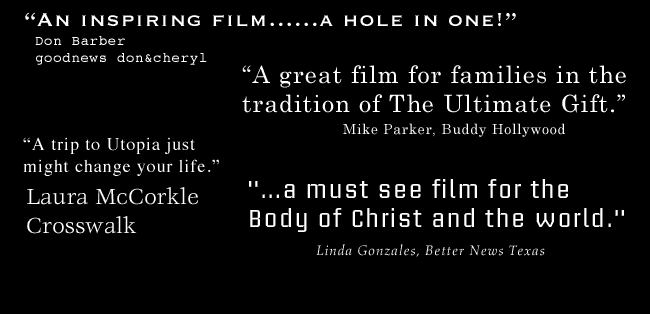 Seven Days in Utopia


The NUMBER ONE Christian Movie in America


See it Today


"Beautiful, Charming, Wholesome!" - Michael Medved

www.sevendaysinutopia.com >>



===