When you are in love, things matter, and betrayal hurts. The 50th anniversary of Martin King's "I have a Dream" speech. Studied in schools across the globe, Martin hoped for a time where apartheid had ended. Apartheid like that which excluded a black senator who had been present 50 years before. Obama is making the dream a nightmare. Then there is the dream of world peace. How is that peace achieved? Obama asked Syria to use its chemical weapons on her own people. Apparently she did. A community is organised. In Australia, we love sport. Jason Clare told us organised crime had fixed matches using performance enhancing drugs in our major codes. But no evidence had yet been collected. Months passed. Yesterday a club, Essendon, were banned from this years finals for bringing the code into disrepute. Yet nobody had been charged with any performance enhancing drugs use. Today it was announced a Canberra player in ARL was charged with possession and dealing in performance enhancing drugs. He is 23 years old, and the accusation goes back to when he was 21. It looks like he is a prisoner of a compromise deal aimed at protecting Jason Clare from his apparent election stunt.
A workplace accident has been decided on in the US. An army psychiatrist who cried out to Allah in praise as he emptied a gun into unarmed work mates is sentenced to die for the workplace accident. It has, notes Steyn, taken longer for the army to adjudicate on this workplace accident than it took them to prosecute WW2. Victims of the major who survived are denied service medals because the workplace accident was not deemed a war crime.
We don't know what will happen to Syria, but peaceniks are keen to make sure there won't be war. The victims of the chemical attacks and indiscriminate bombings .. those that survive .. will love to hear that.
===
Happy birthday and many happy returns my (distantly related) cuz
Chloe Ball
. You are born on the same day, across the years, as Janus Pannonius (1434), Jean-Baptiste Colbert (1619), John Locke (1632), Hyacinth (1777), Oliver Wendell Holmes, Sr. (1809), Ingrid Bergman (1915), Charlie Parker (1920), Richard Attenborough (1923), John McCain (1936), Elliott Gould (1938), Lenny Henry (1958), Stephen W
olfram (1959) and Courtney Stodden, (1994). On your day, Feast day for the Beheading of St. John the Baptist (Gregorian calendar)
1475 – After an invasion by England and the Duchy of Burgundy, France signed the Treaty of Picquigny with England, freeing Louis XI to deal with the threat posed by Charles the Bold, Duke of Burgundy.
1842 – The Treaty of Nanking, an unequal treaty ending the First Opium War, was signed, forcing the Chinese Qing Dynasty to give control of the island that is now the site of Hong Kong, and other concessions to the British.
1903 – The Russian battleship Slava, the last of the five Borodino-class battleships, was launched.
1911 – The last member of the Yahi, known as Ishi, emerged from the wilderness near Oroville, California, to join European American society.
2007 – Six nuclear warheads were alleged to have been mistakenly loaded onto a United States Air Force heavy bomber that flew from Minot Air Force Base in North Dakota to Barksdale Air Force Base in Louisiana.
Start at the head. Have your feast. Picquigny ensures peace. Nanking means you don't need opium. Slava is the last. Ishi emerges. Those six don't matter, really. Have a lovely day.
===
Tim Blair

–

Thursday

,

August

29

,

2013

(

2:34am

)
===
Tim Blair

–

Thursday

,

August

29

,

2013

(

2:26am

)
===
Tim Blair

–

Thursday

,

August

29

,

2013

(

2:22am

)
===
Tim Blair

–

Thursday

,

August

29

,

2013

(

1:56am

)
===
Tim Blair

–

Thursday

,

August

29

,

2013

(

1:47am

)
===
Tim Blair

–

Wednesday

,

August

28

,

2013

(

4:46pm

)
===
Andrew Bolt

August

29

2013

(6:07pm)
===
Andrew Bolt

August

29

2013

(11:26am)
===
Andrew Bolt

August

29

2013

(8:12am)
===
Andrew Bolt

August

29

2013

(7:37am)
===
Andrew Bolt

August

29

2013

(7:33am)
===
Andrew Bolt

August

29

2013

(7:17am)
===
Andrew Bolt

August

29

2013

(7:15am)
===
Andrew Bolt

August

29

2013

(7:14am)
===
Andrew Bolt

August

29

2013

(6:40am)
===
Andrew Bolt

August

29

2013

(6:28am)
===
Andrew Bolt

August

29

2013

(6:26am)
===
Andrew Bolt

August

29

2013

(5:59am)
===
Andrew Bolt

August

28

2013

(8:02pm)
===
Andrew Bolt

August

28

2013

(7:56pm)
===
Andrew Bolt

August

28

2013

(8:29am)
===
By Madu Odiokwu Pastorvin
===
===
Calling all Sydneysiders, the
#DoctorWho
Exhibition at the ABC Centre Ultimo is open this Father's Day weekend from 10am. Bring Dad along for a trip through space and time and come face-to-face with a Dalek, the TARDIS, costumes and more!
Check out the gallery and get more info on doctorwho.tv:
http://bit.ly/DWABCUltimo
===
===
===
'Shut up white b*tch': Stacey Dash quotes MLK Jr., gets attacked for 'calling blacks negro' ==>
http://twitchy.com/2013/08/28/shut-up-white-btch-stacey-dash-quotes-mlk-jr-gets-attacked-for-calling-blacks-negro/
===
===
===
What does UKIP say about peace in Syria? How about "No Chemical Weapons in Syria" ? ed
===
===
===
Glenn Beck
Our history is so much better when you know the truth. It's what unites us — the good and the bad parts. We must know history so we can learn from our mistakes and not repeat them.
===
"I know you've moved on and so you should. I understand; but forgive a sentimental old Time Lord one last indulgence..."
Only two hours left to vote for your top Eighth Doctor
Big Finish Productions
audio from Paul's Picks. Head here to cast your vote:
http://ngx.me/heob7zr7
===
"This military demonstration, and that's what it's going to be, is about Obama shooting off his mouth about red lines and chemical weapons. […] He's not thinking through the potential consequences and I see no way in which a military attack on Syria is worth it for the United States." -Lt. Col. Ralph Peters on 'America's Newsroom'
===
Tim Scott, our nation's only black Senator, was not invited to speak at today's Let Freedom Ring march in honor of Martin Luther King Jr.
Sign our petition to tell event organizers they were wrong to exclude the Republican!
http://bit.ly/191jp6V
===
TONY ABBOTT STOPS HOMOPHOBIA IN SCHOOL
#headlinesyouwontseeinTheAge
'
<The policy was now under review, according to Christian Schools Australia, which says the wording has been ''misunderstood'' and that gay and lesbian students are treated with care.
Mr Abbott said he disagreed with the Statement of Faith but said Penrith Christian School was a ''good school''.
''Look, this is a good school and it is a school which has been supported by people like [Labor MPs] David Bradbury and Peter Garrett.
''I respectfully disagree with lots of things that are said on that particular subject and obviously I disagree with that one.''>
===
===
Brooch "Owl", in gold with pearl, sapphire and tourmaline by Mousson Atelier
===
===
===
===
===
===
===
===
===
Character conversions of warehouses, churches and barns are no longer extraordinary, or a challenge for those with vision to transform one-offs into comfortable living spaces.


Read more: http://www.news.com.au/realestate/investing/water-towers-converted-into-homes/story-fndbarft-1226706538731#ixzz2dMANPn26
===
Carson Huey-You, an 11-year-old boy genius from Texas, could work that problem out with ease.
In fact, he has been solving algebra problems since he was a toddler, and now uses this division of mathematics "to relax".
The pint-sized child prodigy has just embarked on a university degree in quantum physics and soon will be tackling problems like this:
Carson, who is also taking classes in calculus, history and religion, has just begun his first semester at the Texas Christian University (TCU) in Dallas.
He is expected to graduate as a quantum physicist at the age of 15 or 16 and may go one to complete a PhD, by the age of 20.
Carson attends classes with his mother, Claretta, and was so young he could not apply for university entry online because the software would not accept an applicant born in 2002.


Read more: http://www.news.com.au/world-news/child-genius-carson-hueyyou-11-studying-quantum-physics/story-fndir2ev-1226706742607#ixzz2dMCeuv25
===
The ability to tell good stories is a timeless skill. Now more than ever, businesses, workers, and leaders have opportunities to stand out, spread messages, and change things through storytelling.
Good stories surprise us. They make us think and stick in our minds in a way numbers and graphs never will. Unfortunately, in the era of PowerPoint and status updates, many of us have forgotten how to tell a good story.


Read more: http://www.news.com.au/business/worklife/the-most-important-business-skill-to-master/story-e6frfm9r-1226706493686#ixzz2dMCoWhf2
===
===
4 her
===
===
Earl is facing a two-year ban for peptide use and four years to life for trafficking, after NRL boss Dave Smith said the player had admitted to using and trafficking the substance CJC-1295 - promoted as a substance that helps reduce fat and repair injured tissue.
ASADA told News Corp that CJC-1295 was considered by the World Anti-Doping Agency to be a substance that triggers the release of growth hormone.
Earl has been issued an infraction notice by the NRL and become the code's first major scalp of the ASADA investigation. He can accept a looming NRL sanction or fight it in a tribunal.
It is outrageous that his name is linked with the Jason Clare smear. Prima facie, Earl may have admitted inadvertent transgression while Clare alleged an organised crime involved match fixing and drug use. The failure to find any such animal as Clare alleges should have Clare removed from office. ed
===
Australia's Prime Minister Kevin Rudd and Foreign Affairs Minister Senator Bob Carr have gone underground since Carr announced on 8 August at the Lakemba Mosque in Sydney that Rudd personally as well as the Labor Party had adopted as policy that Jews had no right to legally live in the West Bank…writes David Singer.
"I've been to Ramallah, I've spoken to the Palestinian leadership, and we support their aspirations to have a Palestinian state in the context of a Middle East of peace. And that means respect for the right of Israel to exist. But we want that Palestinian state to exist, in the context of a peace in the Middle East, and that's why we say, unequivocally, all settlements on Palestinian land are illegal under international law and should cease. That is the position, of Kevin Rudd, the position of the Federal Labor Government, and we don't make apologies for it."
Attempts to elicit whether Rudd personally and the Labor Party had adopted this policy prior to Carr's announcement have ended in total confusion.
Labor's candidate for the seat of Stirling – Dan Caddy – received no answers from Carr when he asked those pertinent questions.
An embarrassed Caddy wrote to the constituent seeking such information:
"I have received advice from our (Foreign) Minister's office which I have included below. I appreciate that it does not specifically address the questions you have posed, but I hope it clearly articulates what the position is."
Caddy's response was however seriously undermined when sitting Labor Member for Melbourne Ports – Michael Danby – spoke out a few days later:
"There's a narrow view in the Department of Foreign Affairs, in their legal section, that the settlements are illegal. It's not the view of the government as I understand it.

"He [Carr] has accepted their [the legal department's] view. The Prime Minister hasn't accepted that view as far as I understand it.

"I disagree with the Foreign Minister's interpretation of this. I was disappointed; of course I was disappointed."
Rudd could clear up this apparent confusion very easily by issuing a one sentence press release affirming or denying that the Lakemba Mosque Declaration represents his personal view and Labor Party policy.
However Rudd has remained silent in the face of angry protests lodged by peak Jewish organisations and the Opposition spokesperson on Foreign Affairs – Julie Bishop.
One can only conclude in the face of such Prime Ministerial silence that Carr's Lakemba Mosque Declaration was shoddy policy made on the run with the knowledge and acquiescence of the Prime Minister in an attempt to secure the votes of the Moslem community in the elections to be held on 7 September.
This heartless policy would be anathema to all Moslems already in Australia – especially families of potential asylum seekers dreaming of one day being re-united with other family members.
Predictably one could reasonably expect a backlash in the voting intentions of all ethnic and religious groupings in Australia impacted by this policy reversal.
$3 million dollars had reportedly been spent on an advertising blitz in the Australian media explaining the new refugee plan for six days before any similar ads were placed in the countries-of-origin of asylum seekers.
The advertising campaign is going to cost a staggering $30 million – and will now controversially run at taxpayer cost during the election period.
"The advertisements are aimed to speak to ethnic communities in Australia which are the main boat people source. They include Afghans, Iranians, Sri Lankans, Iraqis and more recently Vietnamese people though there are of course other communities."
He said the aim was to spread the message through "word of mouth" from Australia back to those communities.
The Labor Party holds a number of seats by very small margins where Moslems and different ethnic groups comprise a significant proportion of the voters.
It is becoming increasingly evident that a bizarre balancing act was performed by Carr at the Lakemba Mosque – announcing unequivocally and without apology as Labor Party policy that Jews are not legally entitled to live in the West Bank – thereby hoping to placate and ameliorate Moslem concerns with another Labor Party policy denying Moslem asylum seekers any legal entitlement to live in Australia.
To further impress Moslem voters – Carr added an assurance that this anti-Jewish policy concerning the West Bank was personally embraced by Prime Minister Rudd and so would remain unchanged if the Labor Party is returned to power.
His assurances seem to have fallen on deaf Moslem ears – if the results of recently published polls in those tightly held Labor marginal seats are any guidance.
Carr – and Rudd – have amazingly managed to alienate Jews, Moslems and other ethnic groups – who will consider as immoral and inhumane – and be motivated to vote against – Labor policies that deny Jews the right to settle in the West Bank or asylum seekers the right to settle in Australia.
Hastily conceived policies drawn up in the heat of an election campaign appear set to hit the Labor Party with devastating effect.
Speak up Rudd and Carr, it is an election campaign .. we need to know ed
===
===
Going for the "awwwww" vote here... chipmunk style!
— at Valley Of The Fire State Park, Nv.
Actually, a lifelike carving of the monument in the back ground. - ed
===
Egypt's Example
By
Nonie Darwish


Read more: http://www.americanthinker.com/2013/08/egypts_example_comments.html#disqus_thread#ixzz2dMEpY7cn
Follow us: @AmericanThinker on Twitter | AmericanThinker on Facebook
slow learners? In Australia I heard a joke "What is the difference between a NZ and a computer? .. answer "You need only punch information into a computer once" - ed
===
<The blood-soaked internecine turmoil convulsing the Arab realm – from the Maghreb to Mesopotamia – has nothing to do with Jews, with Zionism, the Jewish national liberation movement or with Israel, the Jewish state. The carnage is spawned
by internal Arab ethnic, religious, clannish and political conflicts. Each side reinforces its case by recruiting throngs of volatile and violent demonstrators. This rent-a-mob fest is palmed off to clueless foreigners as democracy-in-action.

In some local arenas, as in Syria, the inner strife is exacerbated by blatant outside intervention, underscoring the broader and deeper schisms within the Arab/Islamic world.

In rational and realistic terms, all this cannot be remotely linked to Israel. But expediency can overrule reason and indeed create an inner logic all its own. It works like this: hatred of the Zionist endeavor had served since the 19th century as the powerful glue of Arab nationalism, crucially buttressed by prevailing religious xenophobia.>
===
===
===
About 250 light-years away in the constellation Capricornus (The Sea Goat) lies a star that looks awfully familiar.
Known as HIP 102152, the star is a virtual twin of our sun, which in and of itself is not so unusual. But HIP 102152 is olde
r than our 4.6-billion-year old sun -- by nearly 4 billion years, making it the oldest solar twin found to date.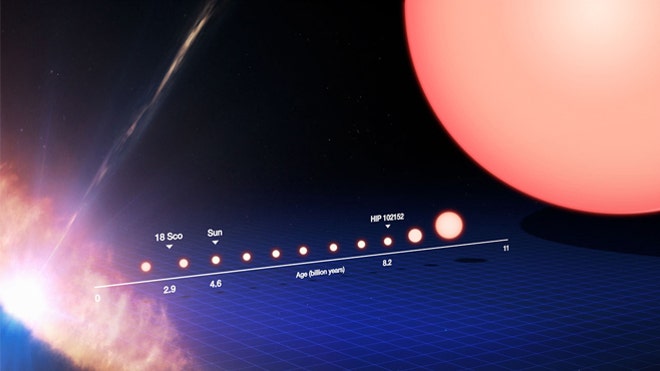 Read more: http://www.foxnews.com/science/2013/08/28/sun-82-billion-year-old-twin-found/#ixzz2dK3uLiy9
===
Indeed, we've been posting frequently on the sympathetic portrayal, by some in the media, of the the 104 pre-Oslo prisoners who Israel has agreed to release – all of whom were convicted of murder, attempted murder, or being an accessory to
murder, and the dearth of information about the victims and their families. And, in fact, Zayid spends most of the space allotted to her commenting on the pain felt by the recently released murderers – in "the middle of the night"!, we are reminded – and the 'feelings' of their families.
===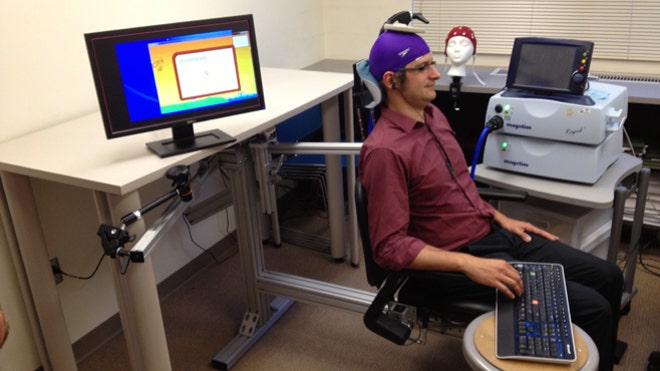 There's still no cure for the common cold, but soon we may be able to control each others' body movements.
Stocco and fellow researcher Rajesh Rao donned swim caps with electrodes hooked up to an electroencephalography machine that reads electrical activity in the brain. The two men sat in separate labs and a Skype connection was set up so they could communicate during the experiment, although Rao and Stocco could not see each other.
Rao sat before a computer screen and played a video game using only his mind. When he wanted to fire a cannon, he imagined moving his hand to hit the "fire" button without actually moving any part of his body.
Almost simultaneously, Stocco involuntarily moved his hand to push the space bar on his keyboard as though to hit the "fire" button.
"It was both exciting and eerie to watch an imagined action from my brain get translated into actual action by another brain," Rao said. "This was basically a one-way flow of information from my brain to his. The next step is having a more equitable two-way conversation directly between the two brains."
Stocco likened the feeling of having Rao move his finger through thought to that of a twitch.
"I think some people will be unnerved by this because they will overestimate the technology," assistant professor in psychology at the UW's Institute for Learning & Brain Sciences and Stocco's wife Chantel Prat said. "There's no possible way the technology that we have could be used on a person unknowingly or without their willing participation."
The University of Washington experiment sounds like something out of a science fiction movie. Stocco jokingly likened the results to the "Vulcan mind meld."
Stocco explains that should they continue to be successful in their research, it could eventually result in helping a flight attendant land a plane should the pilot become incapacitated.


Read more: http://www.foxnews.com/science/2013/08/28/researchers-control-each-other-body-movements-using-only-their-brains/?intcmp=features#ixzz2dMGYw5DU
===
Like I said, we think he's nuts; he thinks we're nuts. Right now, there's a
petition
on the Internet seeking to persuade the United States government to reclassify Hasan's "workplace violence" as an act of terror. There are practical consequences to this: The victims, shot by an avowed enemy combatant in an act of war, are currently ineligible for Purple Hearts. The Pentagon insists the dead and wounded must be dishonored in death because to give them any awards for their sacrifice would prejudice Major Hasan's trial and make it less likely that he could be convicted.
===
(NEW YORK) — The New York Police Department has secretly labeled entire mosques as terrorism organizations, a designation that allows police to use informants to record sermons and spy on imams, often without specific evidence of criminal wrongdoing.
Designating an entire mosque as a terrorism enterprise means that anyone who attends prayer services there is a potential subject of an investigation and fair game for surveillance.
Since the 9/11 attacks, the NYPD has opened at least a dozen "terrorism enterprise investigations" into mosques, according to interviews and confidential police documents. The TEI, as it is known, is a police tool intended to help investigate terrorist cells and the like.
Many TEIs stretch for years, allowing surveillance to continue even though the NYPD has never criminally charged a mosque or Islamic organization with operating as a terrorism enterprise.
The documents show in detail how, in its hunt for terrorists, the NYPD investigated countless innocent New York Muslims and put information about them in secret police files. As a tactic, opening an enterprise investigation on a mosque is so potentially invasive that while the NYPD conducted at least a dozen, the FBI never did one, according to interviews with federal law enforcement officials.
The strategy has allowed the NYPD to send undercover officers into mosques and attempt to plant informants on the boards of mosques and at least one prominent Arab-American group in Brooklyn, whose executive director has worked with city officials, including Bill de Blasio, a front-runner for mayor.
Read more: http://nation.time.com/2013/08/28/nypd-designates-mosques-as-terrorism-organizations/#ixzz2dMJLQLY3
===
tiny Jewish population continues to dwindle due largely to a dangerous increase in antisemitism
. >===
<Paul Kelly on the debate. Rudd desperately courts the loony Right and Katter agrarian socialists. Abbott now looking positively reasonable and Prime Ministerial. Oh, the irony.>
===
18KT Panther in Jungle Brooch with white diamonds, fancy yellow diamonds & green tourmaline by Gumuchian
===
Ring "Iguana", in gold with citrine and sapphire by Mousson Atelier
===
Kerry's narrative is full of holes. First, we've yet to ascertain that chemical weapons really were used by Assad – specifically we've not determined a) what kind of WMDs they were or b) who actually did it. The situation is complicated by how difficult it's proving to get to the site of the attack to carry out tests. But this is a war zone, and forensic tests take longer and are more complicated to execute when you're surrounded by people trying to blow each other up. So it's going to take time.
Third, why is the West obliged to act even if Assad did use chemical weapons? We are not under any such treaty obligations and the subject sure doesn't feature as a trigger for war in the US constitution. The red line itself has slimmed and thickened over time. When Obama first laid it down, it was thin to the point of invisible, quote:
We have been very clear to the Assad regime, but also to other players on the ground, that a red line for us is we start seeing a whole bunch of chemical weapons moving around or being utilised… That would change my equation."
So all Assad had to do to get America's attention was move a "whole bunch" of WMDs around a bit. He didn't even have to use them. But while Obama was shockingly vague when he made that statement back in August 2012, now Kerry uses very precise language to denounce a specific action that hasn't even been verified as being Assad's fault. By the way, if the West was looking for a pretext to intervene in Syria on humanitarian grounds then it's had plenty already: Assad's been killing tens of thousands of innocents for two years. So what difference would one chemical attack make?
Good article and hardly a repudiation of conservative values. The truth is that Obama failed to act appropriately and now has to appear tough. He is dealing with a puppet of Iran, and instead of pulling the strings early, he drew a line in
the sand and dared Syria to cross it. It matters nothing that rebels may be using Syria's stockpiles. Syria should never have stockpiled it. Possession of the material is a war crime. It is ironic that it is probably Saddam's personal stash. Democrats wanting to use it on a pretext that they denounced Republicans for. - ed
===
"The truth is there is no apartheid in Israel," said Meshoe. "My parents suffered through apartheid."
===
Spice Broiled Salmon with Green Apple Cucumber Salad. Sweet caramelized crust, perfect for Rosh Hashanah. Super easy and delish!
Recipe here:
http://theshiksa.com/2013/08/28/spice-broiled-salmon-with-green-apple-salad/
===
revisiting .. The history in the article is wrong. Schools were created in an attempt to raise literacy .. everyone in Great Britain was to read and write to a year 8 standard. Catholic church initiated a similar program at about the same t
ime. In the US the revolutionary war of independence resulted in schools created to allow adults to function in a democracy. From early 1800's to mid 1800's, students became teachers of the younger years .. boot strapping .. and records were kept of attainments .. rewards given on assembly. Then in mid 1800's, teacher training began at university to make teachers who would inculcate moral values .. this article is asinine .. I use it as a counter example of good scholarship .. it mixes anecdotes with partisan assertions on research. One thing the article ignores is the overwhelming benefits of schooling. Some schools are dysfunctional .. very few are catastrophic. For the worst afflicted, schools are an opportunity to get away from dysfunctional homes. They show lives that get shared with others that may be different, and positive. Curriculum is what it is .. pedagogy can improve .. but to say that the structure is harmful is to misrepresent what is actually happening. - ed
===
Hamish and Andy haha
===
Dusk at the Elephant Rock

I'm pretty certain that I could spend a solid month in the Valley of Fire and never get bored. This arch took a little searching and climbing to find. I knew it was around, and even with markers and trail heads it was a bit elusive. I light painted it as the sun went down to create a glowing effect, then stayed until dark in the very warm night desert air.

Please feel free to share this picture with your friends! This image also looks so much nicer when not dealing with facebook compression issues. Check it out here: http://mattgranz.zenfolio.com/p751617211/h63c18f69#h63c18f69http://mattgranz.zenfolio.com/p751617211/h63c18f69#h63c18f69
— at Valley of Fire State Park.
===
4 her
===
And there is a campaign to limit plant food to 1990 levels .. ed
===
===
Work life balance is a serious discussion issue in management research these days. I was an outstanding teacher because I gave extra. But a lot don't. For every teacher that devotes their life to their charges there are many that don't .. t
hey have lives that preclude it, or they have learned to switch off, or they are old and don't have to try, to put in effort. But recognising good teachers is very difficult, not because it is hard to grade teachers, but because teachers unions won't let it happen. Public testing is so precise in Sydney that examiners can identify which teachers of year 12 classes use which textbooks, give regular homework and or rely on tutors to boost student performance. But that information isn't shared with teachers, executive, parents or government. Kids know. And those that suffer from neglect are ignored. - ed
===
This storm was situated just a little South West of Tucson. It kept firing off in different directions, so I kept re-aiming my camera and in turn kept missing strikes. Finally this one happened. I like the trees and the distant row of lights. It lends a little more story to this shot.
Please feel free to share this, and take a look at the image in a much better non compressed environment here:
http://mattgranz.zenfolio.com/p13072832/h67092787#h67092787
===
This is a fabulous video that simply analyzes the true problem of the Middle East, between the Muslim countries and Israel. Definitely watch it!
International law is on Israel's side. Watch the video to understand why!
This must be one of the best video presentations that clearly explains international law and the legal case for Israel and Israel's presence in Judea and Samaria. Definitely watch this to have a better understanding of international law so you can talk about Israel's situation intelligently with others.
Thank you for caring about Israel. Here is a new tool we have developed for people like you to stay up-to-date with important videos with the latest news in Israel.
Sign Up Here
!
One Week Rosh Hashanah Sale - Yair Emanuel Judaica!!
Add a splash of festive color to your Rosh HaShanah this year with this wonderful shofar stand! And not only Rosh HaShanah; it will also look great on your mantel or desk all year long.
Join our mission - Click here to make a tax-deductible donation to help us grow our network to reach hundreds of thousands of people to make a difference for Israel.
===
This is a fabulous video that simply analyzes the true problem of the Middle East, between the Muslim countries and Israel. Definitely watch it!
International law is on Israel's side. Watch the video to understand why!
This must be one of the best video presentations that clearly explains international law and the legal case for Israel and Israel's presence in Judea and Samaria. Definitely watch this to have a better understanding of international law so you can talk about Israel's situation intelligently with others.
Thank you for caring about Israel. Here is a new tool we have developed for people like you to stay up-to-date with important videos with the latest news in Israel.
Sign Up Here
!
One Week Rosh Hashanah Sale - Yair Emanuel Judaica!!
Add a splash of festive color to your Rosh HaShanah this year with this wonderful shofar stand! And not only Rosh HaShanah; it will also look great on your mantel or desk all year long.
Join our mission - Click here to make a tax-deductible donation to help us grow our network to reach hundreds of thousands of people to make a difference for Israel.
===
As we write this to you, Syria is threatening to strike Israel immediately after an expected US attack on Syria.

In Israel, we are praying for peace but preparing for the worst. After Syria's lethal chemical attack on its own citizens, we can only imagine what they have in store for the citizens of Israel. Record numbers of Israelis are acquiring gas masks. IDF Reserve units are being called to report to their bases.

Prime Netanyahu has promised a fierce Israeli response, but that may be too late for some Israelis in the north who are in imminent danger of missile attack. 

There is an urgent need for more bomb shelters now. Click below to donate:
https://donate.unitedwithisrael.org/donate/s1

We've had numerous requests for portable bomb shelters in the north.

Just last week, Kibbutz Gesher HaZiv requested a shelter for their kindergarten. That was on Wednesday. And on Thursday, the community took a direct hit from one the rockets launched from Lebanon.

With your help, United with Israel will install bomb shelters for the children of Kibbutz Gesher HaZiv and other northern towns.

There is no time to waste. The People of Israel need your prayers but also concrete action to save lives. The time to act is now, before it's too late...

CLICK BELOW TO HELP BUILD BOMB SHELTERS
https://donate.unitedwithisrael.org/donate/s1

We ask you to kindly forward this email to your family and friends. They too, deserve the opportunity to stand united with the People of Israel. 

Please consider giving monthly, as the vital need for more shelters is ongoing. May God reward you for your kindness and generosity.

With Blessings from Israel,

The 'United with Israel' Family

CLICK BELOW TO MAKE A TAX-DEDUCTIBLE ONLINE DONATION:
https://donate.unitedwithisrael.org/donate/s1

Checks can be sent to our US address:
United with Israel
PO Box 151 
Lawrence, NY 11559
United States

Checks can be mailed directly to Israel:
United with Israel
8/19 Nachal Maor St.
Box 71530
Bet Shemesh 99623
ISRAEL

To donate by phone please call:
+1-646-213-4003 (USA) 
+972-2-533-7841 (Israel)
===
This is a once in a generation election.

Your support so far has helped us to become competitive in a number of marginal seats, but this election will be close and it will come down to a handful of votes in crucial electorates.

Labor's tactics and smears show what lengths they will go to win. Kevin Rudd's politically motivated plan to close the Garden Island Naval Base in Sydney is further proof that New South Wales can't afford three more years of Labor.

We need to urgently communicate our Real Solutions Plan to voters in seventeen battleground seats in New South Wales.


In the last week of the election campaign we need to reach over 100,000 voters whose support is critical to winning on 7th September.
To make this happen, I need your help to raise an additional $50,000.
Please donate whatever you can. Any amount no matter how small makes a difference.
The future direction of our country hangs in the balance.
Thank you,
Mark Neeham
State Director
P.S. Your donation will go towards the election of a Liberal Government that will help provide Australia with the strong, stable and competent leadership that our country deserves.
Authorised by Mark Neeham, Liberal Party of Australia (NSW Division), 100 William Street, East Sydney NSW 2011.

Our mailing address is:
Liberal Party of Australia (NSW Division)
Locked Bag 2
Kings Cross
,
NSW
1340
Australia
===
Hi everyone! Here's the MichelleMalkin.com newsletter for August 28th. Enjoy!
While most Americans will be chillin' out, maxin' and relaxin' this Labor Day weekend, dedicated patriots in Colorado are hard at work preparing for a groundbreaking special election day with nationwide repercussions...
There's obviously a lot of discussion this week in regards to whether the administration led by a recent Nobel Peace Prize winner has constitutional authority to attack Syria without congressional approval...
Apparently Katy Perry and dozens and dozens of other Hollywood celebs can't do it alone, so the Department of Health and Human Services is sponsoring a contest offering prizes to people who can come up with the most creative ways to tell Americans that the thing they have to buy that they can't afford is super affordable...
More From the Right Side of the Web
And ... Our Hate Tweet of the Day
===
===
===