A son of Syria's murderous leader wants the world to attack Syria. UK parliament says it wants peace. What would peace look like in Syria? Would the civilian population be shelled with a mixture of ordinary and chemical ordinance? Would the local population be threatened with sectarian violence? Would a new leader be worse? What is the path of hope? When Obama was running for President he said he would be better than President Bush. The only area Obama has excelled the previous President is in spending. Bush was strong and effective, even as a lame duck. NK and Syria would not have taken the liberties they have under Bush. Suggesting Bush would have acted sooner than the dithering Obama, without escalating the affair. Thing is, Syria is bad without being the cause of the problem. Iran is the puppet master in this situation. And in this high stakes game, the threat is too the only place in the Middle East where Arabs can walk the streets unmolested, Israel.
Rudd's election plan is in tatters. He had apparently intended to run on the denunciation that the Liberal National Parties would cut responsibly into spending. Something Rudd would never do. However, in taking insurance out on unannounced policy by using treasury figures of worst case scenarios .. something the ALP have never done for themselves, losing over $107 Billion in shortfalls, Rudd made a mistake. He claimed Treasury had costed policies. Treasury have had to release to media the detail that it hadn't costed anyone's policies. Showing that Rudd is now a liar and called out as one by senior public servants. That would never happen if those public servants thought Ruddite ALP would be elected at any time prior to the end of their careers. So now we have senior public servants saying they expect the LNP will be in office for multiple terms of office. Maybe Mr Abbott will be the longest serving Australian PM? It is difficult to imagine anyone in the ALP with the talent to take office.
Update on the drugs in sport issue. It looks increasingly as if a young sportsman has been cornered into admitting he had done something wrong when he had done nothing wrong. The Canberra 23 year old is being offered a reduction in penalty if he confesses and names names before the election. Jason Clare should not be rewarded for this smear.
Former ALP minister is found guilty of corruption by the ICAC. They really need to look at sitting members too.
===
Happy birthday and many happy returns Peter of Castile (1334), Samuel Whitbread (1720), Mary Shelley (1797), Ernest Rutherford (1871), Nancy Wake (1912), Ted Williams (1918), Warren Buffett (1930), Cameron Diaz (1972), Andy Roddick (1982) a
nd Emily Bear (2001). On your day, Constitution Day in Kazakhstan (1995); St. Rose of Lima's Day in Peru; Victory Day in Turkey
1813 – Creek War: A force of Creeks, belonging to the Red Sticks faction killed hundreds of settlers in Fort Mims in Alabama.
1835 – European settlers landing on the north banks of the Yarra River in Southeastern Australia founded the city of Melbourne.
1909 – American paleontologist Charles Walcott discovered the Burgess Shale, one of the world's most celebrated fossil fields, in the Canadian Rockies in British Columbia.
1959 – The title of National Hero of Indonesia was first given, to the writer-cum-politician Abdul Muis.
1995 – Bosnian War: NATO began its bombing campaign against the Army of Republika Srpska in Bosnia and Herzegovina.
The campaign has begun, The title is given. Fossils celebrate. Gathering on the north bank, we survive the creek. Enjoy your day.
===
Piers Akerman

–

Thursday

,

August

29

,

2013

(

7:17pm

)
===
Tim Blair

–

Friday

,

August

30

,

2013

(

4:55am

)
===
Tim Blair

–

Friday

,

August

30

,

2013

(

4:51am

)
===
Tim Blair

–

Friday

,

August

30

,

2013

(

4:44am

)
===
Tim Blair

–

Friday

,

August

30

,

2013

(

4:18am

)
===
Tim Blair

–

Friday

,

August

30

,

2013

(

4:13am

)
===
Tim Blair

–

Friday

,

August

30

,

2013

(

3:01am

)
===
Tim Blair

–

Friday

,

August

30

,

2013

(

12:53am

)
===
Andrew Bolt

August

30

2013

(5:27pm)
===
Andrew Bolt

August

30

2013

(5:09pm)
===
Andrew Bolt

August

30

2013

(4:22pm)
===
Andrew Bolt

August

30

2013

(2:22pm)
===
Andrew Bolt

August

30

2013

(2:18pm)
===
Andrew Bolt

August

30

2013

(2:15pm)
===
Andrew Bolt

August

30

2013

(2:02pm)
===
Andrew Bolt

August

30

2013

(7:53am)
===
Andrew Bolt

August

30

2013

(7:47am)
===
Andrew Bolt

August

30

2013

(6:51am)
===
Andrew Bolt

August

30

2013

(6:44am)
===
Andrew Bolt

August

30

2013

(6:30am)
===
Andrew Bolt

August

29

2013

(8:06pm)
===
Andrew Bolt

August

29

2013

(6:07pm)
===
Disrespecting the truth and history in order to promote an agenda?
Here are the 5 biggest lies made at yesterday's 'March on Washington' 50th anniversary...
===
Israeli authorities went out of their way on Thursday to calm fears of a regional war, even as military sources said they anticipated US-led intervention in Syria early next week..
===
===
"Really? It is difficult to resist asking: "Myopic and amnesic?" Has Harris forgotten the wrenching concessions Israel has made over the past decades – the unrequited unilateral 10-month freeze on construction in the "settlements"; withdraw
al from major populations centers in Judea-Samaria; unilateral evacuation of Gaza, and erasure of every vestige of Jewish presence there; the unearthing of its dead from their graves; the demolition of settlements in northern Samaria; permitting armed militias to deploy adjacent to its capital, within mortar range of its parliament?

To all these the Palestinians responded with Judeocidal terror and Judeophobic incitement." - Martin Sherman
===
That brutal display of Finch-hitting broke a few records last night. Highest scores in T20Is:
http://bit.ly/16VyB5s
===
John Howard joined the packed #LiberalBus to help us campaign across Sydney for a stronger Australia!

There is only 7 days to go. Get involved today. Together we can deliver real change and a better future.
Register here: http://www.nsw.liberal.org.au/get_involved
— with John Howard.
===
The world is waiting for United Nations inspectors to announce their findings over the alleged use of chemical warfare in Syria. What are inspectors looking for? And how would they be able to tell if the weapons came from the Assad regime? Jeffrey Brown gets analysis from former UN and U.S. weapons inspector Charles Duelfer.
===
An American attack on Syria will result in the destruction of Israel and have severe repercussions for the US and its allies, the commander of the Iranian Revolutionary Guards said.
===
Lord let Your presence fall.
#GloriousRuins
===
His first unauthorized kinetic military action was in Libya. The bombing of Syria is now also on the horizon, and the Russians are telling us it could start as early as tomorrow. Reports say the bombings will last two days at the most. I think his attempt here is laughable, especially considering "one U.S. official who has been briefed on the options on Syria said he believed the White House would seek a level of intensity just muscular enough not to get mocked."
Oh, is that our American threshold now? Let's not go out there and win; let's just go out there and do enough so people can't make fun of us. Oh my gosh, lives are at stake. People will die, and we're doing it just at the level to where we're not mocked. Jay Carney all but assured – try this one – that Assad is of course going to remain in power.
VIDEO
Jay Carney: I want to make clear that the options that we are considering are not about regime change. They are about responding to a clear violation of an international standard that prohibits the use of chemical weapons.
Oh my gosh, so we are…we're just gonna…we're gonna…what? Here's the real reason, somebody's credibility is on the line, the president's. That's not a reason to kill somebody. There are many reasons to declare acts of war but never, never to save face. I honestly, I have looked at this problem over and over again, and I can't find one good reason to do it.
You know why this map is behind me? Do you know why we originally put this map up? We put this map up because a few months ago I did a show where I said World War III is coming, and it's going to happen in Syria. Well look, here we are. Now maybe World War III doesn't happen. I know The New Yorker is finally coming to their senses, and they said in an article they published yesterday, they said, gee, it looks like 1914, doesn't it? Yes, it does.
I can find a million reasons why we shouldn't do this but not one why we should. Is it going to further destabilize Syria? Yep. Is it going to further destabilize the region? Yep. Will it, if this is our deal that we just want to do enough to not get mocked, what do you think the people in the Middle East are going to say about us then? Does it increase our credibility? Does it decrease your gas prices?
I don't mean to boil it down to that, but that's where most people are. They don't give a flying crap about anything unless it affects their gas prices or their groceries, and most of 'em don't even say anything unless the media is there to tell them oh you know… It's going to make your gas prices go up. Oil is already at $110. Stock market's had a rocky few days.
Hundreds of thousands have been murdered, hundreds of thousands, before the alleged chemical weapons killed a few hundred at most. I'm not saying that that's not bad. It is, but may I just point out that they used machetes, they used machetes on 500,000 people in Rwanda, and we turned the other way. You're appalled by a few hundred. You're not appalled by tens of thousands that are dying.
===
===
CELEBRATING 40 YEARS OF "LET'S GET IT ON":
http://smarturl.it/MarvinGaye
"A sensual and spiritual masterpiece
The heartbeat of modern soul

A celebration of love and heartbreak.
"Let's Get It On" - still the No. 1 love song of all time."

- Harry Weinger, Universal Music A&R VP
===
Continuing our celebration of the Eighth Doctor this month, we've got a teaser video of Paul McGann's audition for the role. Watch it now on doctorwho.tv:
http://bit.ly/14bbdOb
===
Should the US intervene in Syria?
Sign our petition to tell Obama to stay out of Syria:
http://bit.ly/1fmedvX
===
Clint and Tracy say they've been living in constant fear of their 17-year-old daughter, Callie, who they say lashes out at them. Callie says it's her parents who are to blame.
http://bit.ly/DRP0829
|
#DrPhil
===
Fans down under – how well do you know the Dads of
#DoctorWho
? Put your knowledge to the test with our Father's Day quiz:
http://ngx.me/hgv67ayq
===
This man canceled his DirecTV service because it doesn't carry TheBlaze. You won't believe how many special offers he turned down in the process! LISTEN to his call here:
http://tblz.us/oogll
#GetTheBlaze
===
#johnhoward
#election2013
— at Auburn.
===
GERONIMO! We've got 15% off our LIMITED EDITION TARDIS iPhone 4 & 4s covers until midnight tomorrow! Remember it's FREE delivery Australia wide as well! Shop here:-
http://bit.ly/TARDISiPhoneCover
===
Click here to read more: http://bit.ly/TroubledTeens
===
You have been set free from sin.(Romans 6:18, NIV)
Do you know what the early colonists did once they signed the Declaration of Independence? They read it out loud in public. They published it in the newspaper. They spread the word. They continued to declare and celebrate even though they were in the midst of the battle.
Today, no matter what battle you may be facing, declare that you are free and celebrate your freedom because victory is on the way.You have been set free.God bless you.
===
Father,I thank You for setting me free in every area of my life. I declare today that nothing can hold me back. I declare that You have set me free! Thank You for freedom and victory in every area of my life in Jesus' name. Amen.
===
Are You Overwhelmed by a problem?
Are you facing a problem that seems frustrating, complicated, with no real solution?
Pray your way out.Hezekiah received a letter from the king of Assyria — who said that if Israel didn't surrender he would destroy them. We're talking ASSYRIA — whose empire ruled the world, whose army was undefeated, who brutalized those they captured.So what did Hezekiah do? He
spread this letter out before the Lord, and started to pray.

So if you were him — how would you begin your prayer?
Maybe God, we've got a huge problem,Or Lord, Assyria's got this really big army,Or God, remember what you did at the Red Sea? That's not where Hezekiah started
Here's the first words out of his mouth –
"O Lord, the God of Israel, enthroned above the cherubim.You are the God, you alone, of all the kingdoms of the earth.You have made heaven and earth." (2Ki 19:15)
Wow.Hezekiah started with a HUGE declaration about God.I was thinking that it will be good to pray about my problem,But then I remembered the problem Hezekiah faced — and how he prayed.So I thought I would give it a try.So began your prayer with a huge declaration about God.While pray this way,I felt peace. Strength. Hope. Courage,and He answered me.Pray this way and He will see you through in Jesus name,Amen.
===
4 her
===
A day later and here is the finished ring!
A beautiful handmade double claw engagement ring set with a GIA certified 1.62ct D Colour VS1Excellent Excellent Cushion Cut Diamond ..... a real stunner!
You can view the diamond details here.....
http://www.diamondimports.com.au/cushion-cut-diamond-1.62ct-d-vs1.html
===
Hey guys we are shooting the next series of ShoeString TV and we are looking for awesome Sydney based startups that are doing awesome stuff to feature in the episodes. If that's you please contact tbindi@shoestring.com.au Ninja Cheers
===
educational and entertaining - ed
===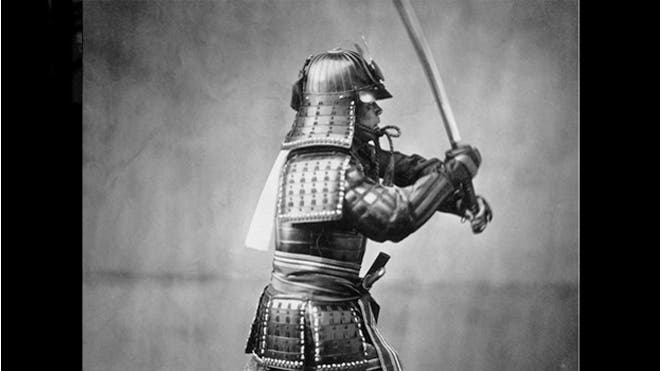 Among its many teachings, the text tells students to show great discipline and not to fear the enemy's numbers. "To see bad as good is like stepping out of the gate we see the enemy, though numerous we see them as few, therefore no fear awakes, so we triumph when the fighting is just started," it reads in translation, quoting a teaching from the Seven Military Classics of ancient China.
One notable rule, "Do not let the school's teachings leak out!" was created to protect the school's secret martial art techniques and aid students should they find themselves in a fight.
Two other, perhaps more surprising, rules, tell students "Do not compete!" and "Do not tell bad things about other schools!"
Modern-day Westerners have a popular vision of the samurai fighting each other regularly, but by 1844, they were not allowed to duel each other at all, Szabó writes.
The Shōgun Tokugawa Tsunayoshi (1646-1709) had placed a ban on martial art dueling and had even rewritten the code the samurai had to follow, adapting it for a period of relative peace. "Learning and military skill, loyalty and filial piety, must be promoted, and the rules of decorum must be properly enforced," the Shōgun ruled (translation from the book "Studies in the Intellectual History of Tokugawa Japan," by Masao Maruyama, Princeton University Press, 1974).
The lack of details describing what these techniques looked like in practice is not surprising, Szabó said. The headmasters had their reasons for the cryptic language and rule of secrecy, he added. Not only would they have protected the school's prestige, and students' chances in a fight, but they helped "maintain a mystical atmosphere around the school," something important to a people who held the study of martial arts in high esteem.


Read more: http://www.foxnews.com/science/2013/08/29/1th-century-samurai-training-text-deciphered/?intcmp=features#ixzz2dSGf3S00
===
The Galaxy poll, conducted for the Adelaide Advertiser on Thursday night, put support for Ms Ellis at 54 per cent on a two-party preferred basis compared to 46 per cent for her Liberal opponent Carmen Garcia.
Ms Ellis holds Adelaide with a margin of 7.5 per cent.
The poll quizzed 571 voters with 42 per cent naming Opposition Leader Tony Abbott as their preferred prime minister compared to 39 per cent support for Prime Minister Kevin Rudd.

Read more: http://www.news.com.au/breaking-news/national/poll-says-labor-to-hold-adelaide/story-e6frfku9-1226707715204#ixzz2dSGpaXZa
===
The "professional gentleman" from Antelope Valley in California says he's looking for a "worthy and deserving girl" before revealing his epic list of dating requirements. Women who respond to the ad can expect to be 'tested', he says.
At least one thing's clear from the outset, Lothario's running this show.

Read more: http://www.news.com.au/lifestyle/relationships/gentleman8217-seeks-8216worthy8217-woman-in-craigslist-ad/story-fnet0gly-1226707211560#ixzz2dSGyjZW7
John Tran
It's like Borats finally finds Craigslist.. "I am Gentleman" "is nice"
===
A Polish woman is making a bizarre attempt to sleep with 100,000 men in a global sex marathon.
Ania Lisewska wants to travel to every city across the world, dedicating 20 minutes to each ... experience.
"I want men from Poland, Europe and all around the world. I love sex, fun and men," the 21-year-old said, according to the Austrian Times.
"In Poland the subject of sex is still taboo and anyone who wants to fulfill their sexual fantasies is considered a deviant, a whore or mentally ill," she said.
So far she's slept with 284 men, but she'll need a whole lot more notches on her bedpost before reaching her 100,000 goal. It's a visual which her boyfriend is "not thrilled" about, telling Polish website Fakt.pl he "had to come to terms" with it.
To complete her mission she needs to dedicate 33,000 hours to the task.
Calculating the numbers based on the fact an average Polish woman's life span is 81, with 60 years left she must sleep with 1,666 men per year. Or 32 men a week. Or approximately 4.5 per day.
Lisewska has claimed she will only partake in sexual activities on the weekend, which means she'll have to up her quota to 14 men each Saturday and Sunday.
I know someone who can give her what she needs. But it won't satisfy her goal. - ed



Read more: http://www.news.com.au/lifestyle/relationships/will-you-be-one-of-the-100000-men-to-sleep-with-this-woman/story-fnet09p2-1226707532443#ixzz2dSHOSlMl
===
North Korea one of the last five countries to still perform public executions; the other four being Iran, Saudi Arabia, Syria and Yemen.
Read more:
http://www.news.com.au/world-news/how-to-avoid-ending-up-in-front-of-the-firing-squad-in-north-korea/story-fndir2ev-1226707448497#ixzz2dQHUEnNT
I'm, informed the execution has not been confirmed .. maybe a traffic accident? ed
===
While comment sections contain some valid wisdom - debates about science, politics and religion - it also contains a lot of snark, nastiness and just downright weird remarks.
Here are 25 different kinds of internet commenters that make, or wreck, your day on the world wide web.
If you have more to add leave a comment in the section below.


Read more: http://www.news.com.au/technology/techknow/the-26-worst-kinds-of-internet-commenters/story-fnda1lbo-1226707447865#ixzz2dSHvaecY
===
After the Holocaust, antisemitism was a word the entire world should have been afraid of, but it is not; and such behavior should have disgusted every person in the world, but it does not. Antisemitism is an incurable emotional and psychological disease, spread worldwide among non-Jews and even among Jews of all sorts. In light of what is happening in the world these days in general, and in Egypt in particular, I wrote in my previous article that the world needs reprogramming for peace to prevail. - See more at: http://newsblaze.com/story/20130824151923nurg.nb/topstory.html#sthash.WwPmPIAA.ZMnu9ZpH.dpuf
===
In this environment, it's essential to stay up-to-date with the skills and personal traits the business world values.
That's no mean feat. As career expert Kate Southam explained to news.com.au, the most coveted employment skills change quickly in the Australian workplace.
Here are a list of her most recommended - they might surprise you.
The ability to manage your own emotions and that of others is absolutely essential in the modern workplace. Don't let your emotions get in the way of decision making or ability to do your work. Remain calm and professional at all times, and help others do the same.
Change is inevitable. You must be able to move with the company, no matter what happens. What that means is moving with the changes, be it upskilling or a new role. Don't be the person who constantly says things like, "But that's not in my job description."
Every project or idea needs a champion, someone who will back the company cause. Be enthusiastic and jump into every idea and project but don't be afraid to suggest modifications. Ask questions, make suggestions and always show that you have the customer or client's best interests at heart. It's a great way to get noticed and demonstrate leadership skills. If you don't show this kind of energy you'll just be considered a follower.
If you're the type of person who only does their best work when you're being observed - you're not a good employee. And if you're being micromanaged remember this particular habit is more a sign of an insecure manager than anything you're doing wrong.
Collaboration is absolutely key to successful business. This is partly because there is no such thing as long tenure anymore, so people need to share information and company knowledge so it won't get lost. Good information flow is absolutely crucial, so don't sit on your ideas or your knowledge of the business, be generous.
Self-discipline is one quality most high power CEOs claim to have. Whether it is making the time to engage in a creative course in addition to a strategically focused job, or getting up at 4am to train for a marathon, self-discipline gets you places. It demonstrates effective time management skills, focus and drive.
Always keep the priorities of your business close to mind. If you spend all your time 'trying to be helpful' skirting around the edges, you won't be recognised. Also, don't be overtly self-interested and only spring into action when an opportunity looks to serve you.
No matter what, being a person who is easy to work with will get you a long way in business. Take two qualified people, and one might be sharper in terms of their work, but the other might be easier to work with. The second person will always come up trumps. They'll do better because they make it easy for other people to get the job done.
The original concept for this article came from Forbes.com


Read more: http://www.news.com.au/business/worklife/do-you-have-what-it-takes-to-be-considered-irresistible-in-the-workplace/story-e6frfm9r-1226707428881#ixzz2dSITSvYF
===
Footage of the dead and injured schoolchildren was captured by a BBC Panorama documentary crew who responded to reports of an incendiary bomb being dropped on a playground in Syria's rebel-held northern region.
The camera team saw what they described as scores of children with napalm-like burns over their bodies.
Witnesses told the BBC the bomb was dropped by a fighter jet which had been flying back and forth overhead. It landed with a dull explosion, followed by columns of fire and smoke.
The release of the footage follows the failure of Britain, Washington's closest European ally, to reach a political consensus over plans to join expected US-led military action in Syria.
Prime Minister Kevin Rudd has said there is a case for a robust international response on Syria, but has not given details.
At the start of the week, Prime Minister David Cameron had seemed ready to join Washington in possible military action against Assad over the alleged chemical weapons attack. But the push for strikes against the Syrian regime began to lose momentum as Britain's Labour Party - still smarting from its ill-fated decision to champion the invasion of Iraq in 2003 - announced its opposition to the move.
Members of the House of Parliament voted against the government motion to support a military campaign by 285 votes to 272 votes.

Read more: http://www.news.com.au/world-news/middle-east/us-to-strike-syria-8216as-early-as-thursday8217-senior-defence-officials-report/story-fnh81ifq-1226705827932#ixzz2dSImnAK8
===
Sledging the Prime Minister over an attack yesterday on Coalition costings that drew the ire of senior public servants, the Opposition Leader said Mr Rudd's attack had gone spectacularly wrong.
"It was a slap in the face for the Government," Mr Abbott said of the public admonishment by department heads.
"Mr Rudd's claims that there was some problem with our costings, some problems with our figures have exploded in his face."
He said taxpayers had "a pretty good idea that this is a Government which has got all of its costings, all of its forecasts wrong".
"What we've seen over the last couple of days in increasingly hysterical statements from Mr Rudd and his Ministers."
"They've got their own figures wrong, now they've got the Coalition's figures wrong as well."
===
===
Terrorists wanted him dead because he worked for an NGO promoting female education. - ed
===
===
===
It's yet another one of those only in America stories! The Islamic group that reportedly raises money for Hamas, the Council on American-Islamic Relations (CAIR), snapped its fingers and U.S. law enforcement agencies rolled over! It all started with anti-terrorism training for local police in Lombard, a small town located about 20 miles west of Chicago.
As an example CAIR offered this; a 2011 article written by Kharoba that makes disparaging comments about the Prophet Muhammad and says that "anyone who says that Islam is a religion of peace is either ignorant or flat out lying." Counterterrorism is much too important to be confounded with anti-Islam dribble, says CAIR's Chicago director Ahmed Rehab.
JW had to sue the FBI and Obama Justice Department for the records, which include hundreds of pages of FBI memos and documents. The excised material includes references linking the Muslim Brotherhood to terrorism, tying al Qaeda to the 1993 World Trade Center and Khobar Towers bombings, and suggesting that "young male immigrants of Middle Eastern appearance … may fit the terrorist profile best."
It isn't as if Illinois has ever experienced a terrorist hit from an Islamic group .. of the kind that turns a marathon into a sprint. ed
===
I wouldn't accept that for anyone ed
===
===
===
Created by Iran in 1982 as unified resistance during Lebanon's civil war, Hezbollah today is the de facto ruling party in Lebanon and the most lethal terror group in the world. Currently supporting Bashar al-Assad's oppressive regime in Syria, the military wing of the Shiite "Party of God" is labeled a terrorist organization by the US and EU.
===
Tzipi Livni's constituency is more likely to raise puppies than babies, making the demographic threat not so much the Arabs, but rather the fact that her kind is becoming vastly outnumbered by right wing Jews. Photo Credit: Gideon Markowicz/FLASH90 As Minister Tzipi Livni et al are ending their second week of negotiations over how many Jews to expel from Judea and Samaria in order to receive from the Arabs recognition of our right to exist, new figures have emerged that might explain the sudden urge of Livni and the Israeli left to finish this thing quickly, set it in motion and be done with it. It turns out the "demographic bomb" everyone, from President Obama to the lowliest lackey at J-Street, have been warning Israel about, does not exist. Or rather, there used to be a bomb, but events and the economy and whatnot have turned it into a pitiful firecracker. Not only are there more Jews than Arabs in the entire territory between the Jordan River and the sea, but the Jewish numbers are becoming even greater, while the Arab numbers are in the dumps. Dr. Guy Bechor recently published an explanation of a demographic study by Jacob Feitelson, using data from Israel's Central Bureau of Statistics. The report compares Jewish to Arab birthrates in Judea and Samaria, as well as Israeli vs. Palestinian Authority demographics as a whole. The article was written in response to Israel's Minister of Justice Tzipi Livni's distress at what she believes is the demographic threat to the Jewish state, and why Israel must rush to disengage from Judea and Samaria to maintain a Jewish majority. The report shows that the demographic predictions that Livni has been basing her decisions on is incorrect. The original report can be read here. Source: Gplanet. (The blue line includes non-Jewish children of Jewish families) 1. Arabs across the Middle East and especially in Judea and Samaria are experiencing a collapse of their birthrate, from an average of 8 children per mother down to fewer than 3. The reasons are the rise in education and in income, and urbanization (smaller apartments, fewer children). 2. The most significant finding in the data are settler related births. Unlike Arab and even Haredi birth levels—which are going down, too, settler birth levels are not dropping off, but, instead, rising. In 1997, Arab births in Judea and Samaria were at 4.76 children per mother compared to the settler's 4.69. But by 2011 that number changed significantly, with 5.07 births per Jewish settler mother versus only 3.06 per Arab mother. The difference between the two became even larger in 2012. Within pre-1967 Israel, Jewish birth-rates are currently around 3 children per mother, but the fashionable thing is increasingly to have 4 children per family. Altogether, out of 8.15 million residents in all of Israel, 6 million are Jews, 6.5 if you count family members who are not themselves Jewish. According to Bechor, at the current birth rate of 1 million every 7 years, Israel will hit 2 digits in 15 years, with the vast majority being Jewish. Source: Gplanet 3. The report pointed out another common error of previous demographic studies: overlooking the effects of the Oslo Accords on Arab demographics. The Oslo Accords introduced 40,000 foreign PLO Arabs into Yesha (Judea, Samaria and Gaza) from overseas, and Israel granted "family unification" to another 140,000 Arabs who became Israeli citizens. This added a significant, but temporary increase to the Arab demographic data. In addition, in 2003 Israel introduced a massive cut in child subsidies (it just did it again this week), ending a situation in which having children was, to some Arab families, a very real source of income. The fact that the Arab birthrate plummeted following the cut suggests the policy, though unkind, achieved the intended results. 4. Another important factor is immigration and emigration. Israel receives around 18,000 new immigrants a year (including 15,000 who leave and return), whereas Arab emigration is currently around 10,000 Arabs a year, with some years as much as 18,000-25,000 leaving each year. In 2007, Jordanian data indicated that 60,000 Arabs had left Judea and Samaria. Another figure not commonly discussed regarding Israeli emigration is that 15% of the emigrants are Israeli Arabs. The number of Arab emigrants from Gaza has declined in recent years due to Egypt's blocking of its border with Gaza. Most of the Arabs leaving Judea and Samaria are looking for work in other countries. 5. The Palestinian Authority keeps changing its demographic forecasts, coming up with more and more exaggerated figures (4 so far), knowing full well that if it gave an honest accounting of its 1.5 million—and shrinking—population in Judea, Samaria and Gaza, it would no longer be able to scare the Jews and the world into new concessions. Finally, there are some psychological facts that cannot be measured but can certainly be assessed from these figures. A high birthrate means optimism, says Dr. Bechor. We have in Israel today an optimistic public, involved in the ongoing effort to increase families and the nation. A high birthrate also means an expectation of prosperity. It also means that aliyah, although still in modest numbers – around 20 thousand a year – is nevertheless constant and offers yet another optimistic note. The only segment of Israeli society that is not experiencing this optimistic growth is the left, which has, basically, given up the hope of leading Israeli politics in the foreseeable future. The only hope they have of getting back in the saddle has been laid out by Minister Tzipi Livni in a Kol Israe interview this week: Naftali Bennett and Jewish Home, which are the enemies of a land-for-peace solution, should leave government, and Labor should take their place. That's the scenario. They don't have the numbers, of course, they were relegated by a solid, right wing public to the basement of decision making history – but they still have Benjamin Netanyahu. For now. Stephen Leavitt contributed to this report.
Read more at:
http://www.jewishpress.com/news/breaking-news/livnis-source-of-desperation-jewish-births-way-up-arabs-way-down/2013/08/23/0/
===
<Folks, try not to hurt us too much on Sept 7.I've instructed Wongy to mail out bags of cash to the marginals. KRudd>
#costingsgate
===
"No! Go against the current of this civilization that is doing so much harm. Do you understand this? To go against the current; and this means to make noise, to go forward, but with the values of beauty, of goodness and of truth," the Pope urged. Pope Francis
===
Huge Labor Day Sale - 25% off everything! Just enter the code laborday at checkout to receive your discount. Good for Prints, Canvases, Metal Prints, and even workshops!
www.saguaropictures.com
===
We hiked all over this section of the Southern Utah Canyonlands after 4 wheel driving into this fairly remote location. I climbed to the top of this structure and the view was pretty immense. The weather was a nice comfortable 86 degrees warm... unusual for August in this area!

As usual, all shares are appreciated and encouraged. This image is available for sale at greatly reduced prices on my website: http://mattgranz.zenfolio.com/p751617211/h6bbf8999#h6bbf8999
— at Canyonlands National Park.
===
Matt Granz Photography.
.. Curves! Today I'm featuring a picture from the Southern Utah Canyonlands that can only be described as curvalicious!>===
Tattoos spoil the art .. a showcase for ear rings .. ed
===
18 hour days all week in
#Rwanda
reviewing the progress of the P.E.A.C.E. Plan in 4,000 churches. Amazing results!
===
They must summon the unlikeliest of heroes.
===
===
"When you come slam bang up against trouble, it never looks half as bad if you face up to it." -
JOHN WAYNE
===
===
Pastor Rick Warren
"A glad heart makes a happy face." Prov. 15:13
===
Imagine if Miley Cyrus had printed the number "17 trillion" across her twerking buttocks; think how many people would know our national debt. Without commenting on the quality of the current pop culture, it's impossible to deny its power, although the right seems to be giving denial more than a day in court.
Where does this denial come from? Three immediate answers come to mind:
It's not really denial but rather a lack of understanding as to the aforementioned power.
To embrace the power of culture is to admit to one's own impotence particularly while protecting a K Street business model that garners revenue but not results.
Denial is a fallback position when the truth is too painful or overwhelming.
All three possibilities are alarming. But our only hope is in #3, because it would mean that somewhere buried beneath charts, graphs, and policy is the subconscious understanding that we are outmatched, outgunned, and very few on our side have any idea how to reach another human being.
If you don't believe me, digest the following: Katy Perry has roughly 6 million more Twitter followers than Barack Obama.
===
===
===
===
Check out VFACE Channel 57.2 for my segment with the lovely and charismatic Trong Thang on "Vietface TV" airing in US at 5pm!
===
===
===
Boys are not animals .. It takes good will and moral discipline to be a man - ed
===
===
THOUGHT FOR THE DAY
"Life is a gift. Prayer is a thank you note."
--- Noah benShea
===
Folks, please erase this photo from a few years back immediately otherwise I won't have any flimsy excuse left for my humiliating loss on Sept 7, KRudd.
===
Brown has done more to promote poverty than almost any other Australian .. and to deny plant food for plants - ed
===
===
A
short film
focused on an organization dedicated to the rebuilding of the 3rd Temple in Jerusalem today. We believe that rebuilding the Temple in Jerusalem will bring peace and stability to the world.
Share this email so that others can
subscribe
to Top Israel and Top Jerusalem emails and videos today.
Join our mission - Click here to help us grow our network to reach hundreds of thousands of people to make a difference for Israel.
===
===
Hi everyone! Here's the MichelleMalkin.com newsletter for August 29th. Enjoy!
Things must be going badly, because President Obama has once again has the "secretary of explaining stuff" warming up in the bullpen...
More From the Right Side of the Web
Last night on "Hannity," Michelle slammed Dems' hypocrisy regarding the potential US strikes on Syria.
And ... Our Hate Tweet of the Day
Punctuation is awesome. Lindzay should totally try it sometime.
===
===
===