Terrorists are violent and capable of planning, but not tending to smart. A wise person cautions a young person to prudence, to considering their actions, because escalating an action is always possible so long one allows the opportunity. It is to do with restraint. Had Hawthorn played the AFL Grand Final with weapons instead of athletic skill, they would not have won so handsomely, but Hawthorn played with skill, aggression and restraint. They humbled Swans, who in previous eleven matches had not conceded a total of more than 65 points each match. The leagues most attacking side humbled the leagues best defensive unit 137 to 74, that 74 being one less than the halftime total of the Hawks. But terrorists don't show restraint. And so what else is there to do but oppose them and stop them? Obama has dithered over a year over Syria, but terrorism has galvanised him to action against those he would have supported last year. And so when terrorists demand us to stop attacking ISIS, there is no 'or else' they can go to. No reason they can give us to do so. Every ISIS supporter must face justice for what they do. There is no alternative.
The media coverage related to terrorism is irrational. A man who is converting to Islam beheads a female colleague and the media report is as a workplace accident as opposed to a terrorist event. The difference is stark. Who beheads a colleague over a workplace dispute? It is beyond normal understanding. But a beheading soon after an international call for just that is perfectly explicable. Media are not protecting the public. They are protecting their narrative of events which is dangerously exposed. Media would have it widely believed that terrorists were Islamics seeking justice over perceived faults in culture wars. They point to mythic divides and engage in cultural relativism which suggests that terrorists are just like soldiers of a different cause. But in fact terrorists are just like anarchists of times gone by. They offer nothing other than a hazy vision of something that will never happen and probably shouldn't. It is exactly like a terrorist shouting 'Allahu Akbar' before gunning down a large number of mostly unarmed colleagues while Obama is claiming terrorism has been ended by his compassion and appeasement. That wasn't a mere workplace accident either. And so it becomes disturbing, but explicable, when the ABC present their dangerously unbalanced narrative suggesting terrorism is excusable. Terrorists may not watch the ABC, but they are fed the lines the ABC present to them that there are myths that support and endorse terrorism. Meanwhile the Taliban in Afghanistan feed into the narrative, having watched ISIS behead others and claim success, they do too, and the narrative becomes that is what Islamic people do. But the narrative is wrong. It is what terrorists do, and those that disagree with the truth believe the ADL, ABC and Fairfax press at the expense of those addressing the issue. And a man is arrested for walking with a knife into an Islamic primary school. No doubt he was looking for terrorists. What would he have done had he found a terrorist? What would he have done had he found a lone Islamic child? Not all terrorists claim to be Islamic.
Gillard's whining is beneath the behaviour expected of a former Prime Minister. But not beneath what is expected of a corrupt incompetent lawyer. Palmer is embarrassed by a lack of due diligence regarding $12 million he was supposed to have spent on a port but apparently siphoned for an election. He must be in very deep trouble with China and the Australian justice system. Meanwhile the ABC complain about a champagne deal struck with Cambodia involving the settling of illegal migrants. The ABC would rather drown the migrants. Also there are allegations of apparent voter fraud which gave an upset win over Liberal Sophie Mirabella. The electoral system could be made fraud proof, were the electoral system to allow electronic voting and forget the secrecy provision, but make it verifiable. It could be a cheaper system too.
This column welcomes feedback and criticism. The column is not made up but based on the days events and articles which are then placed in the feed. So they may not have an apparent cohesion they would have had were they made up. The biggest sporting event of the day, from the AFL, and Sydney Swans were present for a historic victory. They played with skill and aggression, or rather, they were outplayed by it. No other Minor Premier has ever been beaten by so much in a grand final. They are that good. If there had been four more quarters, there wold have been further humiliation. Swans played well .. but Hawks were magnificent.
from 2013
ALP say they couldn't do it. ABC says it technically isn't the same. But a boat with 44 asylum seekers leaving the safety of Indonesia after the asylum seekers spent over $10k each has been returned to Indonesia .. no loss of life. It wouldn't have happened without Indonesian cooperation. Bad news for the ALP whose murderous but compassionate policy has claimed some 2000 lives drowned at the cost of many billions of dollars siphoned from aid, schools, hospitals, defence, roads .. taxpayers, the poor and dispossessed. More boats will follow, but it is certain that they will stop, as they had before under the Pacific Solution. I prefer the conservative policy to the left wing compassion.
ALP are still in denial regarding their bad policy in all areas. While they were in government, able to siphon and divert money to mates, the world seemed ok to them. Political enemies were smeared. An economic problem, McGurk, was assassinated, a bogus training mine was established, pedophiles and rapists were given free passes. Prisoners given parole. And what has changed? A budget analysis by Hockey shows how inept the ALP have been .. they weren't hampered by falling tax receipts, the ALP had spent too big. Too big on desalination plants they can't use. Too much on dying industry props. Too much on ruining functioning industry. Too much on empty symbols. Meanwhile the ALP devalued family, the family home, the cradle. In 2008, the ALP legal advisers sought to end the NT intervention. Not for compassion .. for money and control. Meanwhile, new ALP leaders are promising to change nothing.
Global warming believers struggle with the inconvenient truth the world hasn't warmed for 15 years. Obama struggles domestically with spending and internationally with decision making. Meanwhile it turns out that the only safe haven for Islamic peoples, Israel, was shortchanged by Australian ALP government keen to bow to anti semitic bigots that claim to represent Australian Islamic peoples.
===
For twenty two years I have been responsibly addressing an issue, and I cannot carry on. I am petitioning the Australian Prime Minister Tony Abbott to remedy my distress. I leave it up to him if he chooses to address the issue. Regardless of your opinion of conservative government, the issue is pressing. Please sign my petition at
https://www.change.org/en-AU/petitions/tony-abbott-remedy-the-persecution-of-dd-ball
Or the US President at
https://www.change.org/p/barack-obama-change-this-injustice#
or
https://petitions.whitehouse.gov/petition/change-injustice-faced-david-daniel-ball-after-he-reported-bungled-pedophile-investigation-and/b8mxPWtJ
or
http://wh.gov/ilXYR
Mr Ball, I will not sign your petition as it will do no good, but I will share your message and ask as many of friends who read it, to share it also. Let us see if we cannot use the power of the internet to spread the word of these infamous killings. As a father and a former soldier, I cannot, could not, justify ignoring this appalling action by the perpetrators, whoever they may;
I thank you Douglas. You are wrong about the petition. Signing it is as worthless and meaningless an act as voting. A stand up guy would know that. - ed
Lorraine Allen Hider
I signed the petition ages ago David, with pleasure, nobody knows what it's like until they've been there. Keep heart David take care.
I have begun a
bulletin board
(http://theconservativevoice.freeforums.net)
which will allow greater latitude for members to post and interact. It is not subject to FB policy and so greater range is allowed in posts. Also there are private members rooms in which nothing is censored, except abuse. All welcome, registration is free.
===
Happy birthday and many happy returns
Mikki Diep
,
Sam Nov
,
Cameron Ngo
,
Elena Francioni
and
Doan Nguyen
. Born on the same day, across the years, along with
823
–
Ermentrude of Orléans
(d. 869)
1271
–
Wenceslaus II of Bohemia
(d. 1305)
1601
–
Louis XIII of France
(d. 1643)
1677
–
Giovanni Carlo Maria Clari
, Italian composer (d. 1754)
1894 –
Lothar von Richthofen
German pilot (d. 1922)
1954
–
Ray Hadley
, Australian broadcaster
1958
–
Shaun Cassidy
, American actor, singer, screenwriter, and producer
1961
–
Andy Lau
, Hong Kong singer, actor, and producer
1984 –
Avril Lavigne
, Canadian singer-songwriter, actress, and fashion designer
Victory was decisive. We have steam. We have an emperor. Britain has had the test. It is the dawn of a probe. Time to party.
Matches
Hatches
Despatches
===
2014
===
Tim Blair

–

Saturday

,

September

27

,

2014

(

3:09am

)
Tim Blair

–

Saturday

,

September

27

,

2014

(

3:00am

)
Andrew Bolt

September

27

2014

(11:35am)
Andrew Bolt

September

27

2014

(9:15am)
Andrew Bolt

September

27

2014

(9:01am)
Andrew Bolt

September

27

2014

(8:57am)
Andrew Bolt

September

27

2014

(7:46am)
Andrew Bolt

September

27

2014

(7:36am)
Andrew Bolt

September

27

2014

(7:25am)
Andrew Bolt

September

27

2014

(7:04am)
===
eminem doesn't sound .. kind ..
===
.. not war ..
===
===
===
===
Meh, it matters, or it doesn't
===
===
"My current obsession - Acai bowl! "
#bondi
#wholefood
#mykindofday
#acaibowl
#bananabread
===
===
===
As DH points out, it's never really your house. Councils threaten home owners with $1 million fine for renting rooms http://t.co/tXMxOuwETT
— David Daniel Ball (@DaOddBall67) September 27, 2014
===
Is he ADL? Arrest in Islamic school knife incident http://t.co/apNvOEOqZx
— David Daniel Ball (@DaOddBall67) September 27, 2014
===
Titanic actors jealous as Sleepy Hollow actors visit Sleepy Hollow http://t.co/vNmVSmHJoA
— David Daniel Ball (@DaOddBall67) September 27, 2014
===
I got : France! What Country in the World Best Fits Your Personality? http://t.co/1AtAvwGRdh via @play_buzz
— David Daniel Ball (@DaOddBall67) September 27, 2014
===
Tom Jones' AFL Grand Final 'rugby' blunder http://t.co/r2hbQIeFYr
— David Daniel Ball (@DaOddBall67) September 27, 2014
===
Federal Judge Envisions 'Rape License' for 'Right to Rape' - Eagle Rising http://t.co/qSowciT88j
— David Daniel Ball (@DaOddBall67) September 27, 2014
===
Photo: kimjongunlookingatthings: looking at plump girls http://t.co/O2SaB4N6Gs
— David Daniel Ball (@DaOddBall67) September 27, 2014
===
Watch: What This Rare Interview With ISIS Just Exposed Will Chill You To Your Core http://t.co/2kClxUw1YE
— David Daniel Ball (@DaOddBall67) September 26, 2014
===
German Ethics Council votes in favour of allowing incest between siblings | http://t.co/bGQxamM76M http://t.co/Z8taKBIkSJ
— David Daniel Ball (@DaOddBall67) September 26, 2014
===
I liked a @YouTube video http://t.co/xgtbC3hqOp In The Beginning featuring Rabbi Analia -- Creation of Eve
— David Daniel Ball (@DaOddBall67) September 26, 2014
===
Shana Tov .. Nitzavim Vayelech: http://t.co/wYCEj4p513 via @YouTube
— David Daniel Ball (@DaOddBall67) September 26, 2014
===
15 American Rabbis You Haven't Heard Of, But Should – Tablet Magazine http://t.co/3yAl2356G1
— David Daniel Ball (@DaOddBall67) September 26, 2014
4 her, so she can see how I see her
===
===
===
Grant Line Road
on January 23rd, 2010 I was still moving in to our new residence on the east side of Mount Diablo, still learning the area, when the TV announced early this morning that we were under a tornado warning... very unusual to say the least! I was sick with a cold, but still jumped into our Saturn Vue and sped off towards Brentwood where the reports of a funnel cloud were being proclaimed. Unfortunately, I made a wrong turn and wound up near the Altamont Pass... I shot this as I realize I was losing the chase. The rest of the year was an incredible experience.
===
"Obama and Kerry insisted nothing the US would do would have any impact on the outcome of the Syrian civil war. This was supposed to be the strikes' selling point. But by launching worthless strikes, Obama was poised to wreck America's deterrent posture, transforming the world's superpower into an international joke.
http://www.jpost.com/LandedPages/PrintArticle.aspx?id=327188
===
===
Strawberries: "Stop! We've got you surrounded!"
Chocolate: "Okay FINE, jump in."
===
===
===
===
===
===
===
===
===
===
New Video! Helpful/Hurtful >>
http://youtu.be/8iPAK8NmMvg
<< On when you just want sympathetic ears
===
Last week, Glenn purchased the microphone of Iva Toguri – aka Tokyo Rose – used during her World War II radio broadcasts. And this morning on radio, Glenn decided to broadcast with the mic, which had not been used in nearly 70 years.
===
===
Holly Sarah Nguyen
My faith, my heart, my marriage, my home, my family, my friends, my life...are ALL under the watchful eye of my protective God!
===
===
===
===
===
It comes down to choice. I made the choice to stand up for the dead school child Hamidur Rahman when no one else would. Maybe I really am a southpaw .. but my powers of caring only extend to one thing, and not the other. I thank God that not every choice I make matters. And I beg God to strengthen me to make the ones that do. - ed
===
===
In case you missed the news earlier – extra tickets are now available to the
#DoctorWho
50th Celebration in November via a public ballot (closing at 10am BST on 30 September). Get more info and apply for your tickets here:
http://bit.ly/DWCballot
===
http://www.news.com.au/national-news/treasurer-joe-hockey-and-finance-minister-matthias-cormann-release-budget-update/story-fncynjr2-1226728387873
===


And yes, the irony of me writing this is not lost on me.>

http://www.smh.com.au/comment/smh-letters/meet-the-letter-writers-con-vaitsas-20130925-2ue20.html
===
Abbott is being too diplomatic, understandably. I'd put it more bluntly as Alexander Downer so aptly did:
uldn't allow ''ourselves to be bullied by the Indonesians in this way''.

Mr Downer said the Indonesian government needed to accept some responsibility for the people-smuggling problem.

''They do have to understand that it's their boats with their crews, their flagged boats, which are breaking our sovereignty and are breaking our law by transgressing our national borders, our maritime borders,'' Mr Downer told Fairfax Radio.

''When we say we'd like to turn back the boats, they need to understand, and they need to understand very clearly, that it is ... their people who are breaking our law and I think they have to be told this very directly.

''There's no point in allowing ourselves to be bullied by the Indonesians in this way. I mean, we have to stand up for ourselves and stand up for our national interest and be prepared to call it as it is. I can understand the [Australian] government not doing that, but since I'm not part of the government, I'm quite happy to.''>

http://www.smh.com.au/federal-politics/political-news/tony-abbott-says-boats-issue-with-indonesia-a-passing-irritant-20130927-2uhzs.html
===
===
===
Rouhani who was speaking in Farsi was quoted by CNN as saying: "Whatever criminality they committed against the Jews we condemn," and he added according to CNN, "The taking of human life is contemptible. It makes no difference if that life is Jewish life, Christian or Muslim. For us it is the same."
Fars, who provided its own translation of Rouhani's remarks claimed that the above quotes were fabrications of the American news network.
According to Fars, CNN either added, completely altered, executed a "conceptual" or not a precise translation or completely changed what Rouhani said.
Former president Mahmoud Ahmadinejad often made inflammatory remarks denying the Holocaust. In Fars's translation of Rouhani's remarks to CNN there was an unequivocal condemnation of the Nazis' crimes both against Jews and non-Jews.
The Iranian news agency provided the Fars and the CNN translations side-by-side in order to demonstrate the alleged fabrications. The italicized words in the CNN text below are the remarks that Fars claimed were fabricated.
"I have said before that I am not a historian and historians should specify, state and explain the aspects of historical events, but generally we fully condemn any kind of crime committed against humanity throughout the history, including the crime committed by the Nazis both against the Jews and non-Jews, the same way that if today any crime is committed against any nation or any religion or any people or any belief, we condemn that crime and genocide. Therefore, what the Nazis did is condemned, (but) the aspects that you talk about, clarification of these aspects is a duty of the historians and researchers, I am not a history scholar."
Amanpour replied to the accusations on her Twitter feed, insisting that "CNN reported exactly what Rouhani said" and providing a link to a video of the full unedited interview.
Because they know he should have said that - ed
===
Although Palestinian President Mahmoud Abbas and some of his aides have been telling Israelis, Americans and Europeans that they are opposed to violence and terror attacks against Israel, they continue to incite Palestinians against Israel on an almost daily basis
===
Palestinian Authority President Mahmoud Abbas will be allowed to sit in the UN General Assembly's heads-of-state chair, Bloomberg reported on Thursday.
Abbas, who is scheduled to speak at the UN on Thursday at noon EST, will be the first Palestinian leader to use the chair, reserved for heads of state waiting to take the podium to address the General Assembly.
In the past, Palestinian leaders, who were considered representatives of a stateless people, had to stand while waiting to address the meeting.
The new diplomatic honor bestowed on Abbas comes after the Palestinians' upgrade to an "observer state" at the UN last November.
The UN has a lot of ways of insulting those it harms - ed
===
26 Sept 2013 Tehran's Nuclear Cooperation? : Tehran calls IAEA Iranian Inspections & Findings "unfair, illegal" in 20-page condemnation document
http://www.reuters.com/article/2013/09/26/us-iran-nuclear-iaea-idUSBRE98P0XN20130926
the logic which produces those statements .. beggars belief - ed
===
Data shows global temperatures aren't rising the way climate scientists have predicted. Now the Intergovernmental Panel on Climate Change faces a problem: publicize these findings and encourage skeptics -- or hush up the figures.
===
Aprille Love
Good morning! Life is all about perspective. Have a great friday!
I'm making a wish - ed
===
We are all lab mice now: White House didn't think this Obamacare promo through [pic] ==>
http://twitchy.com/2013/09/26/we-are-all-lab-mice-now-white-house-didnt-think-this-obamacare-promo-through-pic/
===
"Here's my problem. My problem is I have no problem living in a world where we all have different opinions. I have no problem coexisting with people. I have no problem if I can't convince you to come my way. I have no problem with your religion, I have no problem with whom you voted for," Glenn said. "But there is something called the freedom of conscience. And what I believe is what I believe. What you believe is what you believe. And that's good. That's really good. That's what makes the world go around. Here's what I can't take anymore. I can't take people who won't treat people and conditions the same."
Consistency of opinion is an admirable trait in any person, but it should be seen as a necessary trait for the media. In theory, it is the job of the media to present both sides of a situation and let the audience decide. Or, in the case of cable news, be up front about the angle you are taking. But the media coverage of Sen. Cruz has proven that such a standard simply does not exist in the American media today.
"Now [Wendy Davis is] a woman who stood up for what she believed in and she made a cogent case. I disagree with her, but she made a cogent case and people heard her. And all of the newspapers reported it," Glenn said. "Ted Cruz gets up and he makes a cogent case for 20 hours and nobody reports on what he's really saying. They make it all into Green Eggs and Ham – like all he did for 20 hours was talk about Green Eggs and Ham, that all he did was talk about White Castle."
One of the more egregious offenders was CNN
===
Dai Le
=
Tried to post this great quote on LinkedIn but it cut it short! So here is the amazing quote. To my DAWNs....
The Social Synapse
From: The Neuroscience of Human Relationships
"If you would like to establish a connection with people from another culture is it always good to offer a few gifts as a gesture of friendship. But, an even better way to forge a lasting bond is by creating something together. Whether it's a meal, an art project, or just a spontaneous dance party, when you create with others, you build a connection that lasts a lifetime."
From the social synapse by Nona Epinephrine and Sarah Tonin
===
Bette Midler accuses Ted Cruz of not being a real Christian, beclowns herself in the process ==>
http://twitchy.com/2013/09/25/bette-midler-accuses-ted-cruz-of-not-being-a-real-christian-beclowns-herself-in-the-process/
===
http://www.heraldsun.com.au/news/opinion/experts-right-to-give-suzuki-a-hard-time/story-fni0ffxg-1226727156895
===
Denis Napthine
===
"Those are not allegations. Those are f****ng truths," the emotional doctor is reported as saying.
"They removed (testicles), eyes, ears, nose. They get your hand and sharpen it like a pencil then they tell you to write your name with the blood. They drive knives inside a child's body. Actually if you look at all the bodies, unless those ones that were escaping, fingers are cut by pliers, the noses are ripped by pliers."
The doctor, who spoke on the condition of anonymity, said the condition of the bodies was worse than those he had seen after a 2009 oil tanker explosion in Sachangwan claimed 139 lives.


Read more: http://www.news.com.au/world-news/nairobi-westgate-mall-survivor-tells-i-used-dead-teens-blood-to-fool-terrorists/story-fndir2ev-1226727931521#ixzz2g4H9z5UX
Further testimony at the link - ed
===
Treasurer Joe Hockey accused the Labor government of "over-promising and underdelivering" and falsely claiming there had been a fall in revenue caused by the easing of the mining boom which required spending cuts.
"The fact is it is a litany of failures and political promises," Mr Hockey told reporters.
The figures had no substantial surprises and closely matched the estimates presented by Treasury just before the September 7 election.
And Treasurer Hockey denied he had promised a surplus in his first year in office, saying he was now dealing with "an entirely different set of numbers".
Mr Hockey said there had been "a further deterioration'' in the figures projected for subsequent years, and he was testing Labor's forecasts to see how "robust" they were.
"But what Australia needed was an injection of confidence. And we have done that," said Mr Hockey, declining to speculate on further forecasts.
He said the $1.8 billion Labor had claimed was being dodged on fringe benefits tax on vehicles had already been found to be untrue.
The Coalition in Opposition had argued the government was spending too much, not bringing in too little in tax returns.
"There has been no 'fall in revenue and receipts' as often asserted by Labor," Mr Hockey and Finance Minister Mathias Corman said in a statement.
"Receipts for 2012-13 alone increased by 6.4 per cent, or $21 billion, over the previous year, 2011-12."
The final figures for the year showed that forecasts made in May 2012 for the 12 months to the end of June this year were well off the mark:
* GDP growth estimated to be five per cent came in at 2.5 per cent;
* The expected $1.5 billion Budget surplus became an $18.8 billion deficit — a $20.4 billion deterioration;
* Net debt estimated to be $143.3 billion ended at $153 billion;
* Interest payments on debt were expected to reach $7 billion but ended up at $8.3 billion


Read more: http://www.news.com.au/national-news/hockey-exposes-8220litany-of-failures8221-in-labor8217s-forecasts-but-stops-short-of-promising-a-surplus-in-its-first-year/story-fncynjr2-1226728442460#ixzz2g4KOjiPt
===
The fine-grained soil has revealed a water content of about 2 per cent - a level which could be useful for future human missions.
The water is not free flowing, but is bound to other molecules contained in the dirt.
The Curiosity rover has been scouring the surface of mars since August 2012.
NASA scientists formally published a series of papers last night detailing the results of experiments carried out by the robot's various scientific instruments.


Read more: http://www.news.com.au/technology/mars-rove-curiosity-finds-water-contained-in-soil-on-the-surface-of-the-red-planet/story-e6frfro0-1226728319860#ixzz2g4LIbrId
===
On the same day Gold Coast detective Damian Leeding's killers were due to be sentenced, which also happened to be Police Remembrance Day, Sergeant Gary Hamrey could very well have been another fallen officer.


Read more: http://www.news.com.au/breaking-news/national/police-officer-shot-on-gold-coast/story-e6frfku9-1226728178860#ixzz2g4M5CNh9
===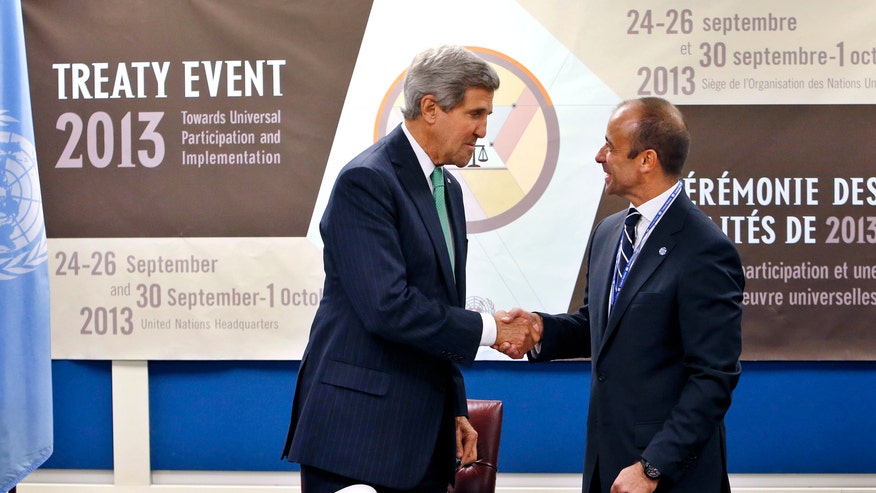 WASHINGTON –
Secretary of State John Kerry signed an international treaty on arms regulation Wednesday, angering conservative lawmakers and rattling the National Rifle Association despite claims that the treaty won't infringe on gun rights.
If it doesn't do anything, why sign it? - ed
===
"You want to have something you do with the keyboard that is signaling to a very low level of the software -- actually hard-coded in the hardware -- that it really is bringing in the operating system you expect, instead of just a funny piece of software that puts up a screen that looks like a log-in screen, and then it listens to your password and then it's able to do that," Gates said. "It was a mistake."
David Bradley, a designer of the original IBM PC, invented the "Control-Alt-Delete" combo.
"I may have invented it, but Bill made it famous," Bradley said.
The command also effectively restarts the computer, but Bradley said "Why they used it for the log-in also, I don't know."
They made lots of mistakes - ed
===
Last week, the National Academy of Sciences (NAS) published a study by 13 prestigious atmospheric scientists that supposedly provides "clear evidence for a discernible human influence on the thermal structure of the atmosphere."
The NAS researchers pointedly echo the famous declaration by the United Nation-sponsored Intergovernmental Panel on Climate Change, or IPCC, that the "balance of evidence suggests a discernible human influence on global climate." With this new study, the authors claim to clinch the case. The IPCC, we're supposed to believe, has been right all along.
With the IPCC now issuing the first segment of its latest mammoth study on the same topic, readers should take the NAS pronouncement with a large grain of salt—and the IPCC report too. This is an attempt to change the subject and ignore the elephant in the room: the crisis in "consensus" climate science arising from the growing mismatch between model-predicted warming and observed warming.
===
===
Just a reminder that The
#DoctorWho
Exhibition at the ABC Centre Ultimo, Sydney is open this weekend! You can check out costumes, monsters, a Dalek and more!
===
Both black and white versions of the flags were spotted:
===
Witnesses say the 24-year-old soon pulled out a gun and pointed it at employees and customers — who were with children — demanding their possessions.
Prayer works - ed
===
===
===
===
===
===