My preferences for Redgum Ward. I have placed sitting councillors last. It won't mean much. There are about thirteen thousand voters in this ward spread across Keysborough, South Dandenong and the CBD and I'm not letter dropping or handing out how to vote cards. Media are waiting until the last week to run articles on the election and may be restricting candidate letters to the editor. At the end of the day, it is about spending too much money, fetters on local business and garbage collection. The left dominated council are very bad on these fronts. But I'm playing a long game. I want a coherent platform this election so in four years time I will be known. And maybe I can get important issues addressed in the mean time. Car parks. Cheaper, more efficient waste disposal. Better public transport bussing vectors. Less red tape on business. Better youth employment. Better planning so that there are facilities for places of worship and recreation. Better infrastructure for internet. Council aren't responsible for all of that, but they have input in all of that.
Hillary was slippery and offered nothing beyond confusion and excuses. It was made all about Trump. He did not make a gaff. He made valid points Hillary danced around. Sky News in Australia gave it to Hillary too. But Trump did not fail. Did not try to be something he wasn't. Did not appear as Hillary portrays him. In my view, Hillary lost because she failed to slam him shut. The public had low expectations of Trump. He exceeded that. He did not joke as Reagan did about exploiting his opponents youth and innocence. He did not hurt Hillary. He let her shriek, and took the high ground.

Hillary's reply to Trump's claim the budget could be $5 trillion better off was telling. "I was confused by what you offered. I have considered that. It would not offer those savings." She has no hope for America. No plan. Hillary was belled placing a lie on Trump several times. The moderator rushed to prevent Trump from addressing them. But he calmly replied. Hillary's track record is that of failure and murderous incompetence. She stands on her record.


The left wing media pieces were written before the debate. They knew they needed to have to have something to promote Hillary. Hillary gave them nothing in the debate to endorse her. Making up a meme about Trump not shaking a hand when he clearly did just shows they are using the same play sheet.

Hillary has tremendous stamina. Her sustained poor judgement spans decades. Trump could never hope to rival it. Ordinary people would be sacked and jailed had they done merely one thing Hillary has done every year of her public career. Beginning with almost imploding the case against Nixon on Watergate through corruption.

Kevin Rudd has a lot of experience with this. He tried very hard to turn Australia into a toilet.

Did it happen to mention what she said? I am not disputing the assertion that Emma Watson has left wing values. I just would like to judge what she has said by what she has said. I tire of journalists reporting only their opinion.

The Vote Compass question was so bad, so engineered for a result, I refused to use it. Naturally Penny relies on this six year old device of the left.

All Turnbull offers as leader of the Liberals is further humiliation before his resignation. He seems keen to leave a lodestone memory.

Ken Henry has no credibility. He would only oppose spending if the government was conservative. It is not the principle, but the tribe. In fact, Australia spends too much and needed to cut spending when Rudd was PM too.

It is not the first time Obama has promoted a policy that runs counter to reality or the interests of the United States. Hillary wants to continue that work.

Trigger warnings are part and parcel with Safe Schooling. It would be better to raise them with wolves.

Hockey was underrated as treasurer, I believe because he was a stumbling block to Turnbull. Turnbull promised crossbenchers things would be different when he was PM. Not entirely a lie. Now that Turnbull is PM, the only similarity with Abbott's government is Abbott's policies are rebadged and made worse so as to promote Turnbull. What Australia really needs is work choices.

Birmingham has no idea about schooling, based on what he has said, quoted here. Private schools are subsidised by the taxpayer, but if they were to be closed, and students shifted to the public purse, the government could not afford the cost. We need private schools, and they need some public money. Parents using private schools are subsidising public school children too. They should. They do. Safe Schools is evil. Children do not benefit from the program but are exploited by it. They are not safe with it operating. But some adults get sexual pleasure from exploiting all children with Safe Schools. Those adults made choices as adults and are now forcing students to make choices about things they are not equipped through nature to deal with. However, if the Liberals support it, then the program will have bipartisan support because the ALP are corrupt and venal and care nothing for Australia or her children

I don't agree with what Pauline Hanson says, or Lambie, very often. I don't mind them saying it, I can debate their points. But I wish there was someone who could be an advocate for me. For economic conservative favouring Libertarian values (except on religion or drugs). Yet so many so called Christian Conservatives are all over the place. Abbott spoke sense but was undermined by Turnbull and had to do some defensive things so as to not get rolled. Turnbull just takes me for granted. Turnbull is a classic tax and spend left winger. He is big government favouring, and he has contempt for basic freedoms required for a free democratic state to prosper. And then we have Shorten campaigning for corruption. And if Shorten gets rolled it will be by another who feels they can better wield slush funds and exploit. It is telling that a whistleblower like Kathy Jackson is being persecuted by those who accepted her predecessor doing worse.

Clinton has stamina and staying power. Few people could have such sustained bad decision making. Most would have been sacked after their first error. The doormat can set up a slush fund and avoid scrutiny through an illegally established email server that was a security risk. And when she was found out, she had her people smash the phones with hammers. But she can say 'personal income tax because when she was secretary of state, voters personal income tax were vetted by the IRS if they were conservative.
=== from 2015 ===
Some wonder about Malcolm Turnbull being good enough to lead the Liberal Party. At the moment, the party is so compromised any individual might have more virtue. However, the Liberal Party is older than Malcolm and will outlast him. Already, there are members whose actions will be defined under Turnbull's stewardship in ways they never could have under Abbott, who had had to fend off Turnbull. The sad truth is the ALP has no one competent to lead it. And no one to replace the incompetent leading it. An aloof capitalist leading the Liberal party is par for the course. A corrupt bastard boss leading the ALP, having exploited workers for money, is a joke. Some are resigning from the Liberal Party on principle. None would do that from the ALP.
For some, at the moment, the Sex Party has more credibility.
From 2014
From 2013
Historical perspective on this day
Tim Blair
===
Andrew Bolt
===
Piers Akerman

–

Sunday

,

September

27

,

2015

(

12:45am

)
===
Miranda Devine

–

Sunday

,

September

27

,

2015

(

12:44am

)
===
Tim Blair

–

Sunday

,

September

27

,

2015

(

1:42am

)
===
Tim Blair

–

Sunday

,

September

27

,

2015

(

12:23am

)
===
Andrew Bolt

September

27

2015

(10:49am)
===
Andrew Bolt

September

27

2015

(6:30am)
===
Andrew Bolt

September

27

2015

(6:09am)
===
Andrew Bolt

September

27

2015

(5:53am)
===
Andrew Bolt

September

27

2015

(5:38am)
===
Andrew Bolt

September

27

2015

(5:09am)
===
Andrew Bolt

September

27

2015

(5:02am)
===
Tim Blair

–

Saturday

,

September

27

,

2014

(

3:09am

)
===
Tim Blair

–

Saturday

,

September

27

,

2014

(

3:00am

)
===
Andrew Bolt

September

27

2014

(11:35am)
===
Andrew Bolt

September

27

2014

(9:15am)
===
Andrew Bolt

September

27

2014

(9:01am)
===
Andrew Bolt

September

27

2014

(8:57am)
===
Andrew Bolt

September

27

2014

(7:46am)
===
Andrew Bolt

September

27

2014

(7:36am)
===
Andrew Bolt

September

27

2014

(7:25am)
===
Andrew Bolt

September

27

2014

(7:04am)
===
===
===
===
===
===
===
===
"Obama and Kerry insisted nothing the US would do would have any impact on the outcome of the Syrian civil war. This was supposed to be the strikes' selling point. But by launching worthless strikes, Obama was poised to wreck America's deterrent posture, transforming the world's superpower into an international joke.
http://www.jpost.com/LandedPages/PrintArticle.aspx?id=327188
===
===
===
===
Last week, Glenn purchased the microphone of Iva Toguri – aka Tokyo Rose – used during her World War II radio broadcasts. And this morning on radio, Glenn decided to broadcast with the mic, which had not been used in nearly 70 years.
===
Holly Sarah Nguyen
My faith, my heart, my marriage, my home, my family, my friends, my life...are ALL under the watchful eye of my protective God!
===
===
===
It comes down to choice. I made the choice to stand up for the dead school child Hamidur Rahman when no one else would. Maybe I really am a southpaw .. but my powers of caring only extend to one thing, and not the other. I thank God that not every choice I make matters. And I beg God to strengthen me to make the ones that do. - ed
===
http://www.news.com.au/national-news/treasurer-joe-hockey-and-finance-minister-matthias-cormann-release-budget-update/story-fncynjr2-1226728387873
===


And yes, the irony of me writing this is not lost on me.>

http://www.smh.com.au/comment/smh-letters/meet-the-letter-writers-con-vaitsas-20130925-2ue20.html
===
Abbott is being too diplomatic, understandably. I'd put it more bluntly as Alexander Downer so aptly did:
uldn't allow ''ourselves to be bullied by the Indonesians in this way''.

Mr Downer said the Indonesian government needed to accept some responsibility for the people-smuggling problem.

''They do have to understand that it's their boats with their crews, their flagged boats, which are breaking our sovereignty and are breaking our law by transgressing our national borders, our maritime borders,'' Mr Downer told Fairfax Radio.

''When we say we'd like to turn back the boats, they need to understand, and they need to understand very clearly, that it is ... their people who are breaking our law and I think they have to be told this very directly.

''There's no point in allowing ourselves to be bullied by the Indonesians in this way. I mean, we have to stand up for ourselves and stand up for our national interest and be prepared to call it as it is. I can understand the [Australian] government not doing that, but since I'm not part of the government, I'm quite happy to.''>

http://www.smh.com.au/federal-politics/political-news/tony-abbott-says-boats-issue-with-indonesia-a-passing-irritant-20130927-2uhzs.html
===
===
Rouhani who was speaking in Farsi was quoted by CNN as saying: "Whatever criminality they committed against the Jews we condemn," and he added according to CNN, "The taking of human life is contemptible. It makes no difference if that life is Jewish life, Christian or Muslim. For us it is the same."
Fars, who provided its own translation of Rouhani's remarks claimed that the above quotes were fabrications of the American news network.
According to Fars, CNN either added, completely altered, executed a "conceptual" or not a precise translation or completely changed what Rouhani said.
Former president Mahmoud Ahmadinejad often made inflammatory remarks denying the Holocaust. In Fars's translation of Rouhani's remarks to CNN there was an unequivocal condemnation of the Nazis' crimes both against Jews and non-Jews.
The Iranian news agency provided the Fars and the CNN translations side-by-side in order to demonstrate the alleged fabrications. The italicized words in the CNN text below are the remarks that Fars claimed were fabricated.
"I have said before that I am not a historian and historians should specify, state and explain the aspects of historical events, but generally we fully condemn any kind of crime committed against humanity throughout the history, including the crime committed by the Nazis both against the Jews and non-Jews, the same way that if today any crime is committed against any nation or any religion or any people or any belief, we condemn that crime and genocide. Therefore, what the Nazis did is condemned, (but) the aspects that you talk about, clarification of these aspects is a duty of the historians and researchers, I am not a history scholar."
Amanpour replied to the accusations on her Twitter feed, insisting that "CNN reported exactly what Rouhani said" and providing a link to a video of the full unedited interview.
Because they know he should have said that - ed
===
Although Palestinian President Mahmoud Abbas and some of his aides have been telling Israelis, Americans and Europeans that they are opposed to violence and terror attacks against Israel, they continue to incite Palestinians against Israel on an almost daily basis
===
Palestinian Authority President Mahmoud Abbas will be allowed to sit in the UN General Assembly's heads-of-state chair, Bloomberg reported on Thursday.
Abbas, who is scheduled to speak at the UN on Thursday at noon EST, will be the first Palestinian leader to use the chair, reserved for heads of state waiting to take the podium to address the General Assembly.
In the past, Palestinian leaders, who were considered representatives of a stateless people, had to stand while waiting to address the meeting.
The new diplomatic honor bestowed on Abbas comes after the Palestinians' upgrade to an "observer state" at the UN last November.
The UN has a lot of ways of insulting those it harms - ed
===
26 Sept 2013 Tehran's Nuclear Cooperation? : Tehran calls IAEA Iranian Inspections & Findings "unfair, illegal" in 20-page condemnation document
http://www.reuters.com/article/2013/09/26/us-iran-nuclear-iaea-idUSBRE98P0XN20130926
the logic which produces those statements .. beggars belief - ed
===
Data shows global temperatures aren't rising the way climate scientists have predicted. Now the Intergovernmental Panel on Climate Change faces a problem: publicize these findings and encourage skeptics -- or hush up the figures.
===
"Here's my problem. My problem is I have no problem living in a world where we all have different opinions. I have no problem coexisting with people. I have no problem if I can't convince you to come my way. I have no problem with your religion, I have no problem with whom you voted for," Glenn said. "But there is something called the freedom of conscience. And what I believe is what I believe. What you believe is what you believe. And that's good. That's really good. That's what makes the world go around. Here's what I can't take anymore. I can't take people who won't treat people and conditions the same."
Consistency of opinion is an admirable trait in any person, but it should be seen as a necessary trait for the media. In theory, it is the job of the media to present both sides of a situation and let the audience decide. Or, in the case of cable news, be up front about the angle you are taking. But the media coverage of Sen. Cruz has proven that such a standard simply does not exist in the American media today.
"Now [Wendy Davis is] a woman who stood up for what she believed in and she made a cogent case. I disagree with her, but she made a cogent case and people heard her. And all of the newspapers reported it," Glenn said. "Ted Cruz gets up and he makes a cogent case for 20 hours and nobody reports on what he's really saying. They make it all into Green Eggs and Ham – like all he did for 20 hours was talk about Green Eggs and Ham, that all he did was talk about White Castle."
One of the more egregious offenders was CNN
===
Dai Le
=
Tried to post this great quote on LinkedIn but it cut it short! So here is the amazing quote. To my DAWNs....
The Social Synapse
From: The Neuroscience of Human Relationships
"If you would like to establish a connection with people from another culture is it always good to offer a few gifts as a gesture of friendship. But, an even better way to forge a lasting bond is by creating something together. Whether it's a meal, an art project, or just a spontaneous dance party, when you create with others, you build a connection that lasts a lifetime."
From the social synapse by Nona Epinephrine and Sarah Tonin
===
Bette Midler accuses Ted Cruz of not being a real Christian, beclowns herself in the process ==>
http://twitchy.com/2013/09/25/bette-midler-accuses-ted-cruz-of-not-being-a-real-christian-beclowns-herself-in-the-process/
===
http://www.heraldsun.com.au/news/opinion/experts-right-to-give-suzuki-a-hard-time/story-fni0ffxg-1226727156895
===
Denis Napthine
===
"Those are not allegations. Those are f****ng truths," the emotional doctor is reported as saying.
"They removed (testicles), eyes, ears, nose. They get your hand and sharpen it like a pencil then they tell you to write your name with the blood. They drive knives inside a child's body. Actually if you look at all the bodies, unless those ones that were escaping, fingers are cut by pliers, the noses are ripped by pliers."
The doctor, who spoke on the condition of anonymity, said the condition of the bodies was worse than those he had seen after a 2009 oil tanker explosion in Sachangwan claimed 139 lives.


Read more: http://www.news.com.au/world-news/nairobi-westgate-mall-survivor-tells-i-used-dead-teens-blood-to-fool-terrorists/story-fndir2ev-1226727931521#ixzz2g4H9z5UX
Further testimony at the link - ed
===
Treasurer Joe Hockey accused the Labor government of "over-promising and underdelivering" and falsely claiming there had been a fall in revenue caused by the easing of the mining boom which required spending cuts.
"The fact is it is a litany of failures and political promises," Mr Hockey told reporters.
The figures had no substantial surprises and closely matched the estimates presented by Treasury just before the September 7 election.
And Treasurer Hockey denied he had promised a surplus in his first year in office, saying he was now dealing with "an entirely different set of numbers".
Mr Hockey said there had been "a further deterioration'' in the figures projected for subsequent years, and he was testing Labor's forecasts to see how "robust" they were.
"But what Australia needed was an injection of confidence. And we have done that," said Mr Hockey, declining to speculate on further forecasts.
He said the $1.8 billion Labor had claimed was being dodged on fringe benefits tax on vehicles had already been found to be untrue.
The Coalition in Opposition had argued the government was spending too much, not bringing in too little in tax returns.
"There has been no 'fall in revenue and receipts' as often asserted by Labor," Mr Hockey and Finance Minister Mathias Corman said in a statement.
"Receipts for 2012-13 alone increased by 6.4 per cent, or $21 billion, over the previous year, 2011-12."
The final figures for the year showed that forecasts made in May 2012 for the 12 months to the end of June this year were well off the mark:
* GDP growth estimated to be five per cent came in at 2.5 per cent;
* The expected $1.5 billion Budget surplus became an $18.8 billion deficit — a $20.4 billion deterioration;
* Net debt estimated to be $143.3 billion ended at $153 billion;
* Interest payments on debt were expected to reach $7 billion but ended up at $8.3 billion


Read more: http://www.news.com.au/national-news/hockey-exposes-8220litany-of-failures8221-in-labor8217s-forecasts-but-stops-short-of-promising-a-surplus-in-its-first-year/story-fncynjr2-1226728442460#ixzz2g4KOjiPt
===
The fine-grained soil has revealed a water content of about 2 per cent - a level which could be useful for future human missions.
The water is not free flowing, but is bound to other molecules contained in the dirt.
The Curiosity rover has been scouring the surface of mars since August 2012.
NASA scientists formally published a series of papers last night detailing the results of experiments carried out by the robot's various scientific instruments.


Read more: http://www.news.com.au/technology/mars-rove-curiosity-finds-water-contained-in-soil-on-the-surface-of-the-red-planet/story-e6frfro0-1226728319860#ixzz2g4LIbrId
===
On the same day Gold Coast detective Damian Leeding's killers were due to be sentenced, which also happened to be Police Remembrance Day, Sergeant Gary Hamrey could very well have been another fallen officer.


Read more: http://www.news.com.au/breaking-news/national/police-officer-shot-on-gold-coast/story-e6frfku9-1226728178860#ixzz2g4M5CNh9
===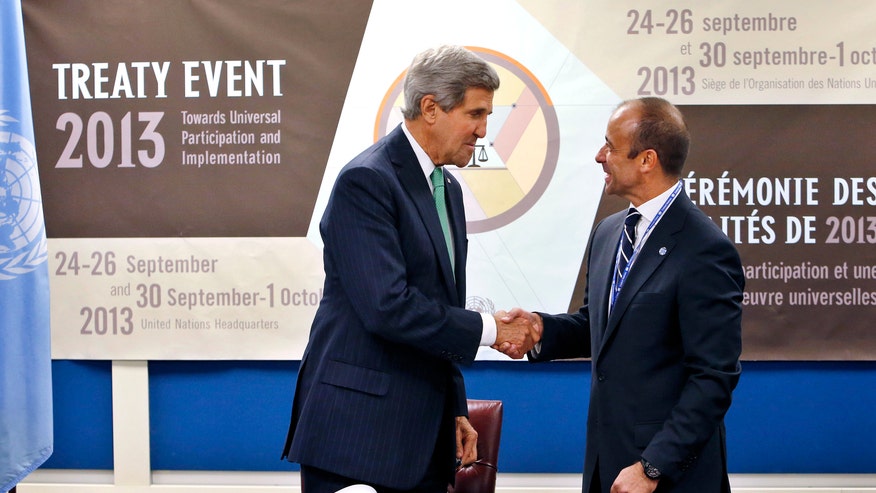 WASHINGTON –
Secretary of State John Kerry signed an international treaty on arms regulation Wednesday, angering conservative lawmakers and rattling the National Rifle Association despite claims that the treaty won't infringe on gun rights.
If it doesn't do anything, why sign it? - ed
===
"You want to have something you do with the keyboard that is signaling to a very low level of the software -- actually hard-coded in the hardware -- that it really is bringing in the operating system you expect, instead of just a funny piece of software that puts up a screen that looks like a log-in screen, and then it listens to your password and then it's able to do that," Gates said. "It was a mistake."
David Bradley, a designer of the original IBM PC, invented the "Control-Alt-Delete" combo.
"I may have invented it, but Bill made it famous," Bradley said.
The command also effectively restarts the computer, but Bradley said "Why they used it for the log-in also, I don't know."
They made lots of mistakes - ed
===
Last week, the National Academy of Sciences (NAS) published a study by 13 prestigious atmospheric scientists that supposedly provides "clear evidence for a discernible human influence on the thermal structure of the atmosphere."
The NAS researchers pointedly echo the famous declaration by the United Nation-sponsored Intergovernmental Panel on Climate Change, or IPCC, that the "balance of evidence suggests a discernible human influence on global climate." With this new study, the authors claim to clinch the case. The IPCC, we're supposed to believe, has been right all along.
With the IPCC now issuing the first segment of its latest mammoth study on the same topic, readers should take the NAS pronouncement with a large grain of salt—and the IPCC report too. This is an attempt to change the subject and ignore the elephant in the room: the crisis in "consensus" climate science arising from the growing mismatch between model-predicted warming and observed warming.
===
Both black and white versions of the flags were spotted:
===
Witnesses say the 24-year-old soon pulled out a gun and pointed it at employees and customers — who were with children — demanding their possessions.
Prayer works - ed
===
===
===
===
===
===