The gayby baby issue is based on hateful misleading assertions. The ABC Catalyst infomercial regarding it spread the lies. A lesbian couple was presented from the UK claiming that their marriage was not recognised in Australia and that it was stated that they could not have children. In fact, their civil union is recognised in Australia as are any children. The argument is that churches should be allowed to refuse giving a marriage certificate based on conscience. And that it is not a natural conception which brings forth the baby in strict religious moral terms. But the babies are real. And if the lobby wish to be taken seriously they shouldn't lie about the issues, but address them. Otherwise any success will never be legitimate.
The ALP have again been offered an opportunity to reform. They haven't done it. But they need to. No one doubts they will one day win federal office. But they are in danger of losing that office through anti corruption laws they transgress.
Miranda Devine

–

Wednesday

,

September

02

,

2015

(

12:30am

)
Miranda Devine

–

Wednesday

,

September

02

,

2015

(

12:29am

)
Andrew Bolt

September

02

2015

(6:57pm)
Andrew Bolt

September

02

2015

(6:48pm)
Andrew Bolt

September

02

2015

(6:28pm)
Andrew Bolt

September

02

2015

(8:48am)
Andrew Bolt

September

02

2015

(7:56am)
Andrew Bolt

September

02

2015

(7:30am)
Andrew Bolt

September

02

2015

(6:59am)
Andrew Bolt

September

02

2015

(12:33am)
Andrew Bolt

September

01

2015

(10:42pm)
Tim Blair

–

Tuesday

,

September

02

,

2014

(

7:38pm

)
===
Tim Blair

–

Tuesday

,

September

02

,

2014

(

4:32pm

)
===
Tim Blair

–

Tuesday

,

September

02

,

2014

(

1:49pm

)
===
Tim Blair

–

Tuesday

,

September

02

,

2014

(

12:24pm

)
===
Andrew Bolt

September

02

2014

(4:03pm)
===
Andrew Bolt

September

02

2014

(11:25am)
===
Andrew Bolt

September

02

2014

(9:37am)
===
Andrew Bolt

September

02

2014

(9:29am)
===
Andrew Bolt

September

02

2014

(9:17am)
===
Andrew Bolt

September

02

2014

(9:16am)
===
Andrew Bolt

September

02

2014

(9:10am)
===
Andrew Bolt

September

02

2014

(8:38am)
===
Andrew Bolt

September

02

2014

(8:10am)
===
Andrew Bolt

September

02

2014

(8:03am)
===
Andrew Bolt

September

02

2014

(7:55am)
===
Andrew Bolt

September

02

2014

(7:41am)
===
===
===
===
===
===
===
===
===
===
===
===
===
===
===
===
===
===
===
===
===
===
===
===
===
===
===
===
===
===
===
===
===
===
===
===
===
===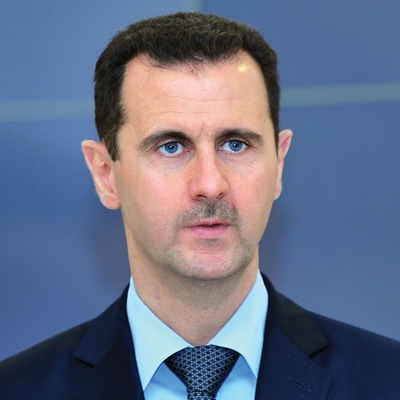 Bashar al-Assad, strongman of Syria.
Yet, these latter are precisely what several Western states will accomplish if they respond to the Syrian government's apparent use of chemical weapons against civilians with
"limited" strikes
lasting one or two days against fewer than fifty sites. Briefly lobbing American, British, and other missiles against the regime without a concomitant readiness to
deploy ground troops
will neither overthrow the government nor change the course of the war. It will, however, allow Westerners to feel good about themselves.
It will also entail real dangers. Bashar al-Assad's notorious incompetence means his response cannot be anticipated. Western strikes could, among other possibilities, inadvertently lead to increased regime attacks on civilians, violence against Israel, an activation of sleeper cells in Western countries, or heightened dependence on Tehran. Surviving the strikes also permits Assad to boast that he defeated the United States.
Attempting to quell criticism of his proposal for a limited military mission in Syria, President Obama floated a more modest strategy today, saying that any U.S. action in Syria would have "no objective whatsoever." "Let me be clear," he said in an interview on CNN. "Our goal will not be to effect régime change, or alter the balance of power in Syria, or bring the civil war there to an end. We will simply do something random there for one or two days and then leave."
When U.S. allies responded with howls of protest, saying that two days was too open-ended, White House spokesman Jay Carney responded with assurances
that the President was willing to scale down the U.S. mission to "twenty-four hours, thirty-six tops." "It may take twenty-four hours, but it could also take twelve," Mr. Carney said. "Maybe we get in there, take a look around, and get out right away. But however long it takes, one thing will not change: this mission will have no point. The President is resolute about that."
It is difficult to know how to be proportionate when Obama has turned a blind eye previously ed
===
Samantha Goudie is potentially - "allegedly" - the drunkest girl on the planet. And judging by her Twitter timeline, possibly the funniest.

Read more: http://www.news.com.au/technology/world8217s-drunkest-uni-student-blows-341/story-e6frfrnr-1226709012378#ixzz2djXVOPKe
34.1% of her blood stream was alcohol? ed
===
Zaya Toma
Im surprised the Christian Democrats are giving their second preference to Labor, the same as the Greens. The Christian Democrats want three more years of the Labor-Greens aliance?
===
Two West Bank residents were indicted by the Jerusalem District Attorney's Office on charges that included recruiting maintenance workers at the Mamilla open-air mall to smuggle in a bomb during the busy Jewish High Holidays shopping season.
"During questioning, members of the terror cell mentioned other initial plans to carry out additional attacks, including harming IDF (Israeli Defense Forces) soldiers by booby trapping homes in Ramallah, manufacturing and firing rockets at Israeli communities near Ramallah, and attempts to get hold of handguns to fire on IDF soldiers at the Hezma roadblock, northeast of Jerusalem," the Israeli security service Shin Bet said in a written statement.
The two men who were indicted were allegedly led by another Ramallah resident, Hamdi Romana, 22, who was expected to be indicted separately. The timing of the charges was not indicated, the Jerusalem Post said.
Romana was and the other suspects were arrested in August. A search of his home by Israeli agents turned up bomb-making materials and instructions plus evidence Romana had been in communication with a reputed Hamas explosives expert.
The bomb plot was described as being near its final phases. The goal was to detonate the bomb during the period that includes Rosh Hashana and Yom Kippur.
Shin Bet said Romana recruited two Arab residents of Jerusalem who worked at the Mamilla mall and carried Israeli identification cards, which Israeli broadcaster Arutz Shiva said would presumably allow them freer movement around town.
The bomb was to be wrapped like a present and stashed in one of the maintenance workers' lockers until the holidays were in full swing. It would then be planted in a restaurant or some other area where large numbers of shoppers would be present.
Shin Bet added that the arrests showed Hamas was still anxious to launch attacks inside Israel and was keen to recruit Arab residents of Israel to help them carry out their plots.

Read more: http://www.upi.com/Top_News/World-News/2013/09/01/Israel-thwarts-Hamas-plot-to-bomb-Jerusalem-mall/UPI-75861378044421/#ixzz2djYWn7VL
Part of the Peace Process? ed
===
===
I feel the criticism of Abbott hyper.
He called terrorists 'bad.' By way of contrast, Rudd called Chinese Ratfuckers for their language. I know which I feel is more diplomatic. ed
===
"You are far too valuable to sell yourself so cheaply." –Kim Keller wrote in a letter to her daughter.
===
Pastor Rick Warren
Teaching 6,000 Next Generation young leaders of Rwanda how to be purpose-driven leaders!
Co-sponsored by the government and PEACE Plan churches in Rwanda, this was also broadcast nationally. 4000 churches in Rwanda have adopted the PEACE plan in the past 9 years.
— inKigali, Rwanda.
===
Rep. Peter King (R-NY) criticized President Obama's decision to let Congress vote on using military action in Syria. On
Fox News Sunday
, he stated that under the Constitution, that the president is authorized to use military force without Congress's approval.


Read more: http://foxnewsinsider.com/2013/09/01/rep-peter-king-clear-failure-leadership-obama-ask-congress-authorize-military-action#ixzz2djSYwvBy
===
"Curtis Sinclair, Co-Chairman of the Ashraf Campaign (ASHCAM) condemned the Iraqi government for caving under Iranian pressure to commit an "obscene abuse of power."
"We're hearing details of unarmed refugees being bound, gagged and machin
e-gunned at close quarters; of anti-tank weapons being used on people's homes; of a massacre supervised by police chiefs and army commanders," claimed Sinclair.
"Not since the days of Saddam [Hussein] have we seen this kind of blatant and obscene abuse of power by an Iraqi leader. Last night's attack just goes to show the lengths to which [Iraqi Prime Minister Nouri al-]Maliki will go to assist... [Iranian Supreme Leader] Ali Khameini in [his] quest to stamp out the presence of Iranian dissidents in Iraq."
===
"Egyptian officials announced their intention to create a buffer zone around Gaza, 500 meters wide and ten kilometers long. The buffer zone is designed to keep Gazan Arabs, many of whom are sympathetic to the Muslim Brotherhood, out of the
Sinai Peninsula, as the Egyptian Army continues its military campaign to root-out Islamist terrorist groups who have taken refuge there, mounting sporadic deadly attacks against security forces and civilians.

On Sunday, the army evicted residents of the 13 homes and demolished them. Egyptian officials said that smuggling tunnels were found under the homes."
===
===
"I would like to thank Mr. Kraft, Coach Belichick, Coach McDaniels and the entire Patriots organization for giving me the opportunity…to be a part of such a classy organization," Tebow tweeted.
"I pray for nothing but the best for you all. I will remain in relentless pursuit… of continuing my lifelong dream of being an NFL quarterback," he added.
===
"He tried to reach for two grenades in his pocket, but an officer jumped at him and bowled him over before other officers controlled him and grabbed the grenades," the official said.
Ibrahim was traveling with two other gunmen at the time of his arrest.
Egyptian authorities accuse Ibrahim of masterminding the 2005 attack on the resort city of Sharm el-Sheikh, which killed some 88 people.
Since Morsi was ousted, Muslim Brotherhood-linked Gaza terrorists have been infiltrating the Sinai to attack Egyptian army outposts.
===
"A couple of days ago I received an email and by mistake I deleted it, the email… permanently," Sadeghi can be seen explaining to an NSA employee over the phone.
===
Pastor Rick Warren
Josh For President! My son waves to everyone at the National Stadium in Rwanda where I'm speaking. He has the wave!
===
===
===
===
===
===
===