Partisan judge Needham fails to support impartial judge Heydon. Needham is failing in her basic duty of care as NSW Bar President. It is inconceivable Needham should retain her position with such a partisan position as she has taken when failing to appropriately protect the reputation of a royal commission and Heydon. For the sake of the independence of her position, Needham must go.
Old socialist Joe Biden, who has contributed nothing worthwhile to either of Obama's administrations is looking like being the idiot to campaign for Democrats. Hillary is failing fast, sinking on her own record. But the talent pool for US Democrats is very shallow.
Partisan Ray Martin expresses an opinion about Australia's involvement in Syria. Only it isn't realistic, but spiteful and catty. Martin says Australia is trying to distract from domestic policies. Just as when Jason Clare unleashed a drugs in sport meme which found no drugs in sport. Except Clare was distracting from issues, and Abbott is addressing international needs as a statesman, as well as addressing domestic issues appropriately. And Martin hates that.
Miranda Devine

–

Wednesday

,

August

26

,

2015

(

12:31am

)
Miranda Devine

–

Wednesday

,

August

26

,

2015

(

12:29am

)
Andrew Bolt

August

26

2015

(7:03pm)
Andrew Bolt

August

26

2015

(6:23pm)
Andrew Bolt

August

26

2015

(4:39pm)
Andrew Bolt

August

26

2015

(11:44am)
Andrew Bolt

August

26

2015

(11:36am)
Andrew Bolt

August

26

2015

(8:22am)
Andrew Bolt

August

26

2015

(8:09am)
Andrew Bolt

August

26

2015

(8:02am)
Andrew Bolt

August

26

2015

(7:55am)
Andrew Bolt

August

26

2015

(7:15am)
Andrew Bolt

August

26

2015

(6:54am)
Andrew Bolt

August

26

2015

(6:49am)
Tim Blair

–

Tuesday

,

August

26

,

2014

(

4:19pm

)
===
Tim Blair

–

Tuesday

,

August

26

,

2014

(

5:27am

)
===
Tim Blair

–

Tuesday

,

August

26

,

2014

(

5:16am

)
===
Tim Blair

–

Tuesday

,

August

26

,

2014

(

4:38am

)
===
Tim Blair

–

Monday

,

August

25

,

2014

(

8:59pm

)
===
Andrew Bolt

August

26

2014

(10:20am)
===
Andrew Bolt

August

26

2014

(9:41am)
===
Andrew Bolt

August

26

2014

(8:25am)
===
Andrew Bolt

August

26

2014

(8:14am)
===
Andrew Bolt

August

26

2014

(8:03am)
===
Andrew Bolt

August

26

2014

(7:44am)
===
Andrew Bolt

August

26

2014

(7:10am)
===
===
===
===
===
===
===
===
===
===
===
===
===
===
===
===
===
===
===
Thank You Lord, for everything that has happened, is happening and will happen. Only You can make it happen. Amen.
===
===
Fatah:
by Itamar Marcus
Fatah's official Facebook page continues to promote and glorify violence and terror for children. In one post, young Palestinian boys are shown holding rifles with the text:
"The children of Palestine - this is how they celebrated their holiday."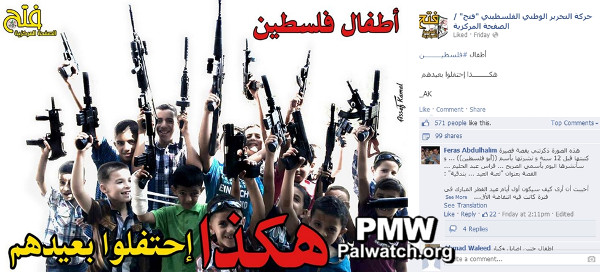 ===
Adam Levick
..
CiF Watch..
20 August '13..
The Arab-Israeli War of 1948-49 produced around 711,000 Palestinian Arab refugees, according to official records. (To provide some context to this figure, there were roughly 850,000 Jewish refugees from Arab countries between 1948 and the early 1970s.)
The relevant UN General Assembly
document
from Oct. 23, 1950 states the following about the Palestinian refugee problem:
The estimate of the statistical expert, which the Committee believes to be as accurate as circumstances permit, indicates that the refugees from Israel-controlled territory amount to approximately 711,000.
While it is estimated that somewhere between
30,000
and 50,000 Palestinian Arabs, out of this original refugee population, are still alive today, the
United Nations Relief and Works Agency
(UNRWA) allows the
children, grandchildren, and great-grandchildren
(ad infinitum) of actual refugees to continue to inherit their ancestor's status. So, based on this bizarre formula, there are officially
4.9 million
Palestinians who are eligible for "refugee" benefits.
Robert Tait
is the
Telegraph
's Middle East correspondent, and you'd therefore expect him to have some familiarity with such statistical and historical details.
===
Anti-Israel extremists recently began threatening and disrupting the activities of an Israeli-owned shop in Brighton. The UK-based store, EcoStream, is known to sell SodaStream recyclable bottles which are made in Mishor Adumim, an industrial zone located in post-1967 Israeli territory. According to the group "Palestine Solidarity Campaign," these business activities take part inside "occupied Palestinian territory" and therefore the shop, as well as SodaStream, should be boycotted. Last week, EcoStream employees found the lock on the front door of their shop to be filled with superglue. SodaSteam employs over 160 Palestinians in its main factory. According to media reports, the store's general manager has said that "it's not acceptable that these people can continue to do this. Something more needs to be done." Local anti-Israel operatives have promised to continue picketing the store in order to discourage local people from patronizing it.
===
Dr. Waldman: "This creature of yours should be kept under guard. Mark my words. He will prove dangerous."
Dr. Henry Frankenstein: Dangerous! Poor old Waldman. Have you never wanted to do anything that was dangerous?….
Dr. Waldman: You're young, my friend. Your success has intoxicated you. Wake up and look facts in the face! Here we have a fiend whose brain…
Dr. Henry Frankenstein: "The brain must be given time to develop. It's a perfectly good brain, doctor. You ought to know. It came from your own laboratory."
Dr. Waldman (shocked): "You used the brain in my laboratory! But you've mistakenly implanted a criminal brain in this creature." –"Frankenstein" (1931)
A .440 life-time batting average would make one a hall-of-fame player if one was playing major league baseball. But Obamacare "aint' baseball and meeting only 44% of your own deadlines is pretty poor when one considers this is the Obama's signature legislation.
===
<This is the triumph of illusion, required because reality doesn't comport with the liberal, democratic Western standard in which every difference can be split. The reality is that Israeli fights every day against people dedicated it its destruction as a sovereign entity. Reality is ugly, so the West pretends we're only a minute or two, an Israeli concession or two, a settlement or two from Israeli-Palestinian "peace.">
===
As a major focus of its Ramadan activities, the Palestinian Authority chose to honor and glorify terrorist murderers.
===
how Israel has an 'impenetrable' security fence
that is 'protecting' us from terror attacks. You know, the one the world refers to as the 'wall.' And I've been telling you for years that it's all a lie, and that what protec
ts us from terror attacks is God, and God helping the IDF to root out terrorists on the ground in Judea and Samaria.

Want proof? Here's a video showing 'Palestinians' jogging through a hole in the fence just off the Sansana-Metar road. The road is located northeast of Beer Sheva and southwest of Hevron. Arabs from the 'Palestinian Authority' usually cross the fence in order to work in Israel illegally, but there is nothing preventing terrorists from entering Israel in the same way. Motorists have been reporting the breach in the fence for months to no avail.>
===
At great personal cost, Pollard penned the piece out of love for Israel and a genuine concern for its future. His words, whether you agree with them or not, were intended to sound a clarion call for an end to moral ambiguity and a restoration of sound values.
===
both sides in Egypt
are blaming Israel for what's happening there. How convenient.... It's the only thing on which they can agree.>===
===
The conclusion is that The Forward believes that Israel is inherently evil. Those are the only facts that can fit its editorial policy. Anything that contradicts that narrative makes reporters not just feel conflicted, but angry. Because th
ey already knew the truth before the story that makes Israelis look like decent people comes out. That is an unacceptable distraction from their own one-dimensional analysis of the situation.

Beyond that, we can see how bad a reporter Goldman is. In the earlier part of the article she describes how she feels "manipulated" when she covers a story that the Israeli government tips her (and other journalists) off about. So what is stopping her from digging deeper? Moreover, what is stopping her from looking to find out if there are similar "feel-good" human interest stories that are not pushed by the government?

That's crazy talk! To Goldman and The Forward, Israeli cruelty is the only story, and everything else is a distraction, to be ignored or downplayed or belittled or cynically dismissed.
===
"This situation cannot continue. The most dangerous regimes on earth must not have the most dangerous weapons on earth, and we expect this to end," he declared.
"We know how to protect our citizens and our country from those who seek to hurt us," he said.
===
When Michal Negrin opened a store in Manhattan's SoHo district recently, it showed just how spectacularly the
BDS (boycott, divest, sanction) movement has failed
in the United States.
The first Michal Negrin shop in New York City, on one of Soho's most trafficked blocks, is the latest of a panoply of Israeli companies that have opened up retail outlets here: Next door is Israeli soap and body-products purveyor Sabon, which has 11 stores in New York City and opened its first U.S. store a decade ago. The Michal Negrin boutique is also just down the block from Israeli-owned Café Bari, and a couple of blocks away from Aroma Espresso Bar, which has four cafes in Manhattan and six more in other heavily Jewish parts of the country. But this part of Soho — call it Nachalat Binyamin West — may have the densest concentration of Israeli retail outlets anywhere in the U.S.
Israeli products are increasingly found in the most prosaic American retail establishments. Sodastream seltzer makers are sold in Wal-Mart, Costco and Bed, Bath & Beyond, big-box stores ubiquitous along the sides of American highways. Ahava body creams and beauty products are also sold by Bed, Bath & Beyond, as well as Macy's and Lord & Taylor department stores, along with the Ulta and Ricky's beauty supply stores and many dozens of independent pharmacies, even in Arkansas and North Dakota.
Despite the efforts of BDS groups to generate boycotts of products manufactured beyond the Green Line, even Israeli companies that do some of their manufacturing there are finding retail success.
And the Israeliness of many of the products, like Sodastream, is not an overt part of their identity here.
Sodastream, which began selling its seltzer makers in the U.S. in 2002, has more penetration in consumer markets here than any other Israeli product, according to Joseph Altobello, a consumer and household products analyst at Oppenheimer & Co., a U.S.-based investment bank with an office in Tel Aviv.
"Sodastream is the only Israeli name that I would know of" among Israeli products sold in the U.S., Altobello said in an interview. The "Israeli label is neutral. The vast majority of people would view it neither good nor bad. Products succeed on their merits. There are some groups that have issues, but overall, I've never had anyone say I'm not buying a Sodastream because it's an Israeli company. Ever. Where a product is made matters far less than 'does it make sense for me in my life at this price point?'"
===
"We're fighting jihad around the world and paying to indoctrinate kids in it - why are we doing that?" -Tucker Carlson
===
To understand the failure of public education in this country, one must first understand that the entire system is designed for the benefit of the adults who work in it. Union dues from people working in the system are funneled into lobbying and campaign contributions to the very legislators setting the rules of the system. As a result, the entire political system is biased against reform of public education.
Your education may suck, in other words, but at least you are in a school with the "right" racial balance.
Louisiana passed a modest school choice, or voucher, law, a couple years ago. If a child was low-income and attended a school that graded a C or less, the student could attend a private school, with a portion of the tuition covered by the taxpayer-funded education subsidy. The state's program isn't as expansive as those in place in Holland and Sweden, but it begins to establish that the public's commitment was to educating a child, not to a particular system.
Last year, around 600 kids benefited from this program, although that number was likely to increase dramatically this year.
Unions, of course, hate the idea of giving parents a choice in how they educate their children. While education is largely still a function of state and local government, Eric Holder managed to look into his bag of legal tricks and find a way to block Louisiana's reforms.
A number of parishes (read counties) in Louisiana are under federal directive to make their public school systems more racially balanced. DOJ is concerned that giving low-income parents an opportunity to escape failing schools might alter the racial balance of the schools negatively.
Maybe it will. But, the reform the DOJ is trying to block would also give some number of kids a better chance at opportunity. The left often argues for silly laws with the rhetorical trick that if we can save "one life" shouldn't we endorse it. Fine. Why not, however, save some few hundreds of kids from a failing education system?
To fully appreciate the challenges we face, you must understand one thing. The left is only about power. Everything else they say is just rhetoric.
===
Take a survey -- click here!
https://www.surveymonkey.com/s/9GQDG7N
Your comments and photo may be used by Dr. Phil and Peteski Productions, including being published on the Web or on television
===
===
Veteran crooner Andy Williams lambasts 'Marxist' Barack Obama
http://independentfilmnewsandmedia.com/veteran-crooner-andy-williams-lambasts-marxist-barack-obama/
"Don't like him at all. I think he wants to create a socialist country. The people he associates with are very left-wing. One is registered as a Communist. Obama is following Marxist theory. He's taken over the banks and the car industry. He wants the country to fail." Andy Williams
===
You want to know what happened to the reforms that Kevin Rudd promised for the New South Wales Labor Party to get over the finding by ICAC that the powerbroker he depended on had planned to do defraud the taxpayers by the modest amount of $100 million – at least?
The answer is that apart from trying to make sure he couldn't be sacked again no matter what he did as leader, absolutely nothing has
changed.

Just look at the way the party bosses decided who will represent the people of New South Wales. They hand our seats in parliament as if they own them.
Remember when Mark Latham decided to parachute retired anti Labor rock star Peter Garrett into Kingsford Smith - to the great annoyance of the loyalists who worked for years in the local branches.
Well, now that Peter Garrett is on the way out, the New South Wales powerbrokers have decided to play a game of chess. Apparently when they sacked the last secretary of the Labor Party, Matt Thistlethwaite, they moved him to the Senate. Now for some reason or other hee is to resign from the Senate to represent the people of Kingsford Smith in the House.

But the polls are suggesting that the Liberal candidate, the highly respected surgeon Michael Feneley is more likely to be returned.
At the same time the powerbrokers have decided that the Iranian born 29-year-old secretary of the Labour Party should represent the people of NSW in the Senate. After he left Macquarie University, he worked for Labor Party spin doctors and then for the Labor Party. Writing in the Sydney Morning Herald's Good Weekend on 24 August 2013, Anne Summers quotes a close friend saying: "He's never worked outside of the ALP; he's never lost and he's never had bad media."

She says that others in the ALP referred to his hyperactivity, his trademark lack of attention, his notorious failure to return phone calls – even from members of Parliament – and his seeming inability to concentrate on just one thing at a time.
And the" reformed'' New South Wales Labor Party thinks that this man, without any life experience and in most people's view, never having had a real job, is the ideal representative of the people of New South Wales.
Read what Miranda Divine wrote in the Sunday Telegraph on 31 July 2013:
"It's no wonder NSW Labor general-secretary Sam Dastyari wants to join the conga line of Labor apparatchiks into a cushy Senate seat. Youthful and diminutive, he is the type who insinuates himself confidently into the middle of a press pack on Budget night in Canberra's Kennedy Room, exuding an unctuous familiarity with gallery stars, to whom he leaks assiduously.

" He behaves as if he is watching himself in the mirror playing a role in House of Cards or The West Wing. His young man-on the-make persona would be endearing if he weren't so powerful, and wasn't about to be parachuted into the Senate at the ripe old age of 29. He is exactly the sort of person Labor does not need in parliament."

@profdavidflint
Read more: http://www.dailytelegraph.com.au/news/opinion/miranda-devine-eddie8217s-way-is-still-obeyed-in-federal-labor/story-fni0cwl5-1226690678033
===
===
===
===
A judge today ordered eight documents seized by Victoria Police during the fraud investigation to be returned to law firm Slater & Gordon.
The documents were seized after a search warrant was executed at the law firm's Melbourne offices in May and have remained in a sealed envelope and held by the Supreme Court.
They now must be returned to Slater & Gordon within seven days.
The police probe into the alleged fraud examines Ms Gillard's relationship with former AWU secretary Bruce Wilson.
The pair were in a relationship from 1992 to 1995 and Ms Gillard was, at the same time, also providing legal advice to the AWU, as a partner with Slater & Gordon.
Ridiculous verdict - ed
===
That level of balance should scare any Australian who cares about Australia's future. - ed
===
I support this use of money .. I point out that a responsible government which posts surpluses is not sinful with waste. I note Howard was criticised by Rudd for what Rudd called profligate spending. It is true Howard spent big on some things .. but within government means. This logo looks good and is necessary because the tired old transport .. jaded under ALP .. needs renewal. - ed
===
===
===
===
===
===
===