Smearing the former SAS Captain Andrew Hastie by The Age because he is a Liberal candidate? The incident the Age raises was not a war crime and was not perpetrated by Hastie. Some SAS had removed the hands of killed jihadists for identification reasons. Not as trophies and not to mutilate corpses. There is a glacially slow investigation into the incident where, when Captain Hastie was alerted, to it he responsibly referred it. But a reasonable person might not know that if they read The Age. The reasonable person (what reasonable person would read the Age?) would see the headline "Question of Conduct" over the Captain's face and the article doesn't explain he wasn't present or involved in the lawful act, until the last few lines. It is appalling, a low standard of journalism. Hattie, however, when challenged on it answered well and saliently.
ABC smears Royal Commission judge Dyson Heydon. They broadcast that the judge had released false or doctored documents over half an hour after it had been retracted. Because it had been demonstrated he hadn't. The Royal Commission into union corruption is important because unions control the ALP. They even demoted a talentless female hack in Tasmania and promoted a talentless male unionist hack.
Greens strangle development while mining unions are silent at the loss of work. The mines are not really closed for environmental concerns. Activists are paying locals to complain. Activists whom are often funded by welfare.
Jihadists attack on Paris Amsterdam Train and on Bangkok show that Obama has failed after withdrawing troops from conflict and cutting military spending. Two off duty marines were heroes on the train. One was badly wounded.
Pope campaigns on borderless world but fails to responsibly limit the harm caused. People will die from the irresponsible call. They won't die free. They will be exploited by people smugglers and lose all the promise God had blessed them with their life.
Andrew Bolt

August

22

2015

(5:36pm)
Andrew Bolt

August

22

2015

(1:54pm)
Andrew Bolt

August

22

2015

(11:53am)
Andrew Bolt

August

22

2015

(10:39am)
This buffoon is a member of Parliament, deciding on your future and the security of this nation:
===
Andrew Bolt

August

22

2015

(9:58am)
Andrew Bolt

August

22

2015

(9:43am)
Andrew Bolt

August

22

2015

(9:17am)
Andrew Bolt

August

22

2015

(8:33am)
Andrew Bolt

August

22

2015

(8:25am)
Andrew Bolt

August

22

2015

(8:04am)
Andrew Bolt

August

22

2015

(7:51am)
Andrew Bolt

August

22

2015

(7:01am)
Piers Akerman

–

Thursday

,

August

21

,

2014

(

7:29pm

)
===
Piers Akerman

–

Thursday

,

August

21

,

2014

(

6:44pm

)
===
Tim Blair

–

Friday

,

August

22

,

2014

(

4:55am

)
===
Tim Blair

–

Friday

,

August

22

,

2014

(

4:42am

)
===
Tim Blair

–

Friday

,

August

22

,

2014

(

4:24am

)
===
Tim Blair

–

Friday

,

August

22

,

2014

(

3:02am

)
===
Andrew Bolt

August

22

2014

(5:40pm)
===
Andrew Bolt

August

22

2014

(9:25am)
===
Andrew Bolt

August

22

2014

(9:03am)
===
Andrew Bolt

August

22

2014

(8:52am)
===
Andrew Bolt

August

22

2014

(8:18am)
===
Andrew Bolt

August

22

2014

(8:06am)
===
Andrew Bolt

August

22

2014

(7:53am)
===
Andrew Bolt

August

22

2014

(7:43am)
===
===
===
===
===
===
===
===
===
===
===
===
===
===
Of all the precious gemstones, opal is perhaps the most alluring. A unique mixture of silica and varying amounts of water, opal's brilliant play of color is the result of tiny silicon spheres measuring several hundred nanometers in diameter, the same width as the wavelength of visible light. What makes an opal precious and another nonprecious is how those spheres are organized:
"In precious opal
the glasslike molecules are stacked like billiard balls set out in neat rows, creating regular triangular gaps between them on the surface; ordinary opal is more like a disorganized school equipment locker, full of basketballs, soccer balls, and golf balls thrown into it in no particular order. When the surface of opal is even and ordered and the molecules are a set distance apart, the white light bounces off in wavelengths that give the appearance of bright colors. And just as the sky looks red when there are big molecules in the atmosphere, the red in opal is caused by the presence of larger spheres in the silicon gel; while the more common blue color appears when the spheres are small. But whatever the size of the silicon, if the surface has no order to it the light just bounces off in all directions, giving no sense of separate colors at all. It means that paradoxically it is order that causes the irregular iridescent flashes of color in opal; while it is chaos that makes low-quality opal a uniform gray," (Victoria Finlay, Jewels: A Secret History, p. 1,959).

Once considered the most prized precious stones by European royals, opals were traditionally given as favors in the 1800s. Even Napoleon adored the stone, giving his wife, Josephine, a vivid red opal weighing roughly 140 grams. The first opal to be named, "The Burning of Troy" was aptly labeled since Napoleon had said that he gave her this stone because she was his Helen. In spite of such royal favor, the opal is the only one thought to bring bad luck. This notion swept the opinions of nineteenth-century Europe after the great success of the ghost novel Anne of Geierstein by Sir Walter Scott, in which a drop of holy water turns a supernatural opal talisman into a common pebble and soon after which the heroine dies. So convinced of this superstition was Princess Alexandra, wife of King Edward VII, that when Queen Victoria died, the new queen removed the "unlucky opals" from the diamond and opal tiara her mother-in-law had commissioned and replaced them with rubies from Ceylon, which remain there today (Finlay, p. 2,194).

Quite possibly the most famous opal in history was owned by a Roman senator named Nonius in 35 BC. Originating from the mines of Czernowitza, the only source for opals at the time, the fabled stone was only the size of a hazelnut yet was valued at two million sesterces, or enough to buy a villa in a nice part of Rome. So obsessed with the stone was Mark Antony that the amount of pressure he applied to Nonius, who had no intentions to part with the stone, to sell it to him caused Nonius to self-imposed exile, leaving behind all his property and taking only his precious opal. Even Pliny, the famous Roman author, called opal a gemstone which combines the best possible characteristics of the most beautiful of gemstones: the fine sparkle of Almandine, the shining purple of Amethyst, the golden yellow of Topaz, and the deep blue of Sapphire, so that all colours shine and sparkle together in a beautiful combination (via).

Today, roughly 97% of opals come from Australia, and of all the opal produced in the world 60% is white opal, 30% is crystal opal, 8% black opal and 2% boulder opal. The town of Coober Pedy, which means "white man in a hole" in Aborigine, produces a major amount of opal, however, the mines in Mintabie and Lightning Ridge produce the rarer, more valuable black opal. The 'white' or 'black' of an opal refers to the stone's body color on which the 'flashes of light and color' play, with the black offering the most brilliant play of color. Much detail has gone into valuing black opals, even so far as differentiating the seemingly endless types of patterns. The more vivacious and bright the play of color, the more valuable the opal.
===
"The game was stopped for me and the players came out to first base," Ichiro said through an interpreter. "I kind of felt bad that the game was stopped for me. At first, I was trying to stop them from coming, but it was just because I was so happy and overjoyed with the way they supported me.
"Obviously having the 4,000th hit was important, but what is going to make it a more special moment was the fact that my teammates came out. When I look back on this, that's what is going to make this very special."
The total includes 1,278 hits that Ichiro collected over nine seasons in Nippon Professional Baseball as a member of the Orix Blue Wave from 1992-2000, as well as the 2,722 he has logged in the Majors with the Mariners and Yankees since 2001.
"It's an amazing feat," Yankees manager Joe Girardi said. "It's a testament to how hard he's worked, how long he's been in the game, how he stays healthy, the way he goes about his business. He's a great player, and he's been a great player for a long time."
Ichiro joined Pete Rose (4,256) and Ty Cobb (4,191) as the only players to reach the 4,000-hit plateau when considering hits from the highest levels in the U.S. and Japan.
A great admirer of the game's history, Ichiro said he does not expect to see his hit total placed alongside those of Rose and Cobb.
"It is a record that is adding two leagues into one; those guys did it in one league," Ichiro said. "I don't think you have to put me in that same category as them."
The single off Dickey also moved Ichiro past Yankees legend Lou Gehrig (2,721) on the Majors' all-time list.
"Obviously I only know him by name, and I'm hoping to go to Cooperstown and learn more about him," Ichiro said. "I think that was a special moment, to be in this Yankees uniform and be able to pass such a great Yankee."
Dickey said that he would have preferred not to be involved in the milestone, but added, "That being said, what an incredible achievement, and the manner in which he has done it is equally as impressive.
"The longevity, the endurance, the durability, having played with him in Seattle -- it was a real treat to play with him, and it couldn't have happened to a more professional hitter."
The Yankees played a video tribute to Ichiro from Ken Griffey Jr. during Wednesday's game, and the Mariners released a statement which read: "On behalf of the entire Seattle Mariners organization and our fans across the Pacific Northwest, we offer our heartiest congratulations to Ichiro Suzuki for reaching 4,000 hits today.
"We are proud that Ichiro's remarkable career started in Seattle as American League MVP and Rookie of the Year in 2001, and that he collected 2,533 of those 4,000 hits while wearing a Mariners uniform for 11-and-a-half years.
"From Japan to the Mariners and continuing with the New York Yankees, Ichiro's historic milestone is testament to his position as one of the greatest hitters in the game of baseball."
"After I got my first hit, if at that point I said to you guys, 'My goal is to have 4,000 hits,' I think everybody would have called me an idiot," Ichiro said. "Now, after years and years of just getting hits every day, I've come to this point. What is important is just going out there and doing what you can do every single day."
The argument has been made that if Ichiro's NPB stats are added to his Major League stats, then perhaps Minor League statistics should also be credited in tallying other players' hit totals. It's an intriguing point, and one that highlights Ichiro's accomplishments.
For the purposes of this exercise, only three additional players would then reach 4,000 professional hits: Hank Aaron (3,771 in Majors; 324 in Minors), Stan Musial (3,630 in Majors, 371 in Minors) and Arnold "Jigger" Statz, an outfielder who tallied 737 of his 4,093 pro hits with four big league teams from 1919-28.
Ichiro said that he does not have Rose's 4,256 on his radar, but now that 4,000 is crossed off the to-do list, Ichiro is free to focus on joining the 3,000-hit club in the Major Leagues.
"I get asked that a lot, but I can't have that as a goal," said Ichiro, who sits 278 hits shy of 3,000. "What happens today determines what happens tomorrow. I've got to perform every day in order to be in the lineup the next day. I don't make goals that are so far away; what I do is do what I can every single day and really build off that -- see where that takes me."
===
===
"We are being generous and we are using their numbers," she said.
"Australians will pay for Tony Abbott's signature scheme and his other unfunded promises through cuts to jobs, to services, to health, to education."
Rolling a cursor over photos of families, nurses, schoolchildren and workers on the site brings up claims of cuts that are sketchier than Senator Wong suggests.
Under the heading ''Health'' it says when Mr Abbott was health minister "the Liberals ripped $1 billion dollars from our health system – enough to fund over 1000 beds".
Also under the ''Health'' heading it says: "Joe Hockey says 'no guarantees' on spending cuts".
It neglects to mention Mr Hockey's most recent commitment on Monday that "health and medical research is incredibly important and we have guaranteed that". (It is unclear whether Mr Hockey was guaranteeing not to cut funding for health as well as medical research or merely guaranteeing not to cut funding for research into health and medicine.)
Under the heading 'School Kids' it says: "Cutting billions from schools means that on average schools will have $2000 less per child".
It acknowledges that Mr Abbott has promised to match Labor's school funding commitment for the next four years, but says he has "refused to commit" beyond that.
Under the heading 'Jobs' it says: "Abbott will cut 12,000 jobs. That means families will lose their livelihood and local businesses will be hit."
A video on the site shows lights being turned out on pictures of workers in hard hats and fluoro jackets as a voice says: "Twelve thousand people will lose their jobs".
Hard hats are not typical of the clothing worn by public servants, and the video does not make clear that the 12,000 people who would "lose their jobs" are all public servants, all of whom would leave through natural attrition.
Under the heading: 'Those Depending on Penalty Rates' it says Mr Abbott "supports cutting penalty rates and overtime".
The claim pre-dates a commitment by Mr Abbott in Wednesday night's leaders' debate to protect both penalty rates and overtime.
The website is on safe ground on just three claims. Abbott would defer superannuation increases, abandon the low-income superannuation contribution and end the Schoolkids Bonus. Each is Coalition policy.
Senator Wong said the website was "a snapshot of the cuts we know Tony Abbott plans to make should he be elected".
The website is not a snapshot of the cuts Labor and Senator Wong "know" Tony Abbott plans to make. Most of the claimed cuts are suppositions, some of them erroneous.
A PolitiFact rating of ''mostly false'' applies a statement contains an element of truth but ignores critical facts that would give a different impression.
PolitiFact finds Senator Wong's claim "mostly false".
===
The Psychiatrist and the Proctologist
Best friends graduating from medical school at the same time decided that
in spite of two different specialties, they would open a practice together
to share office space and personnel.


Dr. Smith was the psychiatrist and Dr. Jones was the proctologist; they
put up a sign reading: Dr. Smith and Dr. Jones: Hysterias and Posteriors. The
town council was livid and insisted they change it.

The docs changed it to read: Schizoids and Hemorrhoids. This was also
not acceptable so they again changed the sign to read Catatonics and High
Colonics - no go.

Next they tried Manic Depressives and Anal Retentives thumbs down again.

Then came Minds and Behinds - still no good.

Another attempt resulted in Lost Souls and Butt Holes - unacceptable again!

So they tried Nuts and Butts - no way. Freaks and Cheeks - still no good. Loons and Moons - forget it.

Almost at their wits' end, the docs finally came up with:

Dr. Smith and Dr. Jones - Specializing in Odds and Ends.

Everybody loved it!
===
"Only capitalism can provide the upward mobility for the meekest among us to break the shackles of poverty and rise into the middle class."

"[We must] reach into the black community and articulate those values that fuel the American dream. We will be silent no more."
===
===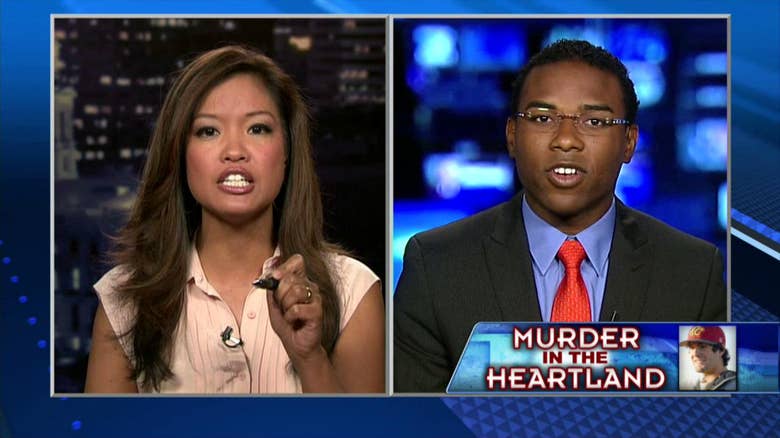 There are renewed calls for gun control by the Left after an
Australian student was senselessly killed
in Oklahoma last Friday. Christopher Lane, 22, was shot and killed while out for a jog by three teens who allegedly told police after that they were "bored."
===
TRUE COLOURS ………
This is what make-up artist and hair stylist Lily Fontana said about working on both Kevin Rudd and Tony Abbott for last nights televised debate…………..
"One of them was absolutely lovely, engaged in genuine conversation with me, acknowledged that I had a job to do and was very appreciative," she said on her page, which is public.


"The other did the exact opposite!"

"Oh boy, I HAVE NEVER HAD ANYONE TREAT ME SO BADLY WHILST TRYING TO DO MY JOB"

"Political opinions aside...from one human being to another...Mr Abbott, you win hands down."

http://www.theaustralian.com.au/national-affairs/election-2013/face-to-face-rudd-shows-his-make-up/story-fn9qr68y-1226701941993
===
Mark Kenny in the Fairfax press thinks the bounce from Kevin Rudd's return as PM ended with his disastrous and ill thought out FBT changes. There was also renaming the CO2 tax and outsourcing increases to Brussels, the Bank Deposits Tax, and the endless new money grants without a thought about the massive debt he had built and the $250 billion he had wasted.
But the clinch was his failure in
the first debate to do what the media luvvies expected, that he would wipe the floor with Tony Abbott. On most accounts Tony Abbott was the winner of that first debate. Who wins and the debate itselfs is usually of no importance as the gallery almost always declares the left candidate the winner, and the "worm'' is rigged to fit. Similarly, The Brisbane debate was made useless by the string of mainly leftwing inner city whiny irrelevant questions.
The comment on Lily Fontana's FaceBook told us what anyone who knows either men is aware of:

" Just finished doing Kevin Rudd and Tony Abbott's makeup for the People's Forum at the Broncos Leagues Club.'''

"One of them was absolutely lovely, engaged in genuine conversation with me, acknowledge that I had a job to do and was very appreciative. The other did the exact opposite! Oh boy, I have ever had anyone treat me so badly whilst trying to do my job. Political opinions aside...from one human being to another...Mr Abbott, you win hands down.
@profdavidflint

Read more: http://www.brisbanetimes.com.au/federal-politics/federal-election-2013/how-hubristic-rudd-lost-the-car-keys-20130821-2sbgu.html
===
I especially love all the nuts on top of the cake. I have a crush for pistachios – fantastic color - they'll get everyone's mouths water running.
- See more at: http://www.maikenskitchen.com/#sthash.h0wzZXQx.dpuf
===
<Thank you Premier Barry O'Farrell for so strongly supporting the recognition of the Assyrian, Armenian and Greek Genocide by the Ottoman Empire in the NSW Parliament. These three communities fought side by side with the Australians and oth
er allied nations for the shared values of freedom and democracy. Turkey is a great modern country and should not be afraid of the truth, what happened 100 years ago is relevant today, because those who forget the past are condemned to repeat it. Whether you find your self agreeing or disagreeing with the Premier, one thing is for sure, he is a politician with courage.>
===
THAT'S MY VAGINA ON HONI SOIT (NSFW)
I had my vagina photographed for the front cover of a student newspaper
By Lily Patchett

on August 21 2013 - News
That's what the Twitterverse is saying after reports the singer performed to just 40 people in a 90,000 capacity arena at the Mandela Sports and Culture Day in South Africa on Saturday.
The American R&B star was the surprise guest at the FNB stadium in Soweto - the only problem was that no-one knew she was playing.
Tens of thousands of people had therefore left the arena before she arrived on stage.
"Brandy [just] performed to an empty stadium. With the stadium lights on," tweeted South African musician, Kabomo.
"People didn't know there was a concert after the games. No one knew Brandy was around. Maybe a 40 people audience ... She sulked after two songs and walked off.
"There are more people there on a random Tuesday... Depressing."
Added @My2_Melo: "I gave up the min I saw the empty stadium. Brandy performing for the chairs!"
While @dawn_ngwenya said: "Brandy is going to perform for herself and Mbaks only," referring to South Africa's minister of sport, Fikile Mbalula.
The singer reportedly walked off in embarrassment after just two songs.
The country's national TV channel SABC reportedly also ended their broadcast of the concert before Brandy could even emerge on stage.
===
"Since we only have part of the name, any direct connection to a biblical figure is speculative." Uziel told LiveScience in an email. "That said, if we reconstruct the first two letters as Z and K, we would have the name Zechariah Ben (the son of) Benaiah."
Zechariah the son of Benaiah appears in 2 Chronicles, chapter 20:14 of the Hebrew Bible, which states that Jahaziel, son of Zechariah, son of Benaiah, and member of the Hebrew tribe of Levi, prophesized before King Jehoshaphat before the nation went to war with the ancient kingdoms of Ammon and Moab.
Yet, there are still unanswered questions about this potential biblical link, Uziel added.
"Zechariah Ben Benaiah is mentioned in 2 Chronicles as a levite during the ninth century, although our bowl dates back to the seventh century B.C.," he said.
By closely studying the bowl, the researchers determined that the inscription was made before the clay was fired, which is a process in which clay is brought up to high temperatures and is transformed into ceramic.
"It is difficult to say with certainty what the specific use of the bowl was," Uziel said. "Usually bowls are very typical and common vessels found, used similarly to plates today, as serving dishes to eat from. However, the name inscribed on the bowl prior to its firing (the final process of making the bowl) signifies that it may have been made for a specific intention, such as the presentation of a gift or offering to someone, where the name would reflect either the recipient or more likely the presenter."
The discovery of the bowl with the 2,700-year-old inscription will be presented at Megalim's Annual Archaeological Conference, which will take place on Aug. 29 in the City of David.
===
===
===
===
===
===